During his induction into the Pro Football Hall of Fame this past August, Fred Dean found himself caught up in the overwhelming experience of joining the ranks of pro football's elite.
But when the former 49ers defensive end is honored this Sunday at the 49ers game against the New York Jets at Candlestick Park with a halftime presentation of his Hall of Fame ring, the 13th member of the 49ers to be inducted into the Hall of Fame isn't quite sure what kind of emotions will come out when he addresses the crowd.
"It's hard to describe what that moment will be like," Dean said. "I know the fans in the Bay Area are great. I had an illustrious career there and the memories and so forth will always be etched in my mind. What I'll do when it comes around is difficult to describe, because for me, it's going to be a time where everything is sentimental. I know that whatever comes up, it will come out."
But if Sunday's ceremony is anything like his induction speech in Canton, Dean will certainly deliver another memorable moment for the 49ers Faithful.
The most dominant pass-rushing lineman of his era was so moved by the experience of joining the Hall of Fame that when it came time for him to address the crowd, the 55-year old Dean realized he was without his reading glasses. The missing eyewear had been left behind in the sports coat he was wearing before donning the gold Hall of Fame jacket.
But without panicking, Dean delivered the first 15 minutes of speech without the help of his notes. He instead spoke from the heart, thanking his teammates, his head coach Bill Walsh, former 49ers owner Eddie DeBartolo, who gave Dean's introduction speech, and other important people who had touched his life along the way.
The heart-felt speech, which took 18 years of consideration by the board of selectors for the Hall of Fame to come to fruition, was going quite well, despite Dean being without his reading glasses.
After Dean touched on his childhood days in Louisiana, his speech started to go off topic, until suddenly he announced, "What I did was, I went off and left my glasses and I can't see my words."
As soon as he finished his admission, the crowd broke out into a loud chuckle. And when Hall of Famer Lem Barney joined Dean at the podium and offered his own pair of reading glasses, the crowd continued to embrace the unique moment with laughter.
Dean tried the tiny glasses on, took a look at his notes and said to Barney, "I think that's going to work."
It was a Canton instant-classic moment.
Sports shows all over the country replayed the clip as one of the more entertaining moments from the weekend. But now that Dean has had a few months to reflect on the events, he feels good about how his speech came across and how he was able to thank everyone important in his life.
"It was a shocker to me at the time," he said. "It wasn't planned like that, but eventually it all worked out. Some of the things I didn't realize I had said actually came out for the best. I think it felt good, because there was a lot of emotion in that speech and then I was able to praise my God, which was important to me."
Since the ceremony, Dean said he's only worn his Hall of Fame jacket three or four times total, but keeps it in a special spot in his closet with his favorite suits.
When guests come to his house, Dean doesn't show off the jacket. Instead he relives the speech all over.
"I'm not a showy person," he said. "I don't do those types of things. When people come over, I just put on the tape of my speech."
Dean said there's a lot more acknowledgment from the people in his hometown of Ruston, Louisiana, now that he's a member of the Hall of Fame.
"A lot of people knew me before, but it's kind of natural more so now for people to approach me," he said.
Dean is also proud to be named on a banner outside of the local high school stadium with the names of distinguished people from Ruston.
"It's a very touching moment. I know it's going to end one day, but it gives you a pumped-up and motivated spirit," he said.
Now that he's several months removed from his Hall of Fame enshrinement, Dean said he's back to relishing his work as an associate minister at the New Hebron Baptist Church in Louisiana. At his church, Dean likes that people treat him the same way as they did prior to him joining the Hall of Fame. 
And with his induction, Dean's been pretty busy as of late.
"There's a whole host of things that I have to do, like being honored by the 49ers this weekend," Dean said. "I also am going to be the grand marshal of a parade in Ruston and I'm going to be speaking to a group of sixth grade kids."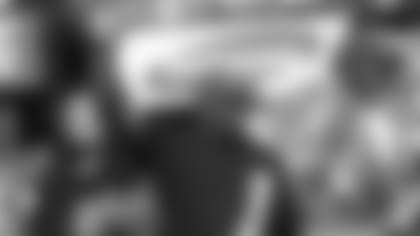 One of Dean's appearances happened earlier this season on Alumni Day when the 49ers hosted the Seahawks. During halftime, the 49ers honored Dean and the other members of the 1981 goal-line stand who helped the 49ers secure their first Super Bowl victory ever.
"I think I had the same feeling I had when I was at the Hall of Fame," he said. "That feeling is so overwhelming. Hearing the fans and the roar of the crowd, it really is like a 12th player being on the field."
Although Dean had seen several of those teammates at his enshrinement, the weekend festivities afforded him a chance to catch up with the majority of that starting group, in a much more casual setting where they all shared in the glory.
"I know that all of them played a part in my enshrinement and in my life. It made a big difference, for me to let them know how I felt about the guys. Words can't really describe the love I have for them," he said.
But this Sunday, unlike his previous appearance at Candlestick this season – the spotlight will be solely on Dean.
"I guess you could say I'm really starting to understand what really has happened to me and the magnitude of it all," he said. "It's something to be proud of."
The 49ers Faithful will certainly show Dean how proud they are of him, as they celebrate and remember the brilliant career of the first ever pass-rushing specialist, who created havoc for opposing quarterbacks every week from 1981 to 1985.
In Dean's first season, he helped the 49ers earn a trip to the playoffs, after finishing the season 13-3. But the magic of that season didn't truly happen for the 49ers until the playoffs.
It was in those games that two indelible moments of 49ers history happened. The first allowed the second to occur. While most people will tell you they remember Dwight Clark's catch in the back of the end zone to beat the Dallas Cowboys in the NFC Championship game, others would say the most memorable moment was the goal line stand in the Silverdome that helped the 49ers win their first Super Bowl.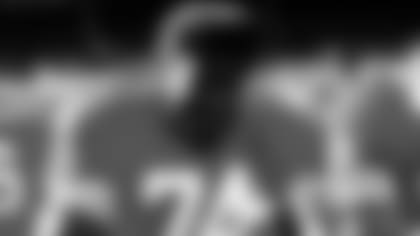 Close to 30 years later, Dean still has fond recollections of the greatest sequence of downs in 49ers defensive history.
"I remember that stand caused us to really win our first Super Bowl," Dean said. "On fourth down, just to see Archie Reese in the pile and all the other guys playing the way they did then and how they were motivated to succeed.
"I was on the outside, but from the middle, the guys, Lawrence Pillars, Archie Reese, John Harty and Dwaine Board, those guys really stepped up to the plate that day. Fourth down was a play that was really needed and they did a fantastic job. It couldn't have been done any better."
After seeing his teammates at the 49ers Alumni Weekend dinner, Dean joked that the defensive line could do a better job against the run now, because of all the weight the guys have added since their playing days.
"Looking at them now, I'm saying to myself, 'Now I know they can really hold up the other team in the trenches,'" he teased.
When he's not making public appearances or is occupied with his duties at the church, Dean tries to follow the 49ers as best as he can because of the impact they have had on his life.
"There will always be something deep down inside of me for the 49ers. I always will have something," he said. "I know that, from my former players, down to the ownership of the 49ers, they really impacted me even till this day. I have a great deal of respect for the 49ers organization. And especially for Mr. Eddie D, even though he's not going to be there on Sunday, I have a lot of respect for him."
But it's not a one-sided affinity, the feelings that Dean has towards the 49ers Faithful is reciprocal. And it will be on display at halftime during, "Fred Dean Day."