Only three of the 26 running backs selected in the 2005 NFL Draft are still in the league.
Furthermore, only one of them stands as his franchise leader in three major stat categories: carries, rushing yards and rushing touchdowns.
Enter San Francisco 49ers workhorse Frank Gore.
The former third-round pick, who was the sixth running back drafted in 2005, has more rushing yards than any of his draft class counterparts and still carries the chip on his shoulder from being passed up at the draft. Gore, a four-time Pro Bowl running back, has gained 8,839 rushing yards in eight seasons.
"Nobody expected me to be in the league this long," Gore told 49ers.com after a recent workout at 49ers headquarters.
Only Brandon Jacobs and Marion Barber have more touchdowns than Gore and both remain unsigned. With just six more touchdowns this season, Gore will lead his draft class in that category too.
The recently turned 30-year-old running back has been on a blistering pace to start his career with the 49ers and doesn't plan on slowing down any time soon. Gore has eclipsed the 1,000-yard rushing mark in six out of eight seasons. He finished 2012, his fourth Pro Bowl season, with 1,214 rushing yards. With 37 more yards on the ground, Gore will pass Roger Craig to rank second all-time on San Francisco's yards from scrimmage list.
At that point, Gore would only trail Hall of Fame wider receiver Jerry Rice.
It's been an already historic career for Gore in San Francisco. The hard-nosed running back slipped to the third round in 2005 because of medical concerns about his knees. Looking back, the draft-day slide might have been a blessing in disguise. Gore came into the NFL motivated to prove critics wrong.
"Every year in my career, it's been 'when' and 'if' I'll slow down," Gore said. "I look at it as a challenge."
Gore hasn't just accepted the challenge, he's used it to become one of the NFL's top running backs. After turning 30 on May 14, there's still plenty Gore wants to accomplish.
"I want to show I'm not going by what people say about being a certain age - when you're 29 or 30, you can't do it anymore," Gore said. "As long as I'm working, healthy and able to play this game, I can do a great job."
When Gore came to San Francisco, he split carries with running backs Kevan Barlow and Maurice Hicks. Neither Barlow or Hicks were proven NFL veterans, forcing Gore to find his own example of how to be successful.
"I didn't have anybody to look up to," Gore said. "I'm not talking bad about any of the guys who were here before me. I just didn't have a guy who had success in the league."
Instead, Gore has provided that example for the rest of the 49ers running backs. Anthony Dixon, Kendall Hunter and LaMichael James constantly speak highly, not only for his ability on the field, but what he means to the entire group off the field.
Now, Gore has a new protégé in fourth-round draft pick Marcus Lattimore.
Like Gore, Lattimore had to fight through knee injuries in college, including a gruesome injuryagainst Tennessee in 2012. Lattimore tore three ligaments on an open-field tackle and was out for the season.
It was no surprise that Gore wanted to reach out to Lattimore after being put in contact by teammate, Chris Culliver, a former South Carolina cornerback.
"It's similar to what I went through," Gore said. "That's the main reason I called him when it happened. I wanted to reach out to him and tell him to keep his head up."
While Gore lacked role models when he came to San Francisco, Lattimore has a perfect example in the 49ers four-time Pro Bowler.
Even with his continued success, Gore continues to be a leader both on the field and in the classroom.
"It doesn't matter what you've done," Gore said. "I could easily be in practice, not doing this or not doing that. I think my teammates respect me because even though I've had success, I still treat everyone the right way. They see me practice and I practice hard. I'm paying attention in the classroom, too. They're able to see me being a pro."
Gore's advice didn't stop after his initial phone call to Lattimore. The two are often together during offseason practices, watching plays and taking mental reps. Gore makes sure Lattimore is able to make the most out of practice, even though he's not able to participate.
If Lattimore is able to follow Gore's lead, maybe his name can also stand out from the other 2013 class of running backs.
"I think that Marcus will have a fine career," Gore said. "I think he'll have a better pro career than college. He only really played one full year in college. He can't help what happened with his knees. I just feel like once he gets back on his feet, he'll be fine."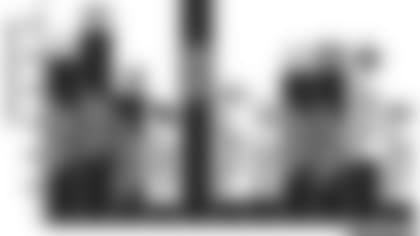 The chart above shows how Gore's career rushing yards stack up against the rest of the 2005 running back class. Only the next 10 closest to Gore are shown.
Ronnie Brown and Darren Sproles are the only other two running backs remaining in the NFL. Brown and Sproles have combined for 46 total career rushing touchdowns, five fewer than Gore.
49ERS.COM SUGGESTS:________