Running back Frank Gore won't practice on Wednesday after suffering an ankle sprain in the win over the Jets. The Miami native will likely be kept off his feet for the next day at least as head coach Mike Singletary expects it to be a game time decision for his star running back.
"I was a bit nervous on Monday because it was pretty swollen but it's been a whole lot better the last two days," said Gore. "I'm just taking it one day at a time and it's getting better each day, and I'm hoping I'll be okay."
In four years with the 49ers, Gore has never had the opportunity to play back home in Miami.
"I've got a lot of family back there and they've never gotten to see me play an NFL game. My son has been talking about this game since day one when we saw it on the schedule," said Gore. "To get a little injury right before this game is tough."
"I don't like not practicing," continued Gore. "I know the guys know how much I love the game and how serious I take practice during the week so it's frustrating not to get to go today. I love practicing because I get a feeling for the game, and the defense I'll face, so I'm frustrated. But, I'll keep doing what I can to get better so that I can play back home in front of everyone."
That, along with the fact that he needs only 22 rushing yards to get over the 1,000-yard rushing mark, something he'd love to do in front of his family will be added incentive for Gore to suit up for Sunday's contest against the Dolphins.
"Obviously Frank has been looking forward to this game and being able to go home and play in front of all his family and friends," said quarterback Shaun Hill. "When you're an East Coast guy and you play on the West Coast, it's harder for a lot of fans to come out and see you, so this is kind of their chance to come out and see him. I know he's looking forward to it. I know if any way possible he's going to be out there."
It's part of Gore's makeup to play hurt, as he demonstrated last season when he played in nine out of ten games after suffering a high ankle sprain. There were a few times when it looked like Gore was down for the count, but he finished out the year with 1,102 rushing yards.
"I know he's frustrated right now, but the thing about Frank is he's always going to fight," said running back Michael Robinson. "He's always going to try his best to be at 100 percent on Sunday. What people don't realize is 60 or 70 percent of Frank is still a lot better than a lot of running backs in the National Football League. Hopefully, he'll be up this week. As a fellow running back, we love to see him out there, but if we can't go, we have to pick up the slack."
Gore has no doubts that Robinson and his immediate backup DeShaun Foster will do exactly that.
"Michael started a game last year because of my ankle so he'll be alright. He's a smart player, and he's very tough," said Gore. "DeShaun has done it before. He's been a starting running back in this league, and I know he's fresh because I've been taking most of the reps. So, he'll be ready to go."
Foster is still pulling for Gore to get to go, but he definitely plans to be ready if his number is called.
"I'm excited to go," said Foster. "I have to get in there and carry the load like Frank does. He's a good back, so our offense kind of runs around him. I just want to keep it going and run hard."
While Gore has been the heart and soul of the 49ers offense, the linemen responsible for paving the way in the run game plan to get behind his backups.
"Frank obviously means a lot with the production he's brought to our team, not just in rushing, but he's a receiving threat and a great blocker, and we'll miss his production if he can't go, but we expect those other guys to step in and do the job he does," said tackle Joe Staley.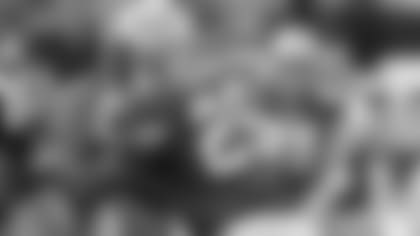 If he does start on Sunday, Foster will be returning to a role that he has shouldered for most of his NFL career, having started 40 games in his six seasons with the Carolina Panthers.
"It's something I'm excited about because anyone who plays this game wants the opportunity to compete," said Foster. "Having the week of practice with the ones will help because I can get my timing together with the line and everything. I'm just looking forward to it. It's a good opportunity for me to get out there and play and I plan to take full advantage of it."
Foster played the majority of the second half of the Jets game, finishing with 35 yards on 16 carries in his most extensive action to date.
"DeShaun is a hard runner. He's a big back and he gets those tough yards up the middle," said Staley. "A lot of the times in this last game, the holes weren't there and he was able to plow for 3, 4 yards every time. He's also very good in pass protection and picking up the blitzes."
Picking up the blitz and helping out in pass protection is imperative this week as the Dolphins like to create mismatches for outside linebacker Joey Porter, who threatens to take out the quarterback on every single down. With 16.5 sacks on the season, Porter stands as the NFL's reigning pass rusher.
"We basically have to know where he's at," said Foster. "He's one of those players that we have to know where he's at on the field. Hopefully we can limit his touches on the quarterback and everything should go well for us. It's going to be a combination of all of us. I'm going to have pick him up a couple of times, the o-line is going to have him, tight ends, just the overall offense has to do a good job on him."
Most of that responsibility will fall to Staley and bookend tackle Adam Snyder. Both players look to see a lot of Porter, who lines up on either side, away from the tight end.
"Joey Porter is a very good player. He's been in the league for awhile, playing at a high level for a long time. Being a Pittsburgh fan growing up, I got to watch him play a lot as a kid. I was a pretty big fan of his, so it's going to be fun competing against him," said Staley. "He's real productive this year, has a lot of sacks, so I have to do a good job on him. He's real active, uses his hands well, so Snyder and I will have to do a good job."
**Head coach Mike Singletary plans to speak with tight end Vernon Davis this week about not going there with Porter, one of the league's most notorious trash talkers.
Opposing players have been able to get under the skin of Davis in the past, but according to quarterback Shaun Hill, they haven't had much luck lately.
"There might be some words exchanged I would imagine," said Hill. "I think Vernon, in this last game, showed some maturity. I feel like Vernon will be able to handle it OK."

Transactions
The 49ers lost practice squad defensive lineman Atiyyah Ellison as the Jaguars signed him to their active roster.
The 49ers added another member to their practice squad in running back Carl Stewart. Stewart, a former running back out of Auburn, spent training camp with Tampa.
**Cornerback Nate Clements took a full practice after having a pin pulled out of his broken thumb.

Safety Dashon Goldson (knee) also took a full practice.
Returner Allen Rossum returned to work on a limited basis after missing the last two weeks of practice with an ankle injury.
Running back Frank Gore (ankle), cornerback Marcus Hudson (concussion), receiver Arnaz Battle (foot), and center Eric Heitmann (abdominal strain) missed practice, as did cornerback Walt Harris, linebacker Takeo Spikes and defensive end Justin Smith, per coaching design.