That was last year, this is this year.
That's the attitude the 49ers defense is taking into Sunday's matchup against the Atlanta Falcons.
The players remember what happened when the Falcons came to San Francisco last season, but they don't really want to talk about it. They're over it.
"We didn't play well," cornerback Nate Clements said of the 45-10 defeat. "What else is there to say?"
Fellow cornerback Shawntae Spencer said last season's loss to Atlanta is "way in the past" and that the team isn't concerned with it anymore. What happened a year ago is done. Now, he said, all the 49ers can do is focus on stopping the Falcons this time around.
And even though they don't really want to talk about last year's game, they're watching the film to learn from their mistakes. The Falcons have the same coaches, mostly the same players and the same schemes, so the 49ers have seen what went wrong in 2009 and they know how to better defend Atlanta this season.
"We made a lot of mental mistakes in last year's game, alignments and that sort of thing." Spencer said. "And once your alignment is off, the whole play goes downhill.
"If we take care of the details on Sunday and stick to our responsibilities we'll be fine."
And one of the biggest responsibilities for both cornerbacks will be slowing down Atlanta wide receiver Roddy White, who had set a Falcons record with 210 receiving yards to go along with his two touchdowns against the 49ers last year.
Both Clements and Spencer are likely to spend time matching up against the 6-foot, 212-pound wideout. The 49ers starting cornerbacks have played well this season, recording the team's only two interceptions of the year, and they don't plan on allowing White to approach his totals from a season ago.
They both recognize White's skills, but they said it is Atlanta's offensive scheme which makes him so dangerous. That scheme, they said, puts White and the rest of the weapons in position to make plays.
So while they're going to try to slow White down, they're just as concerned with everyone else on that side of the ball.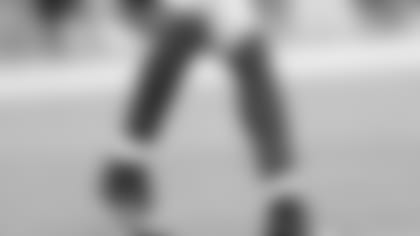 "They have a good offense, it is as simple as that," Spencer said. "It's not one individual that won that game for them last year. On individual winning a game for a team, that's never happened in the history of this league.
And as a team, the Falcons have the No.2 offense in the NFC and the conference's top rushing attack.
After giving up 207 rushing yards last week, with the Chiefs running for big gains outside of the tackles, the cornerbacks will really have to focus on stepping up and stopping the run.
But that is their focus every week. The defense's top priority is always wants to stop the run, "and if we can do that everything else will fall into place," Clements said.
Although the 49ers struggled as a group against outside rushes last week, Clements showed why he is considered one of the best run-stopping cornerbacks in the NFL. He finished the game with a team-high nine tackles, but wasn't satisfied.
"When you look at the outcome, we all have to play better," Clements said. "Everybody has to step up."
Defensive coordinator Greg Manusky agreed.
When asked about his starting cornerbacks on Thursday, Manusky said they've played "okay" this season. And he knows that those two along with the rest of the defense has to play better if the 49ers want to get into the win column on Sunday.
"I think Shawntae's playing well, I think Nate's playing well, but I think as a group we've got to be more physical," he said. "We've got to strike people, separate from people, get people off of us in the running game and in the passing game, get our hands on guys and cover them up. That's what we've got to do across the board and players know that."