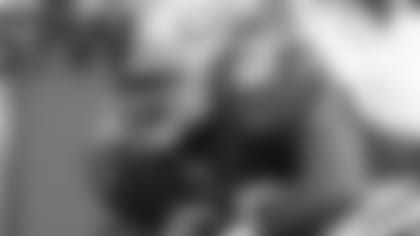 Guard Chilo Rachal came into training camp looking like a different player after losing 30 pounds in the offseason. 49ers.com spoke with Rachal about his physical transformation and the upcoming preseason matchup with the Houston Texans.Q: What did the offensive line learn from reviewing Saturday's film against the Raiders, when the team racked up 25 first downs?**A: For me personally, I'm never satisfied with my performance. I always feel I can get better in any way. But I feel that we looked a lot different from Week 1 as far as coming together as a team, just getting used to each other.
Q: It was reported that you lost 30 pounds in the offseason. What did you do to transform your body?A: I just got more disciplined and took a different approach than what I did in other summers. This summer, I worked at a training facility in Thousand Oaks, Calif., and their workout regimen and an improved diet helped a lot.
Q: How did you stay in touch with your teammates over the offseason?A: I kept in contact with my guys throughout the summer. In no way or form did I ever try to be an outcast or stay away from the group. But there was a lockout and with me being a family man and a young father, I was with my family, spending time with my son and my daughter. And at the same time, I was working hard and staying in touch with my teammates.
Q: The third preseason game is typically a dress rehearsal for the starters, so how are you approaching this weekend's matchup against the Houston Texans?A: It's a goal every week to go out and put together everything you worked on as far as practice, as far as preparation. Our mindset is the same as we have every week – just go out and play 49er football to our best ability.
Q: Do you feel like a more complete NFL player entering your fourth season?A: I'm not on that learning curve any more – I'm not the same player I was as a rookie. I'm seeing things a lot faster, recognizing defensive fronts and schemes. I always have a lot of room to grow and always have a lot of room to get better, but at the same time – I'm coming. I'm blessed to have the guidance of (offensive line) coach Mike Solari. He's a good coach and he has great passion for the game. He takes his time in making sure we fully understand what we're doing before we step on to the field. That always helps.