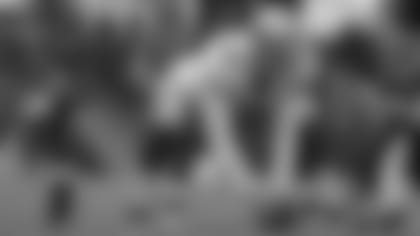 Long snapper Brian Jennings has played in 185 consecutive games for the 49ers in his 12-year career, but has never been 8-1 before. As part of one of the league's top specialist units, Jennings has brought stability to the third phase of the game along with Pro Bowl-worthy candidates punter Andy Lee and kicker David Akers. 49ers.com spoke with Jennings about the upcoming divisional matchup with the Arizona Cardinals and the winning atmosphere surrounding the team.**
Q: What's the thought process when you're playing NFC West teams, especially Arizona?
A: I'm from Arizona so it's always good to beat the Cardinals. That way when I'm back home in the offseason I won't have to hear any lip from my friends out there or anybody that I might run into. For me personally, it's a big game, a big challenge and a game I definitely want to win.
Q: David Akers is on pace to break Jerry Rice's single-season scoring record, how has it been working with him this season?
A: There's a certain maturity that I think David brings to our team. The way he goes about his performance and keeps a level head is something that a lot of players – not just young players – can learn from. His steady performance has to do with his disposition and the way he sees it. It's interesting, I read a clip about Joe Staley coming in early Monday morning to work out and there was a quote he said; something along the lines of, 'I'm not going to rest until my work is done and my work is never done.' It's interesting. Observing it – Akers has never said that – but it seems like that's the way he goes about it. Then to hear Patrick say that, it just shows that these guys share a common disposition about how to perform on gameday. So guys that you normally wouldn't think have much in common actually have a very similar approach to the game. (Punter) Andy (Lee) and I have tried to do that as much as possible. But to see David perform at a very high level and keep such a level head and feel unsatisfied – 'We've got miles to go,' kind of seems to be his disposition – it's a real pleasure to be around.
Q: Being that you're the longest-tenured player on the 49ers, how do you see the team handling the success?
A: To get into this locker room, you've had a lot of success throughout the course of your life. Individually, and at some point in your athletic career, most of these guys have won quite a bit at some level. The reason there's so much conflict and trouble when a team's not winning is because that's not right. There's something that needs to be fixed, there's something going wrong and everyone is trying to figure out what that is. This is closer to that "being right" position. To where we're being asked to do stuff that we're capable of doing, stuff we're good at and it's resulting in wins. To me, this is normal. This is how it's supposed to be. You're supposed to work hard, you're supposed to plan on winning and you're supposed to win. To me, I think we still have miles to go. We have a lot of work left to be done, but at the same time, this is what we all grew up planning on being and doing and it's happening right now so let's enjoy it and keep it going.
Q: What's the key to matching up with Arizona's special teams unit and talented rookie return man Patrick Peterson?
A: Their special teams are impressive on film, for sure. Their returner is a stud. Peterson is a rare talent and hopefully we won't see it this weekend. He's a very explosive guy with the ball, an aggressive, fast guy who's not afraid to run through arm tackles so we have to plan for that. I would put him in the same category as (Devin) Hester and (Josh) Cribbs. I'd put him in that company, which is high praise. You have to execute, all 11 guys have to perform at a high level on that play to stop that one guy. We don't have one guy that's just going to go out there and show him how we do it. It's going to take a group effort because he's that rare of a talent. We have to have a plan and we've been practicing it all week. Hopefully on gameday, our fans won't be aware of what a great player he is.
Q: Not only are you a tenured player, but you're a veteran when it comes to morning radio, can you share insight into your weekly in-season appearances on the KNBR Morning Show?
A: I definitely view myself in the Kenny Mayne side of sports commentating, as far as looking at it from a unique perspective of having fun and enjoying it. I'm not really an X's and O's guy, I think there are plenty of football brain surgeons out there who are breaking it down. I really enjoy being a part of it and figuring out interesting things that the audience may not otherwise be aware of or find interesting. It's fun to come up with different angles and contribute in a unique way. Sometimes the radio hosts asks me serious questions and I have to be serious, but other than that I like to keep it light and have fun. It's on every Thursday at 7 a.m. on KNBR with Murph and Mac. You can also find it online or follow my Twitter account @Jennings141 to give me feedback, too.