Needless to say, there's a lot on the line when the 49ers host the Oakland Raiders this Sunday at Candlestick Park.
The Raiders are looking to get to the .500 mark and keep pace with the rest of the AFC West.
The 49ers on the other hand are still looking for their first win six weeks into the regular season after a perfect preseason that included a 28-24 come-from-behind road win over the Raiders in Oakland.
Oh, and it's the Battle of the Bay Area, which always makes for a competitive game. Both teams need a victory and both teams enter Sunday's game with quarterback questions. The 49ers are sticking with their starter, while the Raiders are committed to the man who was penciled in as a backup before the season began.
But no matter the circumstance, or the characters involved, it's truly a game to watch whenever the 49ers and Raiders square off in the regular season. The 49ers are looking to make it three-straight victories over the Raiders in the regular season and even the all-time series, which Oakland currently leads 6-5.
Bruce Gradkowski has been the Raiders starting quarterback since being called in for duty at halftime of a Week 2 win over the St. Louis Rams. But Gradkowski was injured last week against San Diego, and in came the team's original starter Jason Campbell, who completed 13-of-18 passes for 159 yards and a 1-yard touchdown pass.
Campbell led the Raiders on scoring drives of 97 and 73 yards in the team's 35-27 win over the Chargers. It snapped Oakland's 13-game losing streak to their division rivals and featured touchdowns scored by the offense, defense and special teams units.
But even after turning in a solid team-wide performance last week, Oakland head coach Tom Cable said he would stick with Gradkowski as the starter as long as he's healthy enough to go. Gradkowski has a right shoulder sprain and is awaiting the result of an MRI to determine the exact injury to his A-C joint.
Campbell has completed a higher percentage of passes than Gradkowski (61.4-percent to 52.0-percent) and has a higher quarterback rating (71.1 to 76.3). But Gradkowski has brought grittiness and play-making ability to an offense that enters Sunday with the league's eighth-best rushing attack.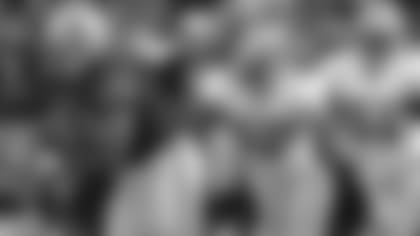 Led by running backs Darren McFadden (85 carries, 392 yards and one touchdown) and Michael Bush (pictured right, 36 carries for 157 yards and two touchdowns), the Raiders have averaged 4.4 yards per carry. McFadden has been hampered as of late with a hamstring injury, but Bush ran for 104 yards on 26 carries, and scored on a 3-yard touchdown run against San Diego.
Similar to the rushing attack, the Raiders have been banged up in the receiving department. Second-year wideout Louis Murphy (18 catches for 204 yards and one touchdown) leads the group, but is coming off a shoulder injury that's limited his recent production. Wideout Chaz Schilens has missed the entire season due to a knee injury, and second-year receiver Darrius Heyward-Bey has 11 catches for 142 yards and no touchdowns.
There's been no drop in production from tight end Zach Miller however. He leads the Raiders in receptions (28), yards (340) and touchdowns (3).
Miller is also an underrated blocker, which is helpful in opening lanes for McFadden and Bush. It's important when you consider that the Raiders offensive line has been shuffling players of late with starting left guard Robert Gallery missing the last four weeks of action. Journeyman guard Daniel Loper has lined up in Gallery's place. But that hasn't been the main rotation on the Raiders offensive line.
The left tackle position has been in constant change as starter Mario Henderson and rookie Jared Valdeer have been rotating snaps at the position. Valdeer started at center when the 49ers and Raiders met in the preseason.
On DefenseFor years, most of the talk regarding Oakland's defense has involved three-time Pro Bowl cornerback Nnamdi Asomugha. But there's more to the defense than the shutdown cornerback.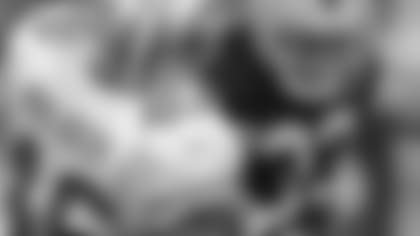 Safety Michael Huff is arguably playing the best football of his five-year career. He leads the defense with 34 tackles. Huff's sack of Chargers quarterback Phillip Rivers proved to be the difference-maker last week. Not only did it knock the ball out of Rivers' control, but it was returned 64 yards by safety Tyvon Branch (pictured right) for a game-clinching touchdown.
Branch is second to Huff with 31 tackles and has 1.0 sacks as well, emphasizing the Raiders willingness to bring pressure from all over.
As good as the Raiders have played this season against the pass (198.0 yards per game, good for 10-best in the NFL), they struggled last week, especially in the first half. Rivers threw for 290 yards in the opening 30 minutes of action and finished with 431 passing yards in defeat.
Oakland did sack Rivers three times last week, giving them 10 for the season. Second-year defensive end Matt Shaughnessy leads the unit with 3.0 sacks, followed by outside linebacker Kamerion Wimbley's 2.0 sacks and five others with one apiece. With linebacker Quentin Groves suffering from an injured hamstring, defensive end Trevor Scott has lined up at weakside linebacker in his place, allowing Shaughnessy to start.
But still, the Raiders defensive line is led by veteran defensive tackle Richard Seymour, who leads the team with three tackles-for-loss and has 21 tackles for the season. Seymour (6-foot-6, 310-pounds) is joined by fellow defensive tackle Tommy Kelly (6-foot-6, 300 pounds), forming one of the top interior defensive linemen duos in the NFL.
Oakland selected inside linebacker Rolando McClain with the No. 8 overall pick in the 2010 draft and he has enjoyed its selection so far. McClain is third on the team with 31 tackles, but has yet to force a turnover.
It's not just McClain who has struggled to create turnovers. For all the Raiders success on defense this season, the unit has only intercepted opposing quarterbacks twice. Cornerback Stanford Routt and Groves are the only Raiders with interceptions. Routt leads Oakland with five pass breakups.
Oakland will need to be more disruptive on defense against a 49ers offense that has fared better at Candlestick Park, but it's also been more than five weeks since the 49ers last won a game.
Let's see what happens this Sunday.