Last week, the Atlanta Falcons accomplished what the 49ers could not; they beat the defending Super Bowl Champion New Orleans Saints. All it took was an epic road victory capped by a 46-yard overtime field goal from veteran kicker Matt Bryant.
And while both the 49ers and Falcons competed valiantly with the reigning world champs throughout their matchups, Atlanta had enough in the tank to outlast the Saints in overtime.
It certainly helped New Orleans when Garrett Hartley's 37-yard game-winner at Candlestick Park was deflected by defensive tackle Ray McDonald through the uprights when it appeared to be veering left on impact.
Last Sunday, Hartley's 29-yard attempt with 9:02 left in overtime did just that, it hooked way, way left. The miss allowed the Falcons to set up Bryant's game-winner and improve to 2-1.
But the 49ers aren't focusing on sour grapes. They're concerned with the 0-3 record that's staring them in the face here in late September. They're also looking to avenge the outcome of last year's home meeting with Atlanta – the one that saw the visitors rack up 477 total yards in a 45-10 blowout.
The loss was the first of a critical four-game losing streak in 2009.
This season, the 49ers would like nothing more than to put a stop to the slide they're currently experiencing. It starts this Sunday with an early kick-off in a tough environment known as the Georgia Dome.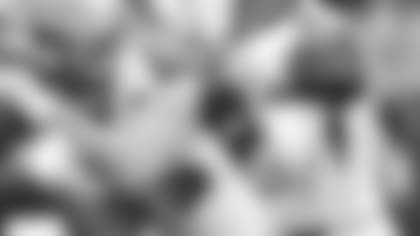 When the game is on the line, there's arguably nobody better than Falcons quarterback Matt Ryan. Though his overall numbers don't jump off the page like the top signal callers in the league (completing 67-of-106 passes for 705 yards with five touchdowns and one interception through three games), Ryan is clearly at his best in crucial situations.
No quarterback is better on third-down than the third-year quarterback.
Ryan leads the NFL with a 132.3 quarterback rating on the crucial down, completing 22-of-33 pass attempts for 278 yards with four touchdowns and zero interceptions. He's also completed 70.2-percent of his passes in the fourth quarter.
First and foremost, Ryan is greatly benefitted by the NFL's second-best running attack, one that averages 160.3 yards per contest. The Falcons ground game also averages 4.0 yards per carry, second-best in the league behind the 49ers last opponent, the Kansas City Chiefs.
Starting running back Michael Turner was banged up prior to the Saints victory, but carried 30 times for 114 yards with one rushing touchdown. Even after missing most of the action in Atlanta's Week 2 victory over Arizona due to a groin injury, Turner ranks eighth in the league with 231 rushing yards on 58 carries. He also enjoyed a successful performance against the 49ers last year, carrying 22 times for 97 yards with three first-half touchdown runs.
Like Turner, tight end Tony Gonzalez is a prime focus for Atlanta's offense. When he's touching the football, the results are usually a positive and that's why offensive coordinator Mike Mularkey keeps him involved each week.
Gonzalez caught a 13-yard touchdown pass last week, good for his 83rd of his career, adding to his NFL record for most touchdown catches by a tight end. Gonzalez caught eight passes against New Orleans for 110 yards, proving that he remains a viable threat in his 14th season.
Possibly the most important player to stop is Falcons wideout Roddy White, who torched the 49ers last season with eight catches for 210 yards and two touchdowns. White's presence has even been more important this year (25 catches for 258 yards with two touchdowns) with No. 2 wideout Michael Jenkins sidelined the first three games because of a shoulder injury.
Up front, Atlanta is led by 12-year center Todd McClure who has been with the team for his entire career. McClure (150 starts) sets the tone for the group and is the most experienced member among left tackle Sam Baker (22 starts), left guard Justin Blalock (49 starts), right guard Harvey Dahl (32 starts) and right tackle Tyson Clabo (53 starts). The unit has allowed five sacks this season.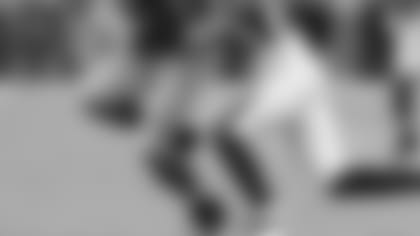 As the 49ers can attest, you can't win games unless you don't win the turnover battle. That's exactly where the Falcons shine. They are plus-six in turnover differential, including six interceptions which is tied for the most in the NFL with the Chicago Bears.
Last week, the Falcons defense allowed Drew Brees to throw for 365 yards and three touchdowns, but twice picked off the Super Bowl XLIV MVP, one of which was supplied by third-year free safety Thomas DeCoud (pictured right). The rush defense was even stronger, holding the Saints to 43 yards on 16 carries, good for an average of 2.7 yards per carry.
Atlanta enters Sunday's contest with the 21st overall defense in the league (339.7 yards per game), 12th against the run (101.3) and 22nd against the pass (238.3).
The defense is led by an aggressive front seven; after all, head coach Mike Smith was a defensive coordinator in Jacksonville (2003-07) and coached defensive line and linebackers in Baltimore (1999-2002) before his ascent up the coaching ranks.
Defensive coordinator Brian Van Gorder is familiar with what Smith wants. He coached under his current boss as the Jaguars linebackers coach for the 2005 season. After joining the Falcons staff in 2007 in the same role, Van Gorder has since been promoted to coordinator, proving to be instrumental in the development of the young defense.
The line is led by defensive end John Abraham and defensive tackle Jonathan Babineaux, both lead the team with 2.0 sacks each. Opposite of Abraham is up-and-coming third-year defensive end Kroy Biermann, who also has one sack on the year. Both ends supplied a sack each against the 49ers in 2009.
Rookie outside linebacker Sean Weatherspoon, the team's first-round pick (No. 19 overall), leads Atlanta with 24 tackles on the season. He's tallied one more than inside 'backer Curtis Lofton. The other outside 'backer is veteran Mike Peterson, who has 864 tackles in his 12-year NFL career.
On the back end is where the Falcons made the biggest change this offseason, signing free agent cornerback Dunta Robinson formerly of the Houston Texans. The 5-foot-10, 182-pound play-maker along with strong safety Eric Coleman are the only starting defensive backs yet to record an interception. Cornerback Brent Grimes and DeCoud each have an interception through three games.
The Atlanta secondary will have to control a 49ers offense led by new coordinator Mike Johnson. The former quarterbacks coach should be well-versed in the Georgia Dome environment after serving as Falcons quarterbacks coach from 2003-05.