The Arizona Cardinals haven't won a game in 44 days, and like the 49ers, still have a chance to win the division.
Such is the way things have gone in the NFC West this season.
Two games behind Seattle, the 3-7 Cardinals have lost five straight games after knocking off the defending Super Bowl Champion New Orleans Saints at home on Oct. 10. Although Arizona has been outscored 154-90 over that period, they lost two games by just three points.
Despite the record and recent stretch of losses, coach Ken Whisenhunt believes his team has not regressed. They've won the division the past two seasons and came within one Santonio Holmes tip-toe catch from winning their first Vince Lombardi Trophy at Super Bowl XXIVIII.
Many of the same players from the past two playoff runs remain on the team, but key members have gone elsewhere, forcing the Cardinals to rely on a group of incoming veterans and unproven young players.
It was presumed that Matt Leinart would take over for Kurt Warner once the veteran quarterback announced his retirement in the offseason. But Whisenhunt elected to go with six-year pro Derek Anderson and has since benched Anderson for undrafted rookie Max Hall, only to go back to Anderson in the past three games.
Anderson has thrown more interceptions (eight) than touchdowns (seven) and has completed a league-worst 53.7-percent of his passes for all quarterbacks who have thrown at least 14 passes per game. On the other hand, Hall led the team to a win over the Saints, but has completed 50.7-percent of his passes and has one touchdown pass with five interceptions.
With the lack of production at quarterback, All-Pro wide receiver Larry Fitzgerald's impact hasn't been the same as in years past. He leads the team with 55 catches, 691 receiving yards and five touchdowns, but hasn't been much of a vertical threat this season. His longest catch went for 33 yards. After Arizona traded tenured wideout Anquan Boldin to Baltimore, Steve Breaston figured to excel, but has been injured for periods of the season and has caught only 34 passes for 548 yards with one touchdown.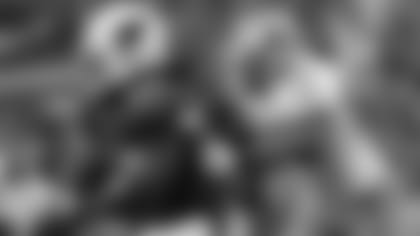 Similarly, running back Beanie Wells' injury problems have setback what was expected to be a breakout season for the second-year player. A knee injury suffered in the preseason has caused him to carry 78 times for 270 yards and two touchdowns. Tim Hightower has chipped in with 438 rushing yards on 91 carries with three touchdowns.
Only the Chicago Bears have allowed more sacks than Arizona's offensive line. Anderson and Hall have been sacked 35 times this season. The Cardinals brought in veteran Alan Faneca to play left guard next to former first-round pick Levi Brown at left tackle, but the line hasn't been able to protect both quarterbacks. To make matters worse, right tackle Brandon Keith was lost for the season to a knee injury. Eight-year veteran Jeremy Bridges has stepped in as the replacement.
On DefenseThe loss of Kurt Warner was a shot to the Cardinals, and the same can be said for linebacker Karlos Dansby and safety Antrel Rolle, who signed with the Dolphins and Giants respectively as free agents.
The club brought in outside linebacker Joey Porter and safety Kerry Rhodes to boost the unit, but the defense has given up 30-or-more points in five games this season. Porter leads the team with 5.0 sacks and has added 39 tackles. Rhodes has two interceptions as well and is third on the team with 59 tackles. Dansby's replacement, nine-year pro Paris Lenon, leads the team with 74 tackles and is tied for the team lead with two interceptions.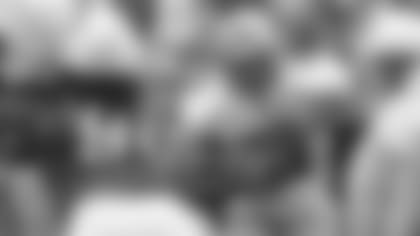 The linemen in Arizona's 3-4 defense are defensive ends Calais Campbell and Darnell Dockett flanking nose tackle Bryan Robinson. After making the Pro Bowl in 2009, Dockett has been recently hampered with a shoulder injury that caused him to end his consecutive games played streak at 104 two weeks ago. Dockett returned last week, but Kansas City rushed for 159 yards on their way to a 31-13 victory.
On the back end, the Cardinals have a talented cornerback in Dominique Rodgers-Cromartie who made his first Pro Bowl in 2009. This year, he is one of four Arizona players with two interceptions and has 33 tackles as well. Playing opposite of DRC is second-year corner Greg Toler, who has 64 tackles and two forced fumbles.
And last but not least, a preview of Arizona's defense would be remiss if it didn't mention the heart and soul of the unit, none other than strong safety Adrian Wilson. The 10-year pro's numbers are somewhat down this season (47 tackles and two interceptions) and he's given up a few touchdowns in coverage (fourth quarter touchdown pass to Vishante Shiancoe at Minnesota). But Wilson is their unquestioned leader and will make sure to fulfill his captaincy by having the other 10 defensive players ready to play.
With the first meeting of 2010 between the division rivals both teams should be ready for a physical battle on the big stage of "Monday Night Football." Records can be thrown out the window when these two teams faceoff, pride is certainly on the line and so is last-place in the division.
That's where the loser of this game will find themselves by next Tuesday.