As he continues to improve throughout his rookie season, sixth-round pick Nate Byham has seen much more playing time these last several weeks. 49ers.com recently caught up with the 6-foot-4, 268-pound tight end to discuss the first half of the season and his bye-week plans.Q: We're halfway through the season right now, how would you assess your growth to this point?**A: My individual growth has been going pretty well. I feel like I've been getting gradually better on a steady incline this season. There are definitely things I need to work on, but they are all fixable. I'm just feeling much more confident since I had the opportunity to play a lot more these last couple of weeks when Delanie Walker went down. I really had to step up my game and fit in to this offense, and I think I did that. Delanie came back last week in London, but Vernon Davis tweaked his ankle so I still saw a lot of playing time. Overall I'm real comfortable with the offense now, much more than I was a few weeks ago. I don't feel like a rookie any more.
Q: How do you approach the challenge of facing NFL players every week?A: I love it. I love to be challenged. I've taken some hits. I've had some matchups that I lost. But in these last couple of games I've had some blocks where I really cracked the linebacker and made a hole for Frank. I'm proud of that. I thrive on it. It's fun to know that I'm able to play against these great defensive linemen and linebackers and hold my own.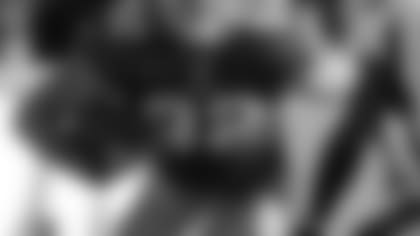 Q: What is the best play you have been on the field for this year?**A: That's a tough one, but I was on the field for the punt block in Atlanta when Taylor Mays scored his touchdown. I actually helped make the hole for Taylor to run through and he got in there quick. Then he caught the ball in the back of the end zone barely keeping his feet down. It was pretty amazing. I was also on the field for the play the other night in London when Delanie made that huge catch down the field to the 1-yard line. That was awesome.
Q: What is the mindset of the team coming off the win in London and heading into the bye week?A: There's no reason to be anything but positive. We're 2-6 and were upset about it, but if you look closely at how we've played, we're still a good team. There are games we lost at the last second and games we gave away. I think we have been adjusting, adapting and changing throughout the first half of the season, and I think in the second half we're going to have all of those kinks worked out and we're going to be ready to go. I could see us doing much better; hopefully we go 8-0. We'd love to win out, and I could see it happening. We have the potential, we have the coaches and we have the players.
Q: What are your plans for the bye week?A: I'm going back home (Franklin, Penn.) to get my mind off things for a couple of days. Then when we come back Monday I'll be fresh and ready to roll.