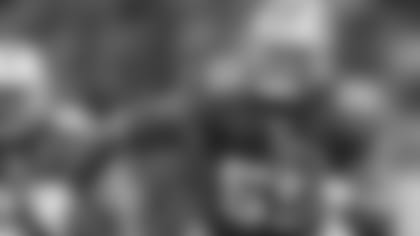 Fifth-year outside linebacker Ahmad Brooks has totaled 7.0 sacks in his last 12 games dating back to 2009 and has been a valuable pass-rushing threat to opposing offenses. Brooks has 2.0 sacks in 2010 and 49ers.com spoke with the 6-foot-3, 259 pounder to get his thoughts on the first half of the season.**
Q: What do you take away from the first eight games of 2010?
A: I definitely think we got better over the first eight weeks. The offense has gotten better; the defense has gotten better too. We just have to keep pushing forward and hope everything falls into place. The games that we lost, we should have won, but we can't dwell on that. We just have to keep working hard and push through.
Q: The linebackers seem to be in a good rotation throughout the games, how much does that benefit you guys as a group?
A: The coaches have done a very good job of keeping all the outside linebackers fresh. When Parys (Haralson) and Manny (Lawson) get tired, that's when Travis (LaBoy) and I come in there and keep the level of play going. We keep everybody fresh and that's giving us more opportunities to make plays because everyone is coming in there fully energized.
Q: Having spent a whole week in another country, how would you sum up your experience in England?
A: It was fun. I had an exciting time and got a chance to see a lot. I saw the London Tower, Buckingham Palace and everything they had to offer out there. I had a good time with it and I enjoyed it. I had some of my family out there to support me and that was great too.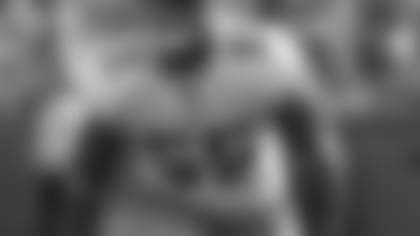 Q: Now that you have the bye week to get adjusted back to the time difference, what are your plans for the week?**
A: I'm just going to go home to Virginia and see my daughter and spend time with my family.
Q: Do you have a favorite play or memory of the season so far?
A: I don't think it's happened yet, there's plenty of football to be played.
Q: With eight games remaining and five of them coming against division opponents, how excited are you for the games left on the schedule?
A: I'm really excited. The sky is the limit for us. We have eight games left and I feel like we can win all of them. But we have to stay focused on each game, take them one at a time. So far this year, the teams you think are going to lose, they're winning. Teams you might think are going to be successful, they're losing. I believe we can win games; we just have to all believe and keep working at it. I think everything will fall into place if we do that.
Q: Considering all the time you spent together with your teammates in London and the bonds you guys strengthened, do you feel like you might enjoy the time away to see your non-football family?
A: Most definitely. We need a little time off. Players have been going at it since the time last season ended. I'm thankful we have the bye week at Week 9 so we can get our bodies recuperated.
Q: When you get back, you'll face a rookie quarterback in Sam Bradford who's playing well, how much respect do you guys have for his performances so far in 2010?
A: He's turned that whole organization around and he's been doing a lot for them. We just have to key in on him and pretty much prepare for what he does well. It's all about game-planning. For a rookie quarterback, he's changed their offense for the better.