Before the 49ers move on from Candlestick Park, their home since 1972 and the site of that winter day, to Levi's® Stadium in Santa Clara in 2014, it's time to look back again. San Francisco's improbable comeback and eventual 39-38 victory over Michael Strahan's New York Giants lands at No. 9 on Candlestick Park's Top 10 Greatest Moments, presented by SAP.**
Each highlight, which fans voted on from a list of 25 nominations, will be memorialized at a home game in 2013, continuing on Aug. 25, when the 49ers host the Minnesota Vikings in their season opener. The piece of history will also be pictured on each game ticket for the final season at the 'Stick.
It's time to celebrate No. 9.
Believe it or not, Terrell Owens could take it as well as he gave it, even when the lights shone brightest. Like, say during the 2003 NFC Wild Card contest-turned-classic.
So says Owens' teammate one decade after the fact.
"I distinctively remember coming out in the second half and Michael Strahan was taunting T.O. at that time," fellow 49ers wide receiver J.J. Stokes said. "He was pointing at the scoreboard – and he was doing it during the game.  All of a sudden we hit our (stride) and the momentum swung our way."
The date was Jan. 5, 2003. The halftime score separated two teams by a wide margin. The final outcome did not.PHOTO GALLERY: 2002 NFC WILD CARD PLAYOFF GAME
"I have a lot of great memories at Candlestick, no doubt," said Stokes, who scored his first touchdowns as a pro in San Francisco. "They were all fun and ultimately, we won, which made it better."
Winning on Wild Card weekend 10 years ago was no sure thing even after the surest of starts. San Francisco linebacker Julian Peterson intercepted Giants quarterback Kerry Collins' fifth pass of the game, and the 49ers offense capitalized almost immediately with Jeff Garcia's 70-yard touchdown toss to Owens.
New York scored five of the game's next six touchdowns, however, and the Giants defense clamped down in every respect. With the Strahan-led front dominating the line of scrimmage, the secondary dropped into a zone defense to stifle the 49ers' pass options as well.
At its worst, the home team's deficit reached 24 points, down 38-14 early in the third quarter. Even some members of the 49ers' Faithful, frustrated with the team's lack of success, started leaving their seats.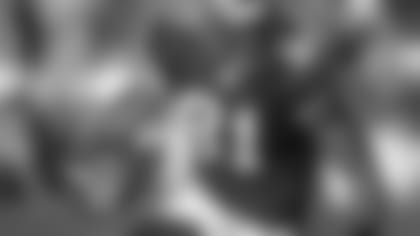 "I remember going into halftime, coaches yelling, players yelling at each other," Stokes remembered, "about getting this thing turned around."
Another touchdown catch by the man himself helped answer his own question. Jumping into Garcia's "two-minute, no-huddle, fast-paced offense," the 49ers right-armed quarterback and his top target connected for 26 yards. San Francisco's best receiver since Jerry Rice had nine receptions in all, totaling 177 yards.
"Then it seemed attainable. We're thinking, 'We can do this,'" Garcia said, recalling how it felt when the deficit was cut to 16 points entering the fourth quarter. "The great thing about the sideline at that time, midway through the third quarter and through to the end of that third quarter, is that nobody was hanging their head. Nobody had lost hope. Nobody had thrown in the towel. We had been in tough games all year long." Stokes said the team's mindset came from his signal-caller.
"Those big plays, in the passing game with Jeff Garcia, he kept his poise," Stokes said. "It's easy to put your head down when you're down by [24] and things don't look good."
On the first play of the fourth quarter, Garcia turned a naked bootleg play-call into a 14-yard touchdown run. A two-point conversion on a pass to you-know-who, Owens, made the score 38-30, Giants.
After yet another stop by San Francisco's rebounding defense, the offense finished its next two drives with a 25-yard Jeff Chandler field goal and a 13-yard Garcia-to-Tai-Streets touchdown in the corner of the end zone.
The 49ers would score the game's final 25 points.
San Francisco also benefitted from two big breaks along the way: Giants tight end Jeremy Shockey, then an NFL rookie, dropping a would-be touchdown on New York's penultimate drive of the third quarter, and Trey Junkin's errant snap on the Giants' last-second, potentially game-winning field goal attempt.
The fans that remained in The 'Stick – which is to say most of them – were standing up, out of their seats. The ones who had left were trying to get back in, while the players and coaches on the field below didn't want to be anywhere else in the world.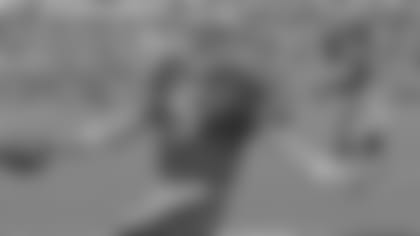 "At the end of the game, though the feeling of elation, the emotional bond of a team that really came together to fight, to scratch, to claw, to do whatever it took to get yourself back in position to win such a game of such magnitude was unbelievable," Garcia said. "That moment right there, I was I could have bottled and saved with me forever. I'll always remember the moment, but you can't (replicate) the feelings that are going through, the emotions that are going through you, the tingling, the goose bumps, that feeling of, 'Man, I can't believe what just happened today, how we came back, we didn't give up, we fought, we made it happen.'"
Each member of the team celebrated in his own way. T.O. had his, of course.
"T.O. never talked to anybody after the games – he would run into the locker room," Stokes said, "but I still remember him going over to Michael Strahan and saying a little something, and they got into it."
The 49ers would lose the next week to the Buccaneers, 31-6, in the NFC Division Championship Game, but their 2002 season had already written its exclamation mark – and an indelible mark in the history of The 'Stick.