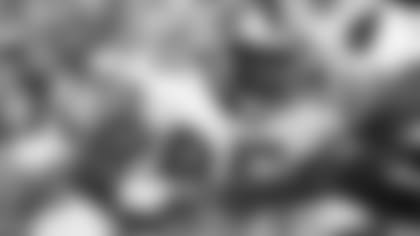 Thanks to everyone who sent in questions over the last few weeks. We've selected a few and gotten answers from tight end Vernon Davis.Q: Hey Vernon, I'm a diehard 49ers fan and I have been one my whole life. I watched last night's game and was really amazed at that catch you made in the end zone! Please tell me what was going on in your head when the ball was coming to you. -emudude19 **A: I just knew I was going to make the catch, even before the ball was coming. After the play was called in the huddle, I told myself and I told Shaun Hill to throw the ball up and I would go get it. And once I saw the ball was in the air headed towards me, I told myself, "It's mine."
Q: Vernon, you're big, strong and fast. Would you consider playing as an edge rusher on passing downs? -Jon DaleA: I would love to play as an edge-rusher. I think I could get some sacks every game if the coaches put me there, but right now my focus is playing my tight end position and doing what I can to help my team win.
Q: Vernon, many of your coaches say you are one of the best blocking tight ends in the NFL. Who has been one of the tougher players to block and why? - JoshuaA: I'd say off the top of my head, Will Smith from the New Orleans Saints. I enjoyed going up against him, because he's a good player. That's what I enjoy the most about blocking. I like going up against the best.
Q: Great Touchdown catch Vernon. Here is my question: on a deep pass that was a little over thrown on Monday Night Football, why didn't you dive for the ball? -Ryan SemmelmeyerA: It was out of my reach. On TV, it probably looked a little different than it did in the game. I didn't think I could get to it even if I had dived.
Q: How did you feel when you were kicked off the field by Mike Singletary? How does a player react to such a decision by your own coach? Were you angry? How do you keep your cool with situations like that? Any do you have any advice for young players out there on how to keep your cool? -Carlos Sosa
A: My advice for younger kids on how to keep their cool is to just think about your future. When I got the penalty Coach told me that I have to be aware of what is going on out on the field and that if someone says something to me, I can't let it bother me. You have to be a bigger person and not retaliate. I shouldn't have retaliated. I love my team and I would never do anything to hurt my teammates or put them in any kind of trouble. As for leaving the game, Coach and I spent some time talking the next day and it's been behind us. But for kids, you need to always think about your future and doing the things that will help you out, instead of reacting the wrong way in the heat of the moment.
Q: Vernon, you always seem to be sitting on the knife edge of really breaking out and fulfilling your destiny with this team. Many of us fans think you just haven't been used to your best potential in a 'functional' offensive scheme. With so much controversy, confusion, and change in the 49ers offense the past few years, do you feel positive that the current changes might lead eventually to a more productive and stable team and performance? -Thanks, StuartA: Yeah, I think we are doing the right things. We signed some great wide receivers and we have some up-and-coming wideouts who are getting better each week. Not to forget, we have a talented running back in Frank Gore, so I feel positive about the direction we are headed.
Q: Hey Vernon, with all your speed, power and athleticism, have you ever thought about switching positions? Perhaps outside linebacker? I think you would be a serious force. Your aggressive nature seems like it should be unleashed on the opposing offense. Good luck the rest of the year! - -Stewart Brown
A: Similar to the question about playing at defensive end, I'd play at linebacker if it meant I'd be helping the team, but I think we have plenty of talented guys at that position. My focus is my own position and doing the right things.
Q: What's up Vernon Davis! I was just wondering, why do you wear those giant Mickey Mouse-looking gloves? -Almarc2A: Because they look flashy.
Q: How much do you still try and keep up with and watch any of your Maryland Terps football season? - -jus32
A: I follow every game. We're having a good season and I'm excited that we're going to be in a bowl game this year.
Q: Dear Mr. Davis: A few years ago, I had the distinct honor of speaking with the special teams coach from the Detroit Lions - Coach Priefer - the year after he retired. He said that he knew that the players he coached adopted what he was teaching, when he heard them repeating his own teachings to their teammates. What are the teachings or philosophy's that you have adopted from the 49ers coaching staff. -Best regards, Kris
A: I'd say the philosophy of the banner that Coach Singletary put up in front of the locker room. It's our formula for success and it stresses five things that we need to do to be successful. The five things are, total ball security, execute, dominate in the trenches, create great field position and finish. I think those five points have been on everyone's mind lately.
Q: Hey Vernon,  I am a lifelong 49ers fan and I was wondering what it's like being a professional football player? And how difficult is it to transition from college to the NFL? -Rick Pinnell
A: It's really just like going from high school to college, just at a higher level. Everything changes and in most cases you have to move away from home, but you get to meet new people and experience new things.