Thanks to all of our fans who sent in questions for our defensive coordinator Greg Manusky. We gathered several of them for Manusky to answer below in this Fan Q&A.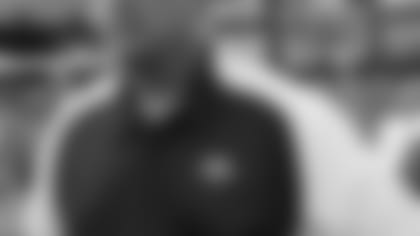 Q: I coach youth football and was wondering if there are any books or clinics I could view or attend to help further my team defensively. - Santos Cantu**
A: I am not all that familiar with clinics around here (and I'm not sure where you are writing from) because I'm still fairly new to this area but I think any opportunity you have to learn more about the game, you'd be wise to take. For me, I learn more from hands-on than reading books so I'd recommend trying to visit some of your local high schools and watching their practices. You can see what kind of drills they are doing and then usually coaches are great about also letting you sit in for some of their meetings. I know we allow college coaches to come observe what we do and I think that's a practice that goes on down the ranks.
Q: With the departure of B.Y. and Isaac Sopoaga being a free agent, what are the 49ers plans on making sure that we stop the run? Billy Mann
A: I think we have to improve in all areas – the run, the pass, everything. I'm hopeful that we get Isaac back and get him under contract and that we also pick up some guys in the draft. We've got Ray McDonald who will continue to develop and then also Melvin Oliver coming back from knee surgery so we'll see what we have in those young guys, but we are always looking for improvement. Aubrayo Franklin will be back, as well as Ron Fields, and then I'm still hoping to get Marques Douglas back and all of those guys have been productive for us against the run. B.Y. was a great player in this league, but you have to coach the guys you have and try to get better either in free agency or in the draft.
Q: I think Marques Douglas is a very underrated player. Would you like to have him back as a 49ers next year, and do they listen to your opinion? – Jason Craft
A: Marques is a good player in this league and he's played and out performed over the years he's been here. Hopefully we do get him signed back, but I think he wants to test the free agency market to see what is out there for him. I think he's a guy we want to return as a staff and an organization, but sometimes that doesn't always work out the way you want. We'll see what happens.
Q: I know your job is to call the defense but what do you think of Mike Martz as the 49ers new offensive coordinator? Our offense was so horrible last year it couldn't have made your life easy. Are you looking forward to the offense improving in '08? - Sonny
A: Martz is a very reputable guy in the league as a coordinator and a head coach. We've got to work hand in hand and it'll be interesting to see what he brings to the table. I've heard a lot of good things about him. Obviously we need our offense to improve, but we need to improve on defense as well and I think both units can feed off each other.
Q: How's Manny Lawson's injury coming along? Should we expect him back in training camp when it begins? - Erick Martin Sr
A: Yes, I expect him back for camp. He's a vital part of our defense and it was a great loss to us when he went down. Other players stepped in to fill that loss which only builds us up for this upcoming year, but I'll be very happy to have him back and I knock on wood that he stays healthy all season long. I just saw him down in the weight room and he misses the game, which is always good. It's not good that he got hurt of course, but he definitely knows how it feels not to be out on the field and I expect him to come back very hungry.
Q: If you had the first choice in our draft and you could pick solely on what you need, what position would you fill, d-line, linebacker, secondary or pass rusher, corner, safety, etcetera? Thanks Joe in Napa
A: From a defensive perspective, I think we need defensive line, linebacker and another defensive back – in that order. I still think you take the best player on the board because you can never go wrong with that philosophy. Scot McCloughan and the coaches do a heck of a job of coming together as a unit in terms of who we pick and I think that's very important and leads to success.
Q: The Giants pass-rushed their way to a Vince Lombardi Trophy and proved that even Tom Brady can't perform if the defense gets pressure on the QB. I was at the Saints game that my Niners played last year and we had no chance of even touching Drew Brees - forget about getting his jersey dirty and making him take a dirt nap. My question is, how do you and the defense plan on getting more pressure on the QB this upcoming season?  - Rob Hurry (Vernon, Canada)A: Being around Brees in San Diego, I can say that Drew is one smart quarterback. He knows when you are getting pressure and when to get rid of the ball, so it's not entirely accurate that we weren't getting any pressure on him. He just knows how to handle it. He got hot that day and had a lights out day against us. It didn't matter what we did because he was in a groove and he performed very well. Of course, you always have to get pressure on the opposing quarterback and that takes a combination of coverage and the ability to beat the one on one match-ups. We've got to start getting after guys with a four-man rush and we need to win our one-on-one match-ups across the board, whether that be up front or in coverage.
Q: Hey Coach, I have watched football since I was 5yrs old. I have followed and loved the Niners ever since I can remember watching football since their glory days in the 80's. I believe I understand football pretty well, but  I would like to hear a coach explain to me the greatest differences between Nickel, Dime, Cover 2, 3-4, 4-3, and other basic defensive packages and when they are used. - Frank
A: As far as when certain packages are used, it's based upon personnel that the offense puts in the game. If they've got three wide receivers or one tight end and two backs - all of those differences can dictate what type of personnel and packages a defense can use. Obviously you also want to try to dictate to an offense what they can do, but most of the time you are reacting to the personnel they send out on the field and then also to the situation. If it's 2nd and long or 3rd and short, that's going to change what you can do as well.
Nickel uses four down linemen, two linebackers and five defensive backs. Dime uses four down linemen, one linebacker and six defensive backs. Cover 2 is when you keep five under and two deep. Cover 3 is four under and three deep. Cover 4 is three under and four deep. The 3-4 is basically taking a better athlete, a 265 pound defensive end and standing him up and playing him as a linebacker. You are converting that open side defensive end, and even the close side defensive end, into a linebacker. What it does is bring versatility to what you can do because you can bring him at times on a blitz or drop him back in coverage instead of playing a 295 pound end and basically showing your hand because that guy is not going to usually be able to drop in coverage. With a 3-4, you keep them guessing with that extra linebacker.
Q: Would you say it is harder finding peoples for the 3-4 then 4-3 since most college play 4-3? Every time we draft somebody they have to learn a new position. There not to many 3-4 defensive linemen out there or linebackers who can cover and are good pass rushers. - Jamar Freeport
A: I don't think it's harder and I think it creates an opportunity for some talented athletes who might not fit into a 4-3. You tend to have a crop of guys from the college ranks that are maybe undersized and fit that unique DE/OLB position who are tremendous athletes. In a 4-3 defense they might not ever see the light of day in the NFL and that would be a shame because of their athleticism and pass rush skills. A 3-4 defense allows for some good football players to keep on playing. Maybe it's six teams who run the 3-4 and there are 40 guys who are tweeners out there in the college pool. For us, those players are a good fit. For another defense, maybe he's not. The 3-4 just allows an opportunity for a different type of player to be successful in this game.
Q: Everyone talks about us coaching the Senior Bowl and how it helps coaches get to know players better. What is it you are trying to find out about a player at something like that, as well as the Combine? What do you look for to decide if a guy is someone you want on your defense or not? – Gavin
A: The only advantage is you are around those kids and you can see how they learn in the classroom, how they pick up things and how they respond to instruction and if they do or don't understand it. It gives you a chance to coach a guy before actually having to draft him and getting some idea ahead of time of what you've got in a guy. It's a chance to pick their mind and then also see how he acts around other guys. Sometimes it is positive, sometimes it is negative but it helps you know what a guy is about. Otherwise, it's here's the film and yeah this guy can run or play, now decide. Having a week with a kid will tell you a lot more about him and what he's about. I'm not going to know every detail of his life, but I'm going to have a pretty good idea of what I'd be getting. It's a good little tool to judge players. As for the Combine, you don't get that same type of interaction but you are still looking for how they handle themselves. You do usually get to interview quite a few guys at the Combine, as we just did, and you'll be able to get somewhat of a feel for a guy during that time.
Q: My question is after last off season where we spent lots of money on defensive players do you think the 49ers need another off season of spending to make the 49ers defense great? My other question is how excited are you about the future with Patrick Willis playing the way he did his rookie year? RENE RODRIGUEZ
A: You are always looking to get better at every position. Even when I was a player, I knew they were always looking to replace me. The job of coaches and scouts is to replace you eventually so you always look for improved talent. Sometimes you have positions that are stronger than others, but you always look to upgrade. If you don't, you'll never improve in this League. It's not about money, it's about getting the best players we can get. Patrick played pretty great for us, but can he play better? Yes. We are going through cut-ups and finding things he can continue to build upon, which is something we all need to do.
Q: I just want to know who out of the "Top Ten" who you hope to get in the NFL Draft? And, who and what were you looking for in the Combine? - Pat Ponce, Manhattan, KS
A: Well, we don't have a pick in the top ten but if one were to fall to us, we'll take it! I think in all seriousness though, that we are just looking to upgrade anywhere we can. We'll grade these guys at all position and stack our board and then see how things shake down over the draft weekend. I study every position and I'm just looking for the best player, regardless of what position. At the Combine I always pay as much attention to what they do in their workout as how they act. I like to see the guys out there who show some leadership skills, who is the ring leader out there? Who is quiet and more reserved? I think those observations also can give you an idea about a player.
Q: With a year under your belt calling plays and the second year in this defense, how much better and easier do you expect this season to be? Damien
A: We are still improving as coaches, just like the players. You have your package of stuff and then your little outside stuff that you like to pull from and we are reviewing what worked and what didn't and what we could make work better right now. So, we'll still look to get better in what we do and you can definitely add more now that guys are familiar with this defense. As far as calling plays, I had to work real hard on Sundays last year in comparison to just being an assistant position coach as I was previously. So, I do think it will be easier but I think you are always learning and I enjoy that. I want to constantly keep learning more about the game and trying to improve myself. So, I had my first year under my belt and now I'm trying to improve and get better and make the calls that make us successful.
Q: How did you feel about coming to the 49ers with there strong LB core with Patrick Willis and Manny Lawson both young with great potential? Since you were a LB coach have you tried to give them some advice that you gave to your old LB core in San Diego?  Jeremy Mann Waterford CA.
A: I still like to work with the linebackers and the biggest thing with me is that I want my linebackers to eventually coach in the National Football League. When I was growing in my playing career, I had coaches do that for me, and so the approach is making them understand not just what we do, but why we do it. I think you have to teach them how to do something and then why they need to do it that way, and I think that gives them more confidence in the defense. I want the linebackers to know their responsibilities and the responsibilities of the guys around them. I never wanted my linebackers to rely on a safety to make the call. They should make the call. So, that's my approach with those guys and then I do work with them on things like vision and sightlines, or different pass rush tips. We're all working together to be the best we can be out there.
If your question didn't get answered this time again, try again with our latest featured coach in offensive coordinator Mike Martz.**Click here!**