The newest tradition in San Francisco 49ers apparel is finally here. Long have 49ers fans worn attire of the team's iconic red and gold, but for the first time in team history, the 49ers Faithful have a chance to receive the most exclusive 49ers jacket to date. The catch is, it can't be purchased; it has to be strictly earned over a single season.
Instead of hotel points or airline miles, Faithful 49 presented by Esurance, the team's loyalty program, bestows fans with "yards" as the digital currency and fans can cash them in for 49ers experiences and gear. Redemptions have included everything from signed and game-worn jerseys, to pregame field passes, Red Zone Rally passes, VIP tours and all-you-can-eat lunches in the official team café in the SAP Training Facility.
As part of over 1,200 prizes awarded this season to date, Faithful 49 is awarding the Top 49 ranked members of the program with a limited edition personalized letterman jacket.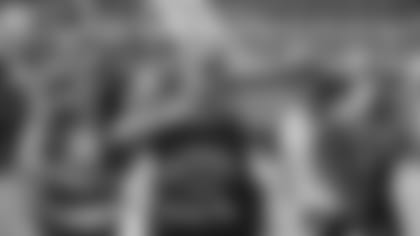 Only the top ranked 49ers fans get the chance to add this jacket to their collection. This free program includes fans of all ages and geographic locations; of the 49 jacket recipients from the 2014 inaugural season, 32% of the top 49 were not SBL Members at Levi's® Stadium. Additionally, this elite group ranked in the top 49 receives Red status for the following season and also earns field passes to a home 49ers game among many more rewards!
As members gain yards, they can choose to make purchases with their yards on smaller items, save for higher value items, or try their luck in an auction or sweepstakes bid. The best part: yards never expire, and as long as members keep engaging in Faithful 49, their yards will always continue to accumulate.
Didn't make it into Red Status membership last season? Not to worry, Faithful 49 is still going to reward you for your hard work as a 49ers fan. The top 4,949 receive two commemorative patches; a onetime earned Club 4949 patch and a 2015 Gold Status patch.
Members of Faithful 49 have many different opportunities to gain yards ranging from retweeting @49ers on Twitter to visiting the Esurance booth in the Faithful Mile presented by Safeway at every 49ers home game and even shopping at 49ers Team Stores. Faithful 49 also rewards two fans yearly with a patch for being the top Tweeter and Shopper each season.
Each season the grand prize is a trip for two to an away 49ers game. The trip, fit for any 49ers Faithful, comes complete with airfare, two game tickets, accommodations in the team hotel, and transportation. This season one Faithful 49 member will fly to Chicago with a guest to watch the 49ers take on the Bears. This sweepstakes is open until November 23 at 5 PM.
Start earning yards for a chance to show your 49ers pride with your very own custom letterman jacket: visit Faithful49.com to register online and get yards today!