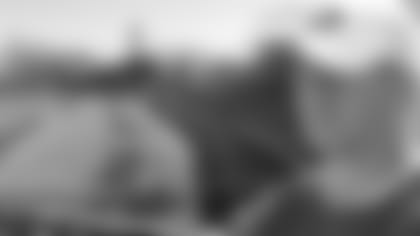 In his latest Eye on the Midwest blog, area scout Ethan Waugh checked in with 49ers.com to share his insight on the competitive Big Ten conference, more of his favorite road stops and his plans for the remainder of the college season.**
I have been to quite a few big games already this season, most recently the Notre Dame-Utah game in South Bend. It ended up being a big win for the Irish over a highly-ranked team. The Irish started the year playing a tough schedule against a number of strong Big Ten teams.  They dropped a few close games early, but are really hitting their stride late in the season.
Against Utah, Notre Dame performed well in all three phases.  They played well on defense and were opportunistic on both offense and special teams, as well. The Irish have a solid senior class in terms of talent, including a few players who are injured right now.
I spend a fair amount of time visiting Big Ten schools on my schedule with my duties as our Midwest-area scout. From what I've seen this year, it is a very balanced conference.   Michigan State, Wisconsin and Ohio State all lead the pack with just one loss in league play.  Iowa has just two league losses and then there is a log jam of teams with three or four losses in league play.  Really, any team can beat anyone else, much like the NFL.  Once the Big Ten implements division play and a championship game, the conference race will be even more interesting to watch.
The three teams at the top of the standings have a couple of things in common. One, they all run the football successfully, and the other is that they play great defense.  It sounds like a cliché, but that's what it takes to win in the Big Ten and those three teams have proven they can do both well.
In addition to the big-name schools, we always make stops to the smaller schools. Already this year, I made my first visit to Mount Union College, a Division-III school in Alliance, OH. It's easily one of the most successful college programs of the last 20 years. They've won 10 National Championships since 1993 and have played for a number of others.
They also have a huge number of players – well over 200. Just how they handle practice from a logistical standpoint was really interesting to me. It is much different from an NFL practice where you have fewer than half that number, even in training camp. During the season, they have four groups of offense and defense practicing at one time, with multiple huddles in each group. Even the young players that would ordinarily not play in the games are getting good instruction and practice time.
You have to treat every trip the same way, even the small schools. Last year, I scouted Jared Veldheer at Hillsdale College. He's starting at left tackle for the Raiders and was drafted in the third round. So you never know where the talent is going to be.
With all the time on the road I try to find good spots to eat. I wrote last year about a visit to the Thurman Café in Ohio, but didn't make it back this year. I did however find another great food spot in Cincinnati, a place called Terry's Turf Club. Apparently it's been featured on* Diners, Drive-Ins and* Dives on The Food Network. It certainly lived up to its billing. The key, in my opinion, was the duck fat. They cook their French fries in duck fat – making them extra crispy and flavorful. They have great burgers as well.
At this point of the season, we're really winding things down. I'll be hitting up a lot of the top schools with top prospects one more time before we wrap up the fall scouting-period. It is important to see how these guys play in their later games and how they have improved over the course of the season.
This weekend, I will see Illinois play Northwestern at Wrigley Field. ESPN's Game Day crew will also be there for their pregame show. It should be a neat atmosphere. I don't think there's been a football game played at Wrigley since the 1960s.
The end zone setup should be interesting too, seeing as how it is flush against Wrigley's famous, ivy covered outfield walls. They're not going to put scouts in the press box and the November weather in Chicago can be a little dicey as you could imagine. Hopefully it will be a nice day.
Aside from the unique setting, there is a lot at stake in the game. The "Land of Lincoln" trophy is on the line, and the winning team will have bragging rights around the state until next year. Illinois also needs one more win to attain bowl eligibility, so I would expect them to be extremely motivated. It should be an interesting game and both teams will certainly leave it all on the field.
With the season winding down, all of our reports will be due following the conference championship games in early December.  After reports are in, the college scouts will meet in Santa Clara and begin to refine our list of prospects.
After Christmas, the bowl games and all-star games become our focus.  Each scout will go to two or three bowl games, with the entire staff attending the Senior Bowl and then travelling to Santa Clara for another round of meetings prior to the Combine.
The East Coast Bowl is no longer in operation so I'll be able to make it home for Thanksgiving for the first time in three years.  No more gas station dinners on Thanksgiving – I will have to carve the turkey this year.