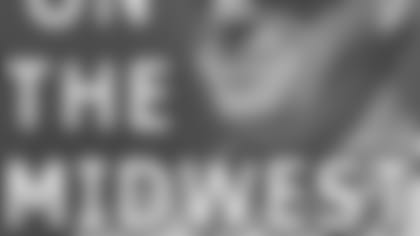 49ers college scout Ethan Waugh has been hard at work at the Senior Bowl.  Catch up on all his activities in Mobile, Alabama, in this Eye on the Midwest blog.**
Things are going well down here in Mobile and I am staying busy – that's for sure.
I flew in on Saturday evening, and was able to talk to a few players on the flight and then a few more as I checked into the hotel. It was good to get a few interviews in before things really got hectic on Sunday.
I woke up early on Sunday in order to meet more of the players and help with the testing and questionnaire process. Upon arrival, each player checks in with the Senior Bowl staff, receives a physical, meets with a representative from National Football Scouting to finalize his transportation to the combine, has his hand and arm measured, and then is escorted to take a number of tests. Todd Brunner, Matt Malaspina and I helped to escort the players to the testing site because they could have easily gotten lost in the sea of youth cheerleaders that were also using the convention center.
The highlight of Monday morning is the official weigh-in. Essentially every scout and coach in the league is in attendance. It's a big part of the week for us because we can finally get verified heights/weights/arm length/hand span on each of the players. These "measurables" play a significant role in the evaluation process because teams are constantly searching for bigger and faster players. In addition to the numbers, you can tell a great deal about a player's bone structure and capacity to gain weight by seeing their body up close – this is particularly important when you are projecting players to different positions.
Following the weigh-in, the 49er scouting staff split up to watch the North and South teams practice – I attended the North practice primarily because the majority of the prospects in my area are on that squad. In addition to the players from my area, I am responsible for watching the defensive backs. This year's crop is really a strong group. The corners have excellent movement skills, and even though contact is kept to a minimum, the safeties show good aggressiveness and physicality.
Louis Delmas, a safety from Western Michigan, has had a good week of practice. I wrote about Louis in some of my earlier blogs, and it is great to see him continue to improve. He is a physical player with the speed and range you like in a deep defender. Another safety, Chip Vaughn from Wake Forest, has made a strong impression on me. He has great size (218 pounds) but still runs well and shows a good understanding of the game.
At corner, Darius Butler from Connecticut has performed well. He has shown that he has the speed and quickness to consistently get a good jump on the ball. Additionally, San Jose State's Coye Francies has measured up well. He is over six feet tall and has a knack for disrupting the receiver's release.
Watching the receivers battle the defensive backs in one on one's really gives you a good feel for a player's abilities. Not only can you see his speed and change of direction abilities, but also his ability to react to movement and maintain leverage. Additionally, you can see how he handles competitive situations – how does he handle success and failure?
The 49er contingent will leave Mobile tomorrow afternoon because Thursday is last true day of practice. I'll head home for a few days and touch up my reports. I have to make sure that any new information gathered through interviews is put into the report and double check my spelling and grammar. Next Thursday, all of the scouts report to Santa Clara where we will spend the first couple of days watching film of the all-star games and working on the underclassmen that have officially declared for the draft. Over the weekend we will start going through the entire draft class position by position.
We will be meeting for about three weeks, and I hope to keep you updated on those proceedings.