Picking up where fellow area scout Todd Brunner left off, Ethan Waugh checks in from Mobile, Alabama with his thoughts on the final two days of Under Armour Senior Bowl practices.
As Todd Brunner mentioned in his last blog, each scout was responsible for two position groups at the Senior Bowl. I was given the positions of wide receiver and tight end to shadow all week in Mobile.
The position groups are something we change from year-to-year. When I came into training camp in the fall, I was assigned the receivers to watch on our team for the duration of my time at headquarters. As I follow all of the college receivers through these All-Star games and into the spring, I feel like I have an excellent understanding of the players currently on our roster and can easily compare how the current crop of prospects measure up.
Day 3
On Wednesday morning, I attended the North team's practice at Ladd-Peebles Stadium. At that point of the week, it was actually the third time I had seen the North team practice, allowing me to have a great feel for each player's strengths and weaknesses.
This year's roster contains a deep group of players, and both the receiver and tight end groups have done a good job of getting on the same page with the quarterbacks. They look more advanced than what you would anticipate after just three practices.
It's important to impress the scouts during the practice sessions because most scouts will not be attending the game on Saturday. However, the game is filmed and sent to each team immediately afterwards so we will have a chance to break it down just like every other college game.
You can still complete a pretty thorough evaluation of the player based on the practices. You can see the offensive linemen vs. the defensive linemen and receivers vs. defensive backs in one-on-one situations. You are able to see what one very good player is capable of doing against another very good player. The practice sessions allow you to focus more on each individual player as opposed to trying to track 22 players in a game setting.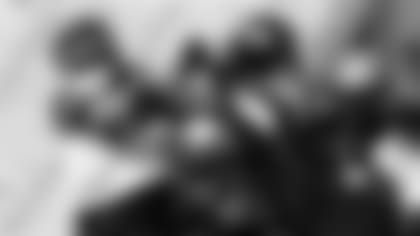 A great thing about this week has been the different drills that the Miami Dolphins and Detroit Lions coaching staffs have utilized. Each position I watched took part in drills that not only prepared the players to play in the game, but also assisted in the evaluation process. You were able to assess not only their physical abilities, but their technique as well. In a nice change of pace, the receivers even engaged in physical blocking drills against the defensive backs.
Equally as important to the on-field performance is the information we gather from one-on-one interviews with players at the end of the day. There are two things we want to accomplish in an interview. First, we want to address any issues of any kind that a player might have from his past. However, from my experience, this year's players are not only talented athletes, but possess exceptional character as well.
Secondly, with every player, we want to get to know them as a person. We have seen all of their games and we know what kind of player they are. We have talked to multiple people at each school, from coaches to support staff. We have their opinion of the player's personality, but it's important to form our own view of the player and see if what I find out lines up with what I have been told.
When I sit down to interview a player I do not record them, write things down or take notes like a reporter would do during an interview - I maintain eye contact throughout the interview. But first, I always try to start out by putting the player at ease. It is difficult meeting scouts and coaches from 32 prospective employers in a foreign setting – so if I can get him to relax and become comfortable with me, I hope to receive the most accurate representation of the player. The questions I ask are designed not only to gather information, but also to convey the values of our organization.
Day 4
I am really glad that I was able to stay for both practices on Thursday. They are the final non-walk through practice of the week for the teams and are geared more towards game preparation than evaluation. You can see how well the players have grasped the entire package of information presented to them throughout the week.
On offense, you can tell if a player is having trouble getting lined up as they break the huddle. Seeing that, you know he might not have a total grasp of his assignment. You can see if he is tentative when he is leaving the line of scrimmage and tip toes through his route. It also gives you great perspective on the improvements that the player has made over the course of the week.
There is not a lot of down time when we are working the Senior Bowl; it is a little bit busier than you would think when you factor in all of our meetings, interviews, and functions. On Wednesday night, the people of Mobile and all of the NFL representatives come together for the Seafood Jubilee – it is a reception with fantastic food and allows us to meet the people that do such a wonderful job of organizing and supporting the Senior Bowl.
When I do have a little time to grab dinner, I head straight to Wintzell's Oyster House. Mobile is right on the bay and Wintzell's is a great place to grab fresh oysters. In between practices, I point the rental car directly to Dreamland, a fantastic barbecue place with great ribs and even better banana pudding.
I guess sometimes it is not all that bad to be a scout.
But even after all the delicious seafood and barbecue, there is still one more All-Star game next week - the "Texas vs. The Nation" game. I will not be in attendance, but our General Manger Scot McCloughan and our Director of Player Personnel Trent Baalke will be there.
Next week, I have a few loose ends to tie up with underclassmen that have declared for the draft and will prepare for our initial round of meetings. All of the scouts will fly to Santa Clara on Thursday and begin our group evaluations on Friday. These meetings should lead us right up to the combine.
Thank you for reading – My next entry will be from the combine in Indianapolis!