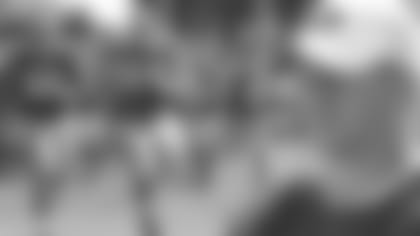 In his latest Eye on the Midwest blog, area scout Ethan Waugh checked in with 49ers.com last Friday in to talk about the start of his recent scouting trips, his encounter with Joe Montana and much more.**
I like that we played well from top to bottom this preseason. The starters, reserves, and even the players who were not with us after cut-down weekend all performed – that really speaks to our improved depth.
It was hard trying to catch our preseason games on TV because I have been all over the Midwest this past month. By Tuesday, I will have been to essentially all of the schools in my area. Two-a-days are a great time to see the players – practices are usually physical and most players are as healthy as they will be all year.
My first stop was supposed to have been at Eastern Illinois. I left training camp on the 8th of August and planned on seeing them practice that night, but my flight through Phoenix was delayed for most of the day. Unfortunately I missed that practice, but was able to go to the University of Illinois the next morning and reschedule Eastern for later in the month.
As of right now, the only two schools in my area that I haven't been to are Michigan State and Eastern Michigan, but I will be visiting both early this week. After stopping in Ypsilanti, I will make the short drive to East Lansing to check out the Spartans and then head home for a few days.
I had my first flat tire on the road and I've been scouting professionally for seven years now. I was leaving Youngstown and was heading towards Ohio University when it happened. Somebody in front of me ran over something and it bounced up and got me – I couldn't avoid it due to the heavy traffic. I blew out my tire, but was able to get off to the side of the highway and get the tire changed. It really threw my schedule off that week, but Ohio was gracious enough to let me in later in the month. Hopefully I won't have too many more of those travel snafus.
The good thing about seeing so many two-a-days is that, a lot of times, the coaches only have time to talk in between practices while they're eating. Usually they'll take you to their cafeteria or training table. I would say the best meal I had so far was at the University of Cincinnati. They go away for training camp to a quiet place in the country called Camp Higher Ground. The camp has a fantastic cafeteria with healthy meals and incredible service from the staff – they really make you feel at home.
One highlight of my first scouting trip was meeting former 49ers great Joe Montana at Notre Dame practice. He was there watching his son, a quarterback for the Irish, and I was fortunate enough to speak with him for a minute.
I am currently headed to my first game of the season. I'll be watching West Texas A&M play at Grand Valley State in Allendale, MI. I have done some background work on Grand Valley State but have not yet seen them live. It should be a competitive game because both teams are powerhouses in Division II and have a number of quality players.
We are always looking for diamonds in the rough and hopefully we can find one at the game.
Probably the first marquee game I will attend will be next Saturday when Miami (FL) travels to take on Ohio State. It should be an exciting game for two traditional power programs. Ohio State has done a great job of bringing in quality opponents in their non-conference schedule, and this year is no different. There will certainly be a lot of talent on the field when they host the Hurricanes.
Thanks for reading my latest entry, I will have more updates from the road in a couple of weeks.