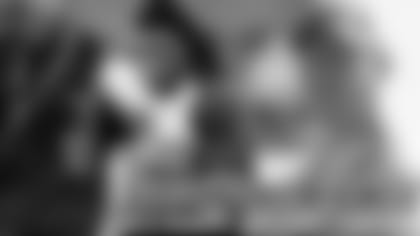 In his latest Eye on the Midwest blog, area scout Ethan Waugh checks in to talk about the offseason of a pro football scout. In this entry, Waugh writes about spending quality time with his family, preparing for a new draft class and his role during training camp.**Right after the NFL Draft, all of the 49ers scouts returned to their homes and enjoyed a brief vacation.  I reacquainted myself with my family after the long season of travel and spent as much time as possible with my two youngsters.  We did not take any exotic trips, but we were able to fit in a great deal of swimming and backyard whiffle ball, and to me, that is just as fun.
After having time with family, we quickly jumped right back into our duties with the 49ers.  The starting point is the NFS (National Football Scouting) spring meeting that is held each year in Florida.  This scouting "combine" shares information among its member clubs on each of the players in the 2010 draft class.  Essentially, they have a team of scouts that spends all of spring 2009 working on the 2010 class while we are still concerned with the current year's draft.
This shared information is used as a starting point for our work on the class of 2010.  It allows us to narrow the focus of our efforts on a smaller number of schools and players.  Simply put, it tells us who and where the best players in the country are located.
When the meetings are over, Trent Baalke, our Director of Player Personnel, will take all of that information and divide the country into six areas.  The areas generally stay the same, but he might have to tweak a few schools that are in border regions in order to even out the workload.  Once our area schools are assigned, we dive right in and begin watching tape on all of the players in our region. 
My area, the Midwest, really has not changed much heading into the fall.  I will have roughly the same number of schools this season as in the past. So far, I have watched tape on quite a few of the prospects in my area and will evaluate even more in this final month before we head to Santa Clara for training camp.  I should have a good feel for each of the players before I actually go into the school in the fall. 
In addition to the film evaluations, I have done a lot of preparations for my travel in the fall.  A great deal of effort goes into preparing the prospect information, school information, schedules, travel plans and notebooks prior to travelling in the fall.  It is kind of like packing your own parachute – when you are on the road, you are totally dependent on the information you have with you, so I double-check everything to make sure it is correct. 
We will arrive in Santa Clara on the 29th of July and will be quite busy from the moment we get off the plane.  We will spend a great deal of time in training examining the details of the scouting process in addition to evaluating each player during each practice.  By the time we leave, we should have a thorough understanding of not only our duties as scouts, but our team's strengths and weaknesses as well. 
Throughout the organization, there is a great sense of optimism as training camp approaches.  We feel that we have added another group of solid players this off season and are excited to see how it all comes together. 
As a scout, I cannot wait to see how the new acquisitions adjust to the accelerated tempo and intensity of an NFL practice.  Our staff does a tremendous job of coaching each and every player and pushing them to be the best they can be – It is truly fun to watch. 
When we get into camp, I will update everyone on what the scouts are seeing on the practice fields.