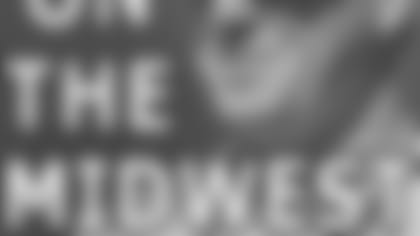 49ers college scout Ethan Waugh shares his latest college visits in this most recent Eye on the Midwest blog. **I started my week last Monday in Michigan, at Central Michigan University after their big game
against Georgia, which they lost 56- 17. It was a quiet day following the loss, and pretty much just me and a couple of coaches watching the game.
From there I went to Hillsdale College, which is a small school in Michigan. I had a chance to spend a whole day there talking to the head coach and the coaching staff. I was able to watch a linebacker practice that day, and he's really a good football player. It was probably one of the few days in history when Hillsdale College had five scouts out at practice. It was a big day there for them, and everyone was there to get some looks at the linebacker.
On top of having a quality player, it's really a neat place. It's a small school in a small town, but they take their sports seriously. I also had a personal connection as their basketball coach was the basketball coach at my alma mater, Lawrence University, and I used to work for him as a work study job. It was good to see him and he had some insight on some of the guys too.
This past weekend I saw three games – all on Saturday. First, I caught Akron against Ball State. Akron has a small press box, which they reserve for media only. So, I sat out in the stands and since it was a complete downpour, I wound up extremely soaked and watched only the first half before I headed out to dry out.
After that game, I drove fifteen miles down the road to watch Kent State play Delaware State, where fortunately I did have a seat in the press box. Kent State is my school, but I called up Todd Brunner to see if there were any prospects that he thought I should also keep an eye on. He gave me a few names, and so I made sure to at least take a quick look at those guys.
Eventually the rain subsided a bit, and afterwards I headed the 45 miles to Youngstown to catch the second half of the Youngstown versus Central State of Ohio game. It was good to see Central State play, because when I went there the first time, practice had been called because of rain.
Back when I was covering schools in California, I think I once saw three games in one day, but it's pretty rare. Everything has to happen just right. Despite the rain, I stayed on schedule and had a productive day.
Saturday night and Sunday morning, I brushed up on some reports, and then drove to Columbus, Ohio. I checked into my hotel around three in the afternoon, and found a place where I could eat a late lunch and watch the 49ers game.
I finally found a restaurant but by the time I got my food, winds (a spinoff from Hurricane Ike) were about 60 miles per hour and all the power went out. Since I couldn't watch the game, I finished my food and went back to the hotel, where the power was also out. So, I worked on my computer, and followed our game online as best I could until my laptop battery went out. I was sitting in the hotel, in the pitch dark unable to get any work done with 60-mile hour winds outside, which didn't cool it down much since it was still 90 degrees out. After a few minutes I said to myself, "I can't stay here," and so I booked a new hotel in downtown Columbus that did have electricity.
Driving from one hotel to the other in Columbus was like the old video game Frogger. There were trees falling down everywhere, and power lines down all over the place.
Yesterday when I got to Ohio State, I wasn't even sure if they'd have power in their facility, but thankfully they did. I spent all day watching tape of probably the biggest game of their season, their loss to USC on Saturday night. I talked to Ohio State's head coach Jim Tressel for quite a while out on the field and although he was clearly disappointed about the loss, he was still very helpful, and he really does a lot to help his players further their careers in the NFL. They have such a strong senior class, that I stuck around for an extra day, and I think I have those guys figured out with what they've done so far.
This weekend I'll be back home, and I'm going to go to the North Greenville College game. It's really the only school I have in South Carolina, so I want to see those guys play live. I saw them practice on the first day of camp, so I'm curious to see how far they've come since the beginning of August.