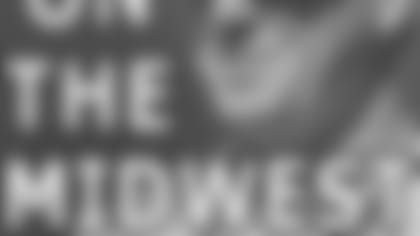 49ers college scout Ethan Waugh has been busy the last few weeks. Catch up with him in this latest Eye on the Midwest blog. **
In my last blog I left off speaking about my trips to Toledo and the University of Michigan.
Toledo has wide receiver Nick Moore, whose brother is Saints wide receiver Lance Moore. 49ers fans might remember Lance from a few weeks ago when he had unfortunately an excellent game against us. Nick has got good bloodlines and is a talented guy. He's really a smooth, fluid runner and has been very productive in his own right. He had a breakout game against Michigan, catching 20 balls for 160 plus yards.
They've also got a quality safety in Tyrrell Herbert. Herbert has good range and he's a solid player who came up big against Michigan, returning an interception 100 yards for a touchdown.
As for Michigan, the Wolverines have a very veteran defense. They are really strong up front and they have three defensive linemen in Terrance Taylor, Will Johnson and Tim Jamison who are all big, strong, physical players. All three of them will be solid prospects for the draft.
Morgan Trent is a corner who has played a lot of football for them, and who is another prospect.
He's got good length, and is very fast. He has been on the track team at Michigan in the past and he's a guy who has the height and speed that everyone is looking for at the next level.
While I was able to evaluate their players, I didn't attend the Michigan-Toledo game, which Toledo won 13-10. For a lot of those kids growing up in Michigan, Michigan is the program that everyone wants to be part of and emulate, and it was a chance for Toledo to show they could play on the big stage. They have some good players, and an excellent coaching staff. They've beaten some good teams in the past, and they pulled off another upset with the close win over Michigan. If you let the underdog hang around long enough, they can come through in the end and that's what Toledo pulled off.
As I had mentioned, my wife brought the kids up since I've been on the road for so many weeks lately, so I spent most of my weekend playing with them and being a dad.
Since being back on the road, I have found some good talent to evaluate. Early this week, I went to Western Michigan to see a very good defensive backfield. All four of their senior defensive backs are prospects. They also have a very good receiver and tight end. I think they're playing some good football right now, as their 6-1 record indicates.
They're really pleased with the way things are going with their season, and they have a big rivalry game this weekend against Central Michigan, Joe Staley's alma mater. I won't be at the game, but I have seen Central Michigan already. It should be a great game. Both teams are two of the top teams in the MAC conference.
Central Michigan has a left tackle, who is a good player and they have two senior running backs who have been productive for them.
This morning I visited Michigan State. Practice wasn't open so I just watched tape all day. Their top prospect is Javon Ringer. He's a work-horse running back.
I decided to go ahead and sneak in a visit this afternoon at Ferris. I was here in training camp, so this was my second stop. Unfortunately, it's pouring down rain so I watched practice from the safety of the press box, which was conveniently left open. It was a very good practice despite the rain. I'll watch tape the rest of the evening and then head to Grand Valley State tomorrow morning, which is a Division II school. I'm also hoping to see if I can squeeze in a trip to Eastern Michigan as well.
On Saturday, I'm planning on seeing the Miami of Ohio, Bowling Green game. For Bowling Green, their top prospect is defensive end Diyral Briggs. He's a speed rush guy, who is an undersized athlete who gets by with his athleticism. He does play on his feet at times and he takes drops on occasion as they move him around a lot. He was leading the nation in sacks at one point. He's slowed down a bit, but he is still a productive player.
On Sunday, hopefully I'll be able to see the 49ers game. Since I'll be seeing a lot of players this week, my goal is to try to finish up my reports by Saturday night or early Sunday morning so that I can find a place to watch our game.
As college scouts we are at the point in the season where we've been to all the schools already, so right now we're taking our second trips into a lot of these places. At this point, we have a feel for which guys we're more interested in, and so it's time to start going into greater detail on their background and their play on the field. We're also at a point where it's the seventh or eighth week of the year for most teams, so they're kind of scaling back their practice a little bit. There's probably less action to watch live, because teams are trying to keep their guys healthy at this point.
There is a reason why we visit the schools on different occasions. Let's say a guy is a first year starter, but he was playing behind an NFL-type player early in his career. If he was a first year starter, he may not be very polished at the beginning of the season. But with more playing time and more experience, he becomes more effective. So that's something we try and pay close attention to when we plan out our visits.
You really have to study the player, then back away and come back again with a fresh view. The goal is to not be biased on what you saw from the player during the first visit. If a guy has gotten better, we try to give him credit for that, and that does happens quite a bit because these guys are still 21-22 year olds who are still learning, maturing and improving.