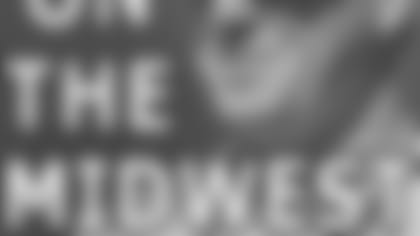 49ers college scout Ethan Waugh shares his latest college visits in this most recent Eye on the Midwest blog. **When I got home from my long three-week August road trip, I did some clean up work on my reports and then planned the next few months of my road trips. I played with my kids for a couple of days and then headed back out last Wednesday, which means since July 22nd, I've been home for five days total!
The college football season really began last Thursday, so I headed back to Cincinnati and went to their game that night against Eastern Kentucky. Those are both my schools, so it was good to get to see them play one another. Cincinnati won ten games last year and they are really excited about the team they have coming back. They have a neat stadium, it kind of sits down right in the middle of an urban campus. They've got great crowd support, and a good atmosphere.
I spent a lot of time with the coaches Friday morning after the game. They've got a big senior class so I went through all of their guys in detail with them, and then also watched tape. It was an enjoyable visit. Their starting quarterback Ben Mauk originally went to Wake Forest, got injured and since he's from Ohio, he transferred to Cincinnati last year and took them on this great run, one of the best seasons they've ever had. He's still trying to get another year because he was injured his first year at Wake Forest, and so he's trying to get a medical redshirt. At the time I was there, he was going thru a legal appeals process trying to play this season. Fortunately, they've got the luxury of a senior quarterback who started for two years before Mauk got there, so he's experienced and did very well in the game against Eastern Kentucky. But, it will be an interesting story to watch and see if Mauk gets to play or not this season.
I then went to Central State of Ohio which is in Wilberforce. It's a very, very small town, but there are actually two colleges there. As I pulled up to the school, it started pouring down rain and the coach ended up cancelling practice. So I didn't get to see practice, but I did get to talk to the coaches and watch a number of their games from the year before. They used to have football back in the 80s and 90s and had a very powerful program. They just brought it back about four years ago so this is the first crop of seniors they have had fully go through their program, and so they are very excited about it and very eager to see how these guys do.
I finished there pretty late that evening and drove to Indianapolis where I stayed the night and then the next morning went to Indiana for the Indiana/Western Kentucky game on Saturday. The Big Ten is different than most places. They don't give press box credentials to scouts so you sit in the stands. It's not as easy to work, but you get to see the game from a fan's perspective. It was a fun day – again very hot, and there was a very sun burnt 49ers scout leaving the stadium by game's end. Indiana ended up winning, but Western Kentucky played very well – especially on defense.
I drove to Louisville and then went to the Louisville/Kentucky game on Sunday which was a national televised game. It's a huge rivalry game and they played each other right off the bat. So, as you can imagine it was a great atmosphere. My hotel was maybe two miles from the stadium, and I should have walked. It took me an hour in my car just to go those two miles because of all the hoopla and the crowd. It's really a great stadium. Louisville's color is red, and Kentucky is blue so the whole stadium is red except for three sections that were totally blue. There was no mixing of the two colors. That was a great game to watch, very exciting. Both schools are really known for their offense, but it turned out to be a pretty good defensive battle. I kept getting text message from our pro scout Quentus Cumby, who was obviously watching it. He made sure that I knew that Kentucky was winning, since that's where he went to school. I think it is safe to say that he is excited about the resurgence of Kentucky football. Another side note, the head coach at Kentucky was Mike Nolan's coach at Oregon when he was in college.
I decided to go back to Cincinnati on Sunday night to stay and as a I pulled into town there were police cars, and state troopers at every exit. I didn't know what was going on and then as I crossed the river I noticed it was just packed with boats. I pulled into my hotel and I asked what was happening and I guess they have a huge fireworks display where they shut down all of the interstates through town and put on 4th of July-like display. I was lucky I made it through just before dark because otherwise I would have been stuck on the side of the road.
I went to Miami of Ohio in Monday. That was a great visit. They take very good care of you and they've got a number of good senior prospects as well. That's also Justin Chabot territory – his hometown so he's a big hit there. He was able to tell me where all of the good spots were for meals and that ended up being very helpful during my visit.
I drove from there to Muncie, Indiana on Tuesday to visit Ball State. It's about 75 or 80 miles through cornfields and farms. Ball State is where my mom went so I've been here for some reason when I was a little kid. It's changed a lot. The football stadium has been expanded and they've got a great facility with offices that look over the field. It's really nice. I checked in for this blog during my visit, and had to do so sitting outside because they play the fight song in the football lobby every day as the players come in for practice and they play it loud. It gets them amped up for practice and makes certain they learn the words to their fight song. It's awesome, but it's just not conducive for telephone calls.
They were excited because they won last week against Northeastern and they play Thursday night against Navy at home. I caught their afternoon practice and then stayed at my parents' house last night and then am on my way to Western Michigan.
I'll also be hitting Eastern Michigan, Michigan State and then catching two games on Saturday – the Western Michigan/Northern Illinois game and then Michigan State plays later that night. After that I'll have another whole week on the road before I head home so I'll update you guys again soon before I zip home.