It's beginning to be a common scene at 49ers organized team activities.
Alex Smith standing at the line of scrimmage with 10 fellow offensive teammates during a walk through period, barking out detailed instructions on what is to be expected should the defense bring various pressures.
It wasn't something Smith would commonly do in his first five NFL seasons. Those years, the former No. 1 overall pick in the 2005 draft was still in the midst of understanding the complexities of a new offense.
That's not the case in 2010.
With offensive coordinator Jimmy Raye returning for a second season to build on the 49ers multi-dimensional offensive attack, Smith continues to strengthen his leadership skills, both with words and actions.
Those leadership skills have not only brought Smith closer to leading the 49ers back to the playoffs for the first time since 2002, they've also moved him closer to his Pro Bowl tight end.
Just check Vernon Davis' Twitter account for proof.
"I'm excited about this year because of the 11-85 chemistry," Davis tweeted on Sunday, one day before the start of the 49ers two-day OTA session.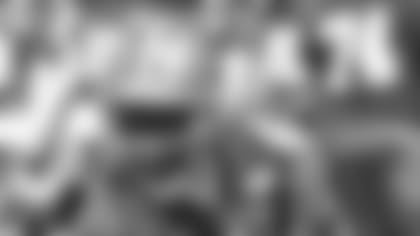 Davis is so fond of the notion; he practically has it down to an advertising campaign.
"Eleven to eighty-five, baby. It's definitely growing," Davis said after Monday's workout. "You saw us at the end of last year, Alex trusting me, and trusting that I'm going to get open."
According to Davis, the communication between the two has always been there, it just continues to grow the more time the two spend together on the field and in the film room.
"I talk to Alex when we're watching film, and if I see a weakness in the defense, I'll tell him, 'Alex, if they're double-teaming, throw it here,' or 'Alex, if they don't double-team me, put it up a little early, because I'm going to beat it.'
"That's the relationship I'm talking about, Alex knowing that if I get a safety lined up over the top of me, I'm going to win, so just throw it up. That's the trust you need. That's the chemistry I'm talking about."
The trust was demonstrated again during 11-on-11 work, when Smith found Davis wide open down the middle of the 49ers defense for a 25-yard gain. It was reminiscent of Davis' 2009 over-the-middle touchdown catches at Minnesota, Houston and Green Bay.
Bruce Heads Back to St. LouisThe 49ers made a roster move prior to the start of Monday's OTA session, [trading veteran wide receiver Isaac Bruce to the
](http://www.49ers.com/news-and-events/article-1/49ers-Trade-WR-Isaac-Bruce-to-St-Louis/dc3b070a-a3d1-4d34-9ab4-7fad391fb94d). The move allows Bruce to retire with the team he spent his first 14 NFL seasons with.
Bruce spent two seasons in San Francisco, but left a lasting impression on both his teammates and coaches.
Said Smith of Bruce's time in the Bay Area, "He was a truly unique person. I've never played with anybody like him and that's the truth. I think I've had the chance to play with guys that I hold in that kind of esteem and they are all pretty unique people. I think Isaac's personality, his work ethic, his approach to the game, his approach to life – I think his approach to everything he did, it wasn't just football. It wasn't just that he was a perfectionist with football. I think everything he did, he was a perfectionist about."
Head coach Mike Singletary echoed those sentiments, and took it one step further: "I just remember (Bruce) being the ultimate professional, what a classy human being. He is a great guy, well respected. His credibility preceded him before getting here. I just think everything he did while he was here, the professionalism, the work ethic, the candor; everything about him was what drew all of our receivers to him. Anytime you can go somewhere and you're supposed to be a great player, you're supposed to be this and that, you can go somewhere else and guys can understand why you're that and you don't have to blow your own horn or anything like that. You just live it. That's what he was. I'm very excited about him. I'm excited about the whole transaction that's taken place. He's going to retire a Ram and that's what he deserves."
For the first time this offseason, the 49ers offense opened up the first team period from their 1-yard line. The situational period included several inside handoffs to fullback Moran Norris and backup running back Glen Coffee, who ran with the first-team offense as Frank Gore missed the workout because of travel issues.
With the offense not looking to throw the ball as often when packed in close to their own end zone, the defense almost came up with an interception on one pass attempt. Outside linebacker Parys Haralson practically came up with his second interception of OTAs, knocking down Smith's quick pass intended for Coffee in the left flat. Haralson has yet to pick off a pass in an NFL game and it's not lost on him or outside linebackers coach Jason Tarver. "That's me and J.T.'s goal," Haralson said. "I don't have a career interception yet!"
Another important note from the opening team period took place when first-round picks, Anthony Davis and Mike Iupati took their first reps mixing in with first team offensive line. Davis (right tackle) and Iupati (left guard) joined center Eric Heitmann, right guard Chilo Rachal and left tackle Joe Staley in the starting five. Singletary said the move was designed to get the rookies more reps, not necessarily first-team reps.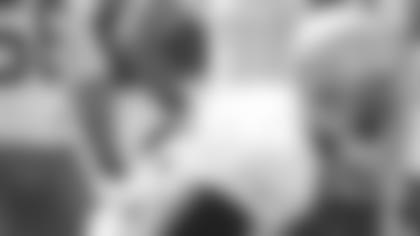 Joe Staley joined teammates in individual drills for the first time this offseason. The Pro Bowl linebacker is still recovering from offseason knee surgery and plans to follow the advice of the 49ers training staff on when it's the right time to join in on the team periods. Willis does continue to work behind the play, some 50 yards out of harm's way. Being so far away from the action is tough on Willis, but might be a blessing in disguise. "It's the game of football and I play defense, so I love contact," Willis said of the downside of not being full-go. But on the other hand… "You can learn a lot from observing the offense and from looking at your guys. You see the formation, and once you get the call, I go through all the calls that I would make and at the same time, I go through the same progression. I look at what they might run and I get all those mental reps."
Lastly, Singletary opened up his post-practice briefing my commenting on the passing of legendary UCLA men's basketball coach John Wooden. Singletary met Wooden prior to the start of his coaching career, and sought out the highly succesful leader for coaching advice. "He was very nice to me whenever I had the opportunity to meet with him," Singletary recalled. "I'll forever be indebted to him for the things that he talked about."