Every year since 1997, the DeBartolo family have stressed the value for scholastic equality. Even before then, Edward J. DeBartolo Sr.'s experiences as a youth only furthered their passion for resolving barriers to equity in education.
DeBartolo Sr. was a child of an immigrant family who relocated to the United States from Italy in the early 1900s. Although born as a U.S. citizen, DeBartolo Sr. was not proficient in the English language when he began his early studies. Despite the hardships he faced, he never allowed that to deter him from pursuing an opportunity of higher education as he went on to earn a degree in civil engineering at the University of Notre Dame.
Since, the DeBartolo family have continued to advocate for educational impartiality and finding ways to help level the playing field for those who seek the same advantages.
As part of the Edward J. DeBartolo Memorial Scholarship Foundation, San Francisco 49ers co-chairs Denise DeBartolo York and Dr. John York awarded graduating high school seniors 15 scholarships, totaling $150,000, to help open doors for students near the family's hometown of Youngstown, Ohio.
On Friday, the foundation held a luncheon for 15 students, all hailing from Columbiana, Mahoning and Trumbull counties on the eastern border of Ohio, to honor the recipients as well as their families who were in attendance.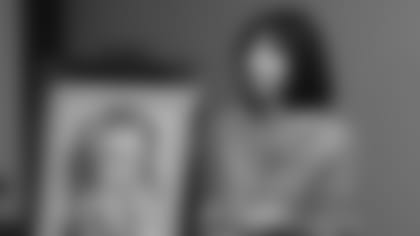 "Education evens the playing field," DeBartolo York said. "If you can help get someone an education, they can do almost anything if they have the desire and willingness, because it does even the playing field, and that's what we have sought to do for the past 24 years."
The scholarship was first established by DeBartolo York's father and several close friends, who worked to provide commendable youth the opportunity to continue their education. The scholarship foundation, run by the Yorks in DeBartolo's honor, serves to provide the same platform for excellent area youth in need of financial assistance.
More than 350 applications were received by the foundation, which included grade transcripts, student essays and recommendations from guidance counselors and principals.
The recipients were then selected based on their academic achievement, community involvement and financial need.
"They have surmounted some obstacles that would have been daunting to the most of us," she continued. "One of the big things I believe in is that, after you get this award and you get to where you're going and you reach your goal in life, make sure to always reach back and help give a hand out to the people behind you and continue the cycle."
Here's a list of the 2021 Edward J. DeBartolo Memorial Scholarship Foundation award recipients.
Table inside Article

| Name | School |
| --- | --- |
| Megan Black | South Range |
| Angelica Bohurjack | Austintown Fitch |
| Bailey Campbell | West Branch |
| Megan Chludzinski | Lisbon |
| Brooklyn Funari | Columbiana |
| George Getsy Jr. | South Range |
| Alannah Hetzel | Boardman |
| Nikole Husnick | Brookfield |
| Ruth Kaiser | Bloomfield |
| Makenzie McBride | Libery |
| Hannah Minor | United Local |
| Krista Perry | Crestview |
| Lily Secrest | Salem |
| James Shaffer | Campbell Memorial |
| Tatiana Tolson | Cardinal Mooney |