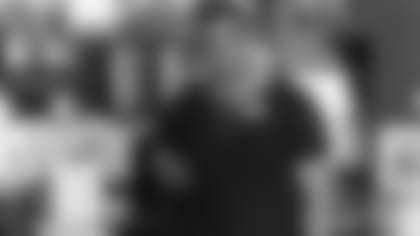 The 49ers would like to inform readers that this article chronicles the ups and downs in the life of former 49ers player Eason Ramson, which includes his battle with substance abuse. Parents should be aware that this topic is discussed within, prior to their children's viewing.*
HE WALKS through the school with an aura of confidence. Everyone here looks up to him. Some admire him for his courage, others for his passion, still others for his perseverance. To some, Eason Ramson is the father they never had. To others, a brother or a mentor.
Yes, the hallway and classrooms at this tiny branch of the Five Keys School seem to belong to Ramson. He built this subdivision of the charter school – aimed at turning the lives of teens around – from the ground up. The goal is to give these kids a chance. A chance to be heard; a chance to be loved; a chance to succeed; a chance to believe in themselves – all of which are chances they never had before.
If and when the students show up for school, Ramson has an open-door policy, which is easy to do when your office has no door at all. Step into this crack-addict-turned-philanthropists' workplace and images from his past and present are everywhere. Above his desk is a framed jersey from his playing days. To its right hangs a poster of the coach who gave up on Ramson 25 years ago yet saved his life at the turn of the century. On the south wall are framed letters. Some were written by the coach. Others by former teammates. Ramson wrote some of them himself. Sometimes, he shows those letters to the Five Keys students for inspiration. The north wall is filled with pictures of the students themselves. All smiles in every one.
On this morning, a parentless 17-year-old is sitting in Ramson's office with his grandmother and one of the school's counselors. They're working on the young man's map to high school graduation, something the student himself never envisioned months ago when he was skipping school, smoking weed and had given up on his future.
Underneath the black hoodie and baggy jeans there's a soft interior. His face lights up when talking about Ramson's former sport, football. He's a big, strong-jawed kid with a body-type that fits the position he wants to play in the NFL, defensive end. "But first you have to graduate high school and go to college," Ramson reminds him. "I know," he smiles back.
Months ago, the young man scoffed at the notion of graduation and college. Caught up in the hustle of the streets, he wasn't thinking past tomorrow. But now his dream isn't so far-fetched. He has a strong ally in Ramson, who accomplished his dream of making the NFL in 1978. But the former football player's addiction stripped away everything he worked for. He's determined not to let that happen to the kids he oversees.
It took years for Ramson to turn his life around – $1,000 a day on crack can have that effect – but everything he went through is more than worth it now. His street tuition taught him how to save others from paying that same price. And with every kid whose life he turns around, with every smile he puts on someone's face, Ramson's new dream is becoming a reality.
THE PAIN started when he was a little kid and was the driving force behind everything Ramson did. From becoming a star athlete in Sacramento, to earning his scholarship to Washington State, to becoming an NFL player, and even his drug addiction. It all stemmed from the pain.
Ramson isn't sure if his father ever loved him; he never heard him say it, and it's a question that still lingers. If he did love his son, the elder Ramson never showed it. He was a provider – food, clothes, shelter – but that was it. No bonding, no hugs, not even an occasional pat on the back. Instead of fatherly advice, Ramson's dad told his son, "you're never gonna be nothing." It hurt, but it also motivated.
From a young age, everything Ramson did was to prove his father wrong and gain his approval. He thought he could earn his dad's love. That yearning to make something of his life pushed Ramson to become a standout tight end in high school, which turned into a full ride to college. Ramson thought that might change his dad's perceptions and feelings. It didn't. And all the accolades in the world couldn't take away his pain.
The first time Ramson did drugs was as a college freshman. His roommate smoked a lot of marijuana and the peer pressure sucked Ramson in. Soon, he was smoking weed every day and partying every night.
It was great. When he was high or drunk the pain was gone. He could forget the hurt and anger that lived deep inside. He could even go to football practice high, it's not like there was drug testing in the late 70s. By the time midterms rolled around that first semester, Ramson didn't even know where half of his classes were. His academic counselor pulled him aside and told him he was in jeopardy of losing his scholarship. "I was about to become an embarrassment," he says. "After all of the attention and press I had gotten for getting the scholarship – that was going to be awful."
But marijuana isn't physically addictive, and Ramson found it easy to quit and get his life back on track. The next time he came across drugs it wasn't going to be as easy.
Fast-forward four years, it's 1978 and Ramson is a rookie with the St. Louis Cardinals. Training camp just ended and the 12th-round draft pick is officially a member of an NFL team. "One of the greatest moments of my life," Ramson recalls. But that night would be the beginning of the end. Soon, football would become an afterthought.
A couple veterans on the team, guys Ramson watched as a kid and looked up to as football players, took him out to a club to celebrate. This was the life he had dreamed of. About an hour into the night, one of his teammates said to meet him in the bathroom. "I've got something for you," he told the rookie.
When Ramson arrived in the restroom the whole group was there. One of the guys reached into his pocket and pulled out a vial of a white powder. As he unscrewed the top Ramson knew what it was. He had seen cocaine in college, but always stayed away.
"I'm cool," Ramson told the guys. "Oh no man," they retorted, "you're one of us now. You deserve the rich man's high." Sometimes you only have a split second to make the biggest decisions of your life, and Ramson found himself in one of those situations that night. Cocaine wasn't for him, but he wanted to fit in.
When Ramson talks about his first snort of cocaine, his eyes widen like he's back in that club bathroom. A loud sniff followed by a quick head jerk back. "Whoa," he told his teammates. "I guess this is how you party in the NFL."
The peer pressure won.
ALONG WITHRamson's work at Five Keys, he holds peer-pressure seminars across the country. He knows what it's like to give into the pressure, and wants to teach America's youth how to be stronger than he was. He wants to give them tools to say no.
But most of Ramson's breakthroughs happen in the small confines of his charter school. Tucked away on the third floor of the Bayview Hunters Point YMCA in the run-down outskirts of San Francisco, this is where Ramson is changing the lives of the City's forgotten youth.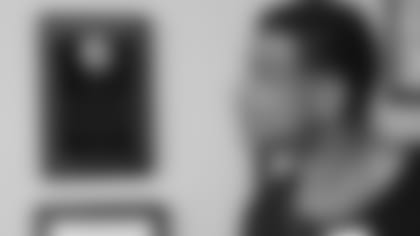 He looks the part of a former NFL player. From his gold chain with the football-helmet pendent to the respect-commanding, diamond-crusted Super Bowl ring on his left hand, everything is in place. At 6-foot-3 and 235 pounds Ramson is slightly heavier than his playing weight, and the way his arms and chest bulge out of his form-fitting shirt it makes you wonder if he could still suit up. His jet-black hair has a touch of gray around the edges, but that's tough to see even at close proximity. The 54-year-old could pass for 42.
Officially, Ramson is the Director of the Center for Academic Re-entry and Empowerment at the Bayview Hunters Point YMCA, which is a title not even half as long as the laundry list of tasks he performs. Among the many hats he wears, Ramson oversees the day-to-day operations, is responsible for finding the funds to keep the school running, and brings new kids into the program. But most importantly, he's a mentor and ally to the students. That's what recently won him the Jefferson Award – a prestigious national recognition honoring community and public volunteerism that has been given to philanthropists such as Bill Gates and Oprah.
Ramson is upfront about his past, it earns respect from the students, most of which had never taken to a mentor before meeting Ramson and hearing his story. "He's a good friend to have," says baby-faced 18-year-old Elojuah. "Because I don't have too many friends."
Elojuah's story is typical of most of the students at Five Keys. Growing up impoverished, he never knew his father. His mother was around, but Elojuah wanted more than she could provide. So he did what he needed to do to get by. Skipping school to steal wallets and iPods on the streets of San Francisco was easy. It put cash in his pocket to buy whatever he thought would give him some street cred. But now things are different. Nearly two years at Five Keys have given Elojuah hope. "I actually care about my future now," he says.
Like most of the students, Elojuah goes to Ramson whenever there's something on his mind. So even though Ramson tries to spend his workday in his office acting as the school's principal, there's a constant flow of students coming to see him, seeking out help and advice, or just looking for someone to talk to. Ramson doesn't mind though. That is, after all, what he's truly there for.
"I know what these kids are going through," Ramson says. "A lot of them, they come in here hopeless. There's no way many of them are going to graduate. But I let them know that they can, and we try to give them the tools and means so that they can. Sometimes, all it takes is that opportunity and somebody to believe in you. That's what I'm trying to provide."
FROM THE first time cocaine hit his nose, Ramson equated the drug with success. It was how he celebrated making the NFL and how he would celebrate every high point for the rest of his career. And he had a lot of them. Especially in 1981 when the 49ers won their first Super Bowl. Ramson had joined the team two years earlier and was used sparingly as a back up tight end, specializing as a big-bodied pass catcher. His best NFL season came in 1980 when he made 21 receptions for 179 yards and two touchdowns.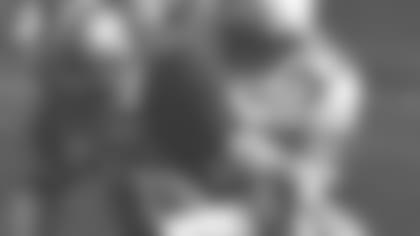 Former teammates recall Ramson's competitive, flashy nature. Linebacker Keena Turner remembers being matched up against him and how he "made me work my butt off in practice." But all the while Ramson had a drug problem, not that he was even aware of it. There wasn't much drug-addiction research or knowledge back then, and Ramson thought cocaine was just a fun hobby he had on the side.
Practice. Games. It didn't matter. Ramson was always high, "but it doesn't affect me," he thought. All he knew is that cocaine took away the pain that still lived deep inside.
His coaches and teammates suspected what Ramson was doing, but they didn't know how bad it really was. "The phrase you kept hearing back then was recreational use," Turner says, "but I don't remember thinking he had a problem." Turner and the rest of the 49ers didn't know Ramson had reached the isolation point in his addiction, where he'd lock himself in his apartment most nights and snort cocaine by himself so that he didn't have to share his wonder drug with anybody. He was outgoing around his teammates, so they never suspected he had this dark side.
Ramson's appearance never changed, but his performance did. 49ers' coach Bill Walsh started to realize what was wrong with his back up tight end and didn't want to deal it. So he shipped him off to the Buffalo Bills. Now he was someone else's problem.
The trade was a slap in the face. It was also a wake-up call. Ramson started to recognize his problem but felt hopeless. He had fallen so far into addiction he didn't know how to take his life back. "You're tumbling down and you're in this downward spiral, and for a long time you don't realize it," he says. "When I started to realize I'm falling, I looked back up to see how far I'd fallen and it was a long ways. I didn't think I could get back."
It's hard to pinpoint when Ramson hit rock bottom. But one of the lowest points during his playing career came when he was the Bills' starting tight end in 1984. He stayed up all night before a game gorging himself with all the cocaine he could get. Then he woke up Sunday morning and went right back to it, completely skipping the game. "I said 'f--- it,' I had given up," Ramson says. "I didn't care any more."
His addiction went to a new level that offseason. Ramson was working at a football camp with some peers in Stockton, Calif., and at the end of the day he went up to one of their rooms to unwind. Some of the guys were smoking crack. Ramson had seen crack before, but had always been content just snorting his blow. This night was different. The pain was strong, so he took a hit, and the euphoria coursed through him like never before. "This is what I've been missing," he told the guys.
"This is what I want to do when I retire from the NFL," he thought. That day was much sooner than he expected.
THE DIVISIONof Five Keys at the YMCA is split into two sections, one for students 13-16 and the other for 16- to 18-year olds. You need 230 credits to earn a diploma from the San Francisco Unified School district, but only 180 to graduate from Five Keys. Ramson knows the diplomas he hands out won't get the kids into a four-year university, but it will get them into a community college, which is a giant step towards success.
There are two sessions each day, with 25 students enrolled in the morning and 25 more in the afternoon. On this February morning only about 10 kids have shown up for class. "Sometimes, they do what they do," Ramson laments, "which is skip school." But it's a low day. Usually, nearly everyone shows up.
Although he's not a teacher, Ramson spends plenty of time in the classrooms monitoring the students' progress and behavior. He has a close relationship with all of the kids, and they all have the number to his cell phone, which he'll answer at any hour of the day. But one former student in particular stands out to Ramson. "You have to meet Shamarea," he says. "Her story is incredible."
Shamarea Bailey is 18, but she's been through more hardships than most people twice her age. She never knew her father, and at 14 her mom was stabbed to death by her husband. Shamarea and her four younger sisters were separated and sent to different foster homes.
She felt the same pain Ramson used to know all too well. There was nobody to love her. Nobody to care for her. Hope was gone. Shamarea never thought she'd earn a high school diploma. She thought she'd end up like most of the adults she knew, with more kids to feed than opportunities to succeed.
But then she met Ramson, whom she now calls dad, and enrolled at Five Keys. Everything changed. She had a reason to believe in herself and her future, and got back on the right track. No longer was she depressed. She believed the world was at her finger tips and her outlook on life did a 180. Shamarea received her diploma in late January, and as she walked across that stage she was flooded with emotions. Excitement. Nerves. Elation. Relief. This was the end of a journey, a journey that would not have been possible without the help of Ramson.
"Eason is like a father figure to me," says the City College student with aspirations of becoming an EMT. "When I showed up here in August, he could see I was broken. But he could also see I was a strong individual and I had potential. I was so close to giving up on myself and dropping out of high school. He made me get back on track and was always there for me.
"When I turned 18 I was kicked out of my group home and I had nowhere to live. I was homeless and had nowhere to stay. But he made sure I was always provided for and always had somewhere to stay. He was just always there for me; there wasn't a time he was not there for me."
IN THElate 80s, an eight-ball of crack cost $350. Ramson was spending about three times that per day on his drug of choice, and soon he was out of the NFL. The income was gone, but the pain and addiction were not.
So he did what he needed to do to stay high, because when that feeling left his body he was forced to feel again – to feel the pain he kept sequestered deep down. Robbery is easy when you're a physical presence like Ramson. Unexpecting ATM users in the Sacramento area found this out regularly. Ramson knew it was wrong, but when he was high he didn't care. "I need my dope," he would tell himself. "And I don't care how I get it. By any means necessary."
Some close friends and family knew what he was doing, but nobody could stop him. Soon though, the law caught up to Ramson and he was to be sent to jail. However, the State of California gave him a suspended sentence that required Ramson to simply complete a stint at the California Rehab Center instead.
Seventeen months later Ramson thought he emerged from rehab a changed man, but he hadn't dealt with the underlying issues. About 45 days later he was back to his old habits – by any means necessary. He was caught soon afterwards, and sentenced to seven years, eight months in California State Prison, Solano in Vacaville.
Halfway through his sentence Ramson was released on parole for good behavior and went to rehab at the Salvation Army. He stayed clean for a while, long enough to say all the right things, and there was even a 1996 *Sports Illustrated *article written about his struggles. The story was titled "To Hell and Back," but Ramson wasn't back yet. He hadn't confronted his demons and was still living in that personal hell. He didn't have a chance to stay clean. The pull of the crack and the ability to ease his pain were too tempting.
Ramson got his third strike with the State of California for stealing clothes from Nordstroms. He was dirt poor and homeless at the time, but had no intention of using the garments to clothe himself. He was going to sell them for drug money. But a third strike is serious, and Ramson was facing 35-to-life.
Luckily, Walsh hadn't forgotten about his former player. Ramson doesn't know if his old coach did it out of remorse for the way he shipped him off or if he truly saw redeemable qualities in the drug addict. Whatever the case, Ramson is glad he had such an influential ally. As Ramson awaited trial, Walsh wrote letters to the judge describing the man he once knew. He wrote about Ramson's compassion, positive energy and love of life. He got Ramson's former teammates to do the same. "What stood out to me were not the valleys, but the hills," Turner says. "I knew deep down that Eason wanted to change, that he wanted to get right. To me, that was admirable. And that's why I did what I did for him."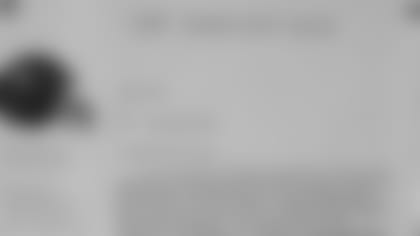 Ramson isn't sure why, but the letters and appearances Walsh made in court worked. Instead of a lifetime behind bars the judge sentenced him to 28 months with the possibility of parole after 16. Ramson knew this was his last chance, and Walsh continued to write while he was locked up. "I started to see the light," Ramson says. "I started to realize that I had a lot to live for."
Still, it took another life-altering experience for his change to be complete. There were two months left before he was parole-eligible, and Ramson was working in a minimal custody facility near San Quentin prison. He was far from a free man, but had many of the luxuries of the outside world.
It was Father's Day 2000, and Ramson was feeling down because he couldn't spend it with his 2-year-old daughter Taylor. Out of nowhere some guards approached, they looked like they meant business.
"Stand up," they yelled. "Turn around. Put your hands behind your back."
"What's wrong? What did I do?"
"Shut up," they said as they searched him. "You're going to the hole."
That's the last thing you want to hear as an inmate. The hole is slang for solitary confinement, and that's where Ramson spent the next four weeks of his life. Twenty-three hours a day by himself. He couldn't even take a shower without shackles on his hands and feet.
One of the guards at San Quentin thought he had seen Ramson leave a bathroom with one of the female guards. The accuser assumed the worst. Obviously, sex between inmates and guards in strictly prohibited – it lands you in the hole. Ramson was innocent, but it took a month to clear his name.
While in solitary, Ramson did some serious soul searching. Why did I go down this path? What's my purpose in life? He didn't know if he'd ever get out, but "if I do," he thought, "I'm gonna work with kids to make sure they don't make the same mistakes as me."
When he got out of prison in mid-2000 Ramson had a plan, something he lacked the previous two times. He was going to follow through with his sobriety and the career path he'd laid out while in the hole. His journey to redemption began at Walden House, a substance-abuse treatment center in San Francisco.
Soon, everything turned around. He was able to find work telling youth about his life, and he was met with help and support along the way. Still, Ramson wanted to make more of an impact. He wanted to have a place where he could oversee things and make sure they were run the right way. Three years ago he got that opportunity when a long-time friend and fellow philanthropist found the funding to start the Bayview Hunters Point branch of Five Keys.
"From the first time I spoke with kids and told them what I had been through, I knew this was my calling," Ramson says. "I get satisfaction from seeing them change, from seeing them turn their lives around. I don't need money for the work I do. Those kids give me all the payment I need."
IF RAMSONcould have a mulligan he's not sure he'd change anything. His journey to the bottom made him the person he is and gave him the opportunities he has now. Without the addiction he doesn't know what he'd be doing today, but he probably wouldn't be a Jefferson Award winner – not that he ever strived to win it. "The Jefferson Award is just validation," he says. "I'd be just as satisfied without it."
Ramson tells his story in its entirety to anyone willing to listen. It needs to be told, he believes. If it keeps just one kid from going down the same destructive path he went it's worth it.
ON A warm Friday in early February, the type of day that's hard to find outside of California, Ramson sits in his office with a visitor. The blinds are open and the sun lights up the room. Ramson just finished a story about his time in prison and talked about why he was able to "see the light" the third time around.
A 17-year-old girl walks in. There's a lot on her mind. "Eason," she asks, "can I talk to you about…" "that thing from yesterday?" he finishes her sentence. Ramson spends so much time with the Five Keys kids he knows what's on their minds.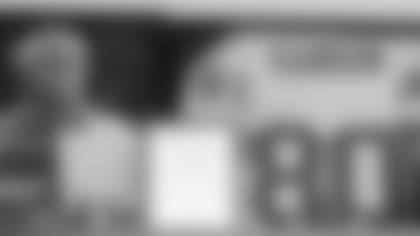 Whatever the matter is, it's private. The girl doesn't want to talk about it with the stranger present, but Ramson already knew that. "He'll be out of here soon, and then we can talk." But the girl's face says this cannot wait. The visitor sees this and leaves the door-less office. Now it's time for Ramson to go to work.
The framed Walsh poster has three sentences written on the side: *You made us believe. You made us proud. You made us champions. *And with Walsh looking down at Ramson from above his desk, now it's time for him to make the girl believe, make her proud, make her a champion. The same way Walsh's words helped Ramson figure out his life, he'll try to do the same for this girl.
Maybe he'll solve her problem. Maybe he won't. But he's here for her now and he always will be. For the Jefferson Award-winning Eason Ramson, there couldn't be a better high.