It happened more than once. There'd be a young boy, eyes locked on the 300-pound defensive tackle. His father provided the encouragement to approach Earl Mitchell.
"Go ahead, ask him," the dad would say.
And so the kid, still somewhat hesitant, shyly walked over. Mitchell knew exactly what was coming, but he played along anyways, bending down to the kid's level.
"Do you play next to J.J. Watt?" the boy asked.
That was Mitchell's claim to fame – being blessed with the fortune of playing next to one of the NFL's most beloved megastars. But here's the thing, Mitchell sees it the exact same way. He never could have imagined his name in the same starting lineup as a player of Watt's caliber.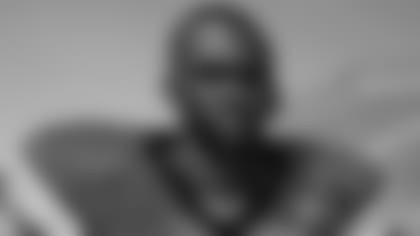 There certainly wasn't that expectation when he began playing football at age 15. Mitchell was a third-string fullback in high school, somehow received a scholarship from Arizona to play tight end, begrudgingly changed positions to defensive tackle, got drafted by Watt's Houston Texans in the third round and is now in his eighth NFL season. Mitchell signed with the San Francisco 49ers as a free agent this past offseason.
Being the teammate of "insert famous person's name here" (there are plenty more than Watt, as we'll get to) is something far beyond what Mitchell ever considered a possibility.
"It's the most amazing thing to me," Mitchell admitted that he remains surprised by his own story.
To say that Mitchell was indifferent to football would probably be underselling his initial lack of interest in the sport. Mitchell never watched football, and he didn't know the rules. The only player he knew was Earl Campbell, and that was only because they shared the same name.
When his grandmother passed away during his teenage years, Mitchell knew he needed something to keep him occupied. His high school basketball coach suggested he join the team, but Mitchell quickly took that option off the table.
"I hated basketball with a passion," he joked.
The coach suggested football next. Mitchell agreed, deciding it would make good use of his athletic 6-foot-1, 175-pound frame. To reiterate, this was merely intended to be an extra-curricular activity that passed the time, not a potential career path.
Mitchell was offered a choice between playing linebacker or tight end. He opted to play offense and chose the latter. Mitchell spent his freshman year on the "B team" at North Shore High School before being moved to junior varsity as a sophomore.
Quick backtrack: Mitchell, a Houston native, moved with his mother to a new area of the city prior to high school. Turns out, his new school was a football powerhouse. The school was split between one campus for ninth and 10th graders and a senior high campus for 11th and 12th graders.
"I was a little kid compared to all the upperclassmen," Mitchell said. "I never lifted. I was playing tight end and had no idea what I was doing."
North Shore won a state championship during Mitchell's sophomore year against current New England Patriots wide receiver Danny Amendola and The Woodlands High School. Mitchell didn't play in the game, but he got to suit up and stand on the sideline at Rice University all the same. He served as an H-back for his final two years at North Shore, splitting time between fullback and tight end. Seniors buried him on the depth chart as a junior, but once they graduated, Mitchell finally earned a starting job.
As his high school career neared its end, Mitchell had filled out and began attracting the attention of collegiate programs. Oklahoma State, Missouri, Utah and UTEP all had interest, but only if Mitchell was willing to make a move to defensive line. Only Arizona made an offer that would keep him on offense. He signed with the Wildcats in 2006 as an H-back and beat out Atlanta Falcons defensive lineman Brooks Reed to start as a freshman.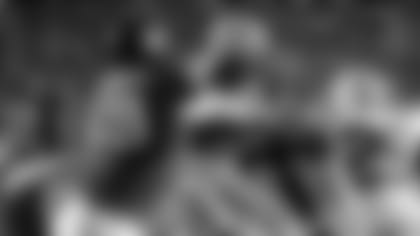 Mitchell, by his own standards, had a monster first year in Tucson. He posted nine receptions for 136 yards and a touchdown, which is funny because he never caught a pass in high school.
His playing time dwindled as a sophomore when Arizona signed a hotshot tight end by the name of Rob Gronkowski. For those who have followed Gronk's career with the New England Patriots, you can probably imagine what he was like in college. People were drawn to Gronk just as they are now. Mitchell explained that the tight end never got in trouble "because he was so damn funny and always had everyone laughing."
Arizona had a rule: If you drop a pass, it cost you 10 pushups. But if Gronk let one slip through his hands, the penalty was reduced to 7.5 pushups (which he'd do one-handed, because how else would Gronk serve such a punishment?). Sometimes Gronk would forget the play, and so he'd just run straight down field, waiving his arm in demand for the ball.
"But I'm open," Gronk would tell coaches who tried to get on his case.
Gronk was the first of many notable teammates to make a lasting impact on Mitchell.
"He was like a 12 year old kid. He never took the game too seriously and always had fun. I admired that," Mitchell said.
They weren't best friends, but Mitchell explained that they had a great relationship. Any time they'd cross paths, Gronkowski always greeted Mitchell in the same half-mocking, totally bizarre fashion that only Gronk could somehow pull off as endearing. 
"Hey, my name is Earl, and I'm so cool. I'm Mr. Cool guy," Mitchell said, trying to recreate Gronk's voice. He didn't do it well, but he didn't have to. Anyone who has ever seen Gronk in action knows how this would have sounded.
As Gronk ascended as one of the nation's top tight ends, Mitchell's time on offense came to a close. Arizona kicked two defensive linemen off the team and was desperate for talent to fill the void. The program didn't have any big recruits coming in, and so head coach Mike Stoops approached Mitchell about switching positions. The Wildcats strength coach followed up and assured Mitchell that he'd have a brighter future as a defensive tackle. Still, Mitchell was unsure. He took pride in playing offense.
He reluctantly made the move, and once again found himself having no idea what he was doing. Along with the position change came the task of gaining 30 pounds. Mind you, this transition came during spring ball, which didn't give Mitchell much time to transform his body. He resorted to crushing large pizzas and pounding protein shakes. Mitchell estimated that he consumed double digit shakes on a daily basis. Sure, it wasn't an ideal route to gaining weight if you're a health nut, but it got the job done, and Mitchell quickly found his stride on defense.
Mitchell recorded 88 total tackles, 18 tackles for loss and eight sacks over his final two seasons at Arizona. He helped the Wildcats finally break a decade-long bowl game drought as the program made appearances in the Las Vegas Bowl and Holiday Bowl in 2008 and 2009, respectively.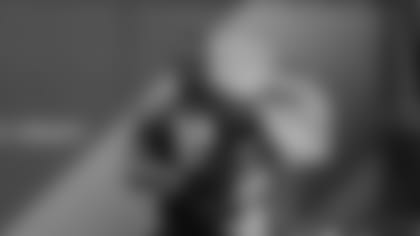 He left school with six classes left before graduation in order to train for the 2010 NFL Draft. Mitchell's 4.75-second 40-yard dash at the NFL Combine was tied for the best among his position group along with Cincinnati Bengals defensive tackle Geno Atkins. Still, he received a sixth-seventh round grade. That meant it was entirely possible he wouldn't hear his name called.
For that reason, Mitchell nixed all ideas pertaining to a draft party. He wanted to avoid the embarrassment of inviting over his friends only to see him go undrafted.
"I didn't want to be that guy," Mitchell said.
He was part of an especially deep group of defensive tackles in 2010. Mitchell created a long list of names prior to of the draft that he believed would get selected before him. That list dwindled quickly. Three defensive tackles went in the top 10: Ndamukong Suh (second overall), Gerald McCoy (third) and Tyson Alualu (10).
Seven more names were scratched off the list into the middle of the third round. It became clear that if a team was still in the market for a defensive tackle, Mitchell could very well be the next man up. His agent called and reported that a few teams had begun to inquire about him. As a result, Mitchell got on the phone to invite over select friends and family.
Mitchell's hometown Texans drafted him in the third round with the 81st-overall pick. He posted 27 total tackles and one sack as a rookie.
Watt came the next year as a first-round pick out of Wisconsin. While Watt was immediately inserted into the starting lineup, Mitchell had to fight simply to make the roster. He didn't receive his first start until his third season in 2012. But the two still connected as Watt became the next influential teammate of Mitchell's career. Coincidentally, Watt had a resemblance to Mitchell's Arizona comrade.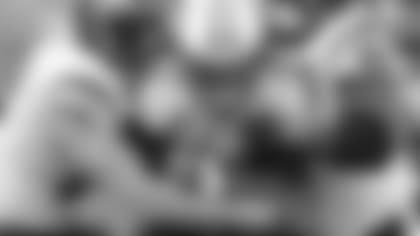 After Watt's rookie season, he went to the ESPY Awards in Los Angeles. Over and over, people mistook Watt for Gronkowski. As you can imagine, Watt wasn't thrilled.
"He was so upset about that, and I just thought that was so funny," Mitchell said.
But Watt would soon become an unmistakable face of the NFL. He went on to win the league's Defensive Player of the Year Award three times during a four-year span from 2012-15. And after each honor, Watt would make sure to properly share the awards with the rest of the team. Mitchell remembers getting everything from gifts like new iPad minis to heartfelt handwritten notes.
* Random (but hysterical) aside: Mitchell, a diehard (and I mean diehard) fan of the WWE, shared that his dream Pay-Per-View main event would feature Gronk as "the bad guy" and Watt as "Mr. America".
If Gronk served as a reminder that football should be fun, it was Watt who illustrated the importance of being a servant to your brothers in the locker room.
"He's the most genuine teammate I've ever had," Mitchell said.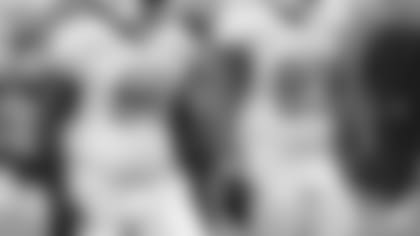 After four years in Houston, Mitchell signed as a free agent with the Miami Dolphins in 2014. By 2015, he was playing on a defensive line that featured a pair of five-time Pro Bowlers in Cameron Wake and Suh.
Mitchell continued to learn from those two, both personally and professionally. He connected immediately with Wake, who was one of the few players he'd come across with a more unconventional route to the NFL. Wake went undrafted out of Penn State in 2005 and had to dominate the Canadian Football League for two years (2007-08) before being given a chance in the NFL. That resonated with Mitchell.
So, too, did Suh's old school style of play that consisted of physical dominance in the trenches and a comprehensive knowledge of the game.
* Random (but important) aside: Mitchell finished his coursework in 2015 and earned a degree in behavioral science, becoming the first member of his family to graduate from college. He even returned to Arizona's campus to walk in a commencement ceremony.
Mitchell's time in Miami came to a close in 2016 after three seasons with the Dolphins. Two calf injuries plagued his season and Miami cut the defensive tackle in January. Mitchell didn't have much time to dwell on the disappointment as potential suitors lined up immediately.
He took four visits this past offseason during his second go-round in free agency. Meetings with the Seattle Seahawks, the Denver Broncos, the Atlanta Falcons and the 49ers left Mitchell with several options. Ultimately it was 49ers newly hired head coach Kyle Shanahan who sold him on coming to the Bay Area.
"The difference between the teams you're looking at and us is that those teams don't need you as bad as we do," Shanahan told Mitchell.
A bevy of familiar faces in San Francisco didn't hurt either. Former Texans teammate DeMeco Ryans joined the 49ers coaching staff this offseason. Mitchell's former assistant defensive line coach Jeff Zgonina was now his new position coach. Linebackers coach Johnny Holland and equipment manager Jay Brunetti were among others whom Mitchell reunited with in San Francisco.
It didn't take long for Mitchell to realize he was now the eldest statesman in an overwhelmingly young 49ers locker room. Most of the defensive line had fewer than three years of NFL experience, including a trio of former first-round picks: Arik Armstead, DeForest Buckner and Solomon Thomas.
Even amid a difficult 2-10 season thus far, Mitchell confirmed that he has no regrets about signing with the 49ers. Mentoring the young talent on the roster has been the highlight of Mitchell's year. Mitchell thrives in that role with the vast bank of knowledge he's gleaned from his former teammates. 
He didn't mince words when discussing Buckner's potential. After playing with the likes of several future Hall of Famers, Mitchell is more than qualified to evaluate talented defensive linemen
"Watching Buck play is crazy," Mitchell said. "I'll watch him from the sideline and think, 'This is only Year 2?' It's so cool to watch him play so well. I've played with some really good players, and I think he can be just as good, if not better. I want him to know that, too."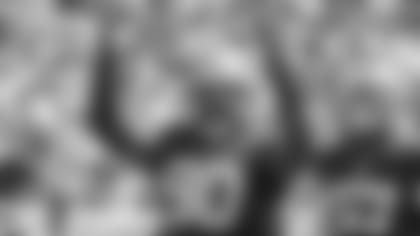 That isn't to suggest that Mitchell's career has been reduced to a mentorship role. He's started all 12 games for the 49ers in 2017 and is a staple on early downs. Mitchell has 26 tackles, a sack, four passes defended and a fumble recovery this season.
But it is to say that Mitchell is just fine with being known as the guy who was lucky enough to play with NFL greats like Gronkowski, Watt, Wake, Suh and, eventually, Buckner. Because quite frankly, that's exactly how he'll look back at his own career when it's all said and done.
"It's so cool to know that I played next to all those guys and got to know them," Mitchell said. "They're dynamic players of this generation."
Mitchell, now 30 years old, doesn't have a timeline for how long he wants to play, but he knows that he's still nowhere near the end of the road. Football has given him far more than he ever could have asked for or expected, so why try to put a limit on his career now?
There's still much to learn for the former third-string high school fullback.
"I'm a 'till the wheels fall off' type guy," Mitchell said. "As long as I can play and am having fun, that's all that matters to me."