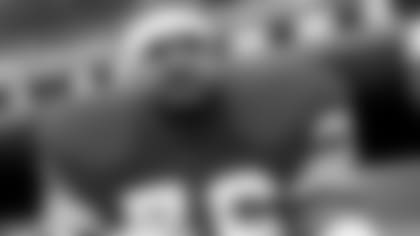 Throughout the offseason, 49ers.com will continue to chronicle members of the 49ers 10-Year Club. Check out our latest feature on former 49ers defensive end Dwaine Board, who played for the team from 1979-1988.*
Like most members of the 49ers 10-Year Club, the story behind Dwaine Board's inclusion is quite the tale.
While other elite players in team history didn't initially expect to be a lasting member of the 49ers when they first came on board, this Board, was almost out of football before his career even began.
Board was drafted by the Pittsburgh Steelers in the fifth-round of the 1979 NFL Draft, but after his release in the preseason, the defensive end was forced to reconsider his future in professional football.
"I was sitting in the airport in Pittsburgh, on my way to a job interview, got a phone call, and was told that the 49ers had claimed me off waivers," Board recalled.
Board immediately had to make one of the most important decisions of his life.
"I was about to get on a plane to go to Syracuse, New York and a plane was leaving for San Francisco at the same time," he recalled. "I had to make a quick decision, so I got on the one going to San Francisco."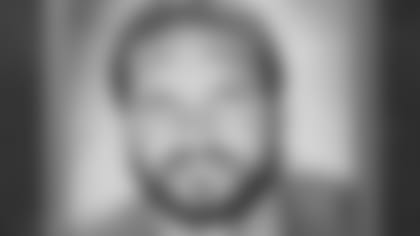 That same year the 49ers hired head coach Bill Walsh, who drafted players like Joe Montana and Dwight Clark to go along with free agent signings like Dwight Hicks and Board.
With only eight wins in first two seasons in San Francisco, Walsh continued to add to the 49ers roster by using his first three draft picks on defensive backs, Ronnie Lott, Eric Wright and Carlton Williamson. The 49ers also signed Jack "Hacksaw" Reynolds and traded for Fred Dean mid-season. With a revamped defense the 49ers quickly became one of the best teams in the NFL, finishing the regular season 13-3.
The 49ers continued their strong play throughout the playoffs, highlighted by a win over the Dallas Cowboys 28-27, thanks to a miraculous touchdown grab by Clark simply referred to as "The Catch."
"We were just a young team," Board said of the 49ers first championship team. "A lot of people thought in the beginning that we weren't going to make it to the Super Bowl and they thought we were lucky to beat the Cowboys to get to the Super Bowl. But the biggest thing was that we had great players, although we didn't even realize how good we really were. We just went out and played."
After an infamous goal stand involving Board, the 49ers went on to win the franchise's first Super Bowl Championship after they defeated the Cincinnati Bengals 26-21 in Super Bowl XVI.
"What I remember most about that goal line stand was the first play," Board said. "We only had ten people on the field. Keena [Turner] was supposed to be on the field and he wasn't out there with us. But we stopped them with ten players anyway. That was probably their best chance of scoring on us."
While he reached the ultimate level of team success in 1981, Board went through personal turmoil the following season after suffering a season-ending knee injury while playing with the Oakland Raiders.
"After my surgery the doctor came into the room and said, 'Hey is there anything else you can do besides playing football?' And I said, 'Not really.' They told me I had a 90 percent chance that I might not be able to run again. But I said, 'At least you're giving me ten percent.'"
Board proved that slim hope was all he needed, rejoining the team in 1983 and totaling a career-high 13 sacks. He scored his only career touchdown after forcing a fumble on one of those sacks and then falling on top of the ball in the end zone of the score.
In the NFC Championship game that season, the 49ers suffered one of the most frustrating losses in team history to the Washington Redskins. But with the loss fresh in their mind all offseason, the 49ers came back with a vengeance and won their second Super Bowl in 1984.
"The first one was special but the second one was even more special because we almost had a perfect season," Board said. "We went 19-1 that year and that was something special. Personally, I think that was the best team we ever had."
The 49ers convincing 38-16 Super Bowl win over the Miami Dolphins was even more satisfying for Board, who vowed to make it back for the game after separating his shoulder in the NFC Championship game against the Chicago Bears.
"I wasn't going to miss Super Bowl for anything in the world," he said. "Plus, it was another game that everybody said we didn't have a chance because we were playing Dan Marino and his offense."
The 49ers made it to the playoffs the next three straight years, but never made it back to the Super Bowl, and after the 1988 season, Board opted to retire.
"I knew that was going to be my last year, because I was kind of tired and burned out from playing," he said. "I was more tired of the mental part of it than the physical part of it."
Little did Board know that he would end up coming back to the team in 1990, in a capacity that would test his mental toughness harder than it ever had been before.
"I took some time off, but then I got a call from the 49ers asking me to come back to coach Charles Haley," Board said. "So I came back, and I ended up working there for four years as a defensive line assistant."
Board took over the position entirely in 1994 when Ray Rhodes returned to the team as the defensive coordinator. That same year the 49ers went to the Super Bowl and won their fifth Vince Lombardi trophy.
Winning the Super Bowl as a coach instead of as a player was a unique experience for Board.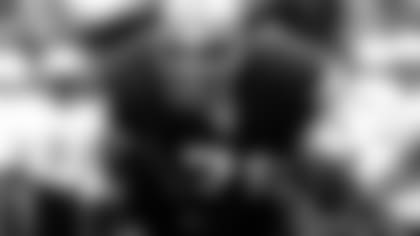 "It's a total different feeling," he said. "When you're standing on the sideline, it's going through your head like 'Man, I wish I could play.'"
Although that was the last Super Bowl victory for the 49ers, Board has been fortunate to since compete for another World Championship.
After serving as the 49ers defensive line coach for nine seasons, Board departed for Seattle in 2003 to reunite with a former 49ers colleague, Mike Holmgren. Board served as the Seahawks defensive line coach and helped the franchise get to their first Super Bowl in 2006.
"My job was to basically teach them the game and the attitude of how to win," Board said. "It was great taking them to the Super Bowl, but it was not so good losing."
Board went on to coach the Raiders defensive linemen in 2009 and is currently looking for his next coaching gig.
"I'm going to jump back into it," Board said. "I'll find a place somewhere and see if I can help another team play in the Super Bowl."
In total, Board spent 23 years as part of the 49ers franchise, 10 as a player and 13 as a coach. He's also the only member of the 10-Year Club to win a Super Bowl ring as a player and as a coach.
"I'm just grateful to have had that opportunity. The DeBartolo family gave me an opportunity to be a player and a coach for the 49ers," he said. "I never thought about playing ten years, but it was a special experience that I'm truly thankful for."