Just by making the NFL, the whole 49ers rookie class has already realized one of their biggest life goals.
But getting their dream jobs didn't come easy. It takes more than some talent and a wish to become a professional football player.
The 49ers rookies know that, and they want to share their knowledge with local youth.
So on Tuesday, every 49ers rookie including wide receiver Michael Crabtree, running back Glen Coffee, quarterback Nate Davis, linebackers Scott McKillop and Diyral Briggs, safety Curtis Taylor, defensive tackle Pierre Garçon, fullback Brit Miller and offensive linemen Alex Boone and Khalif Mitchell participated in the Role Model program at Buchser Middle School in Santa Clara and completed a Dare to Dream activity with the youth.
The Role Model program places positive adult influences in underserved middle school classrooms across Santa Clara County to provide the children with inspiration, advice and any other help they need to succeed.
"Having the players here will really inspire these kids because they look up to these players," said Abel Deleon, the Role Model for the classroom the 49ers were in. "I know if I were that age I would be very inspired to have them work with me and also talk about the things it takes to succeed."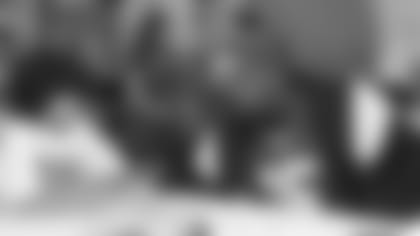 In the Dare to Dream activity, the players broke up into small groups with the youth and had them write out their dream jobs. Then the players had the kids set short-term and long-term goals to help them achieve their dreams; they also had to write down their inspiration and any potential obstacles that could come up along the way.
"We just want to see the kids reach their goals, to have a plan," said Crabtree, who also offered some advice to the kids. "If you have goals, strive hard for them every day, day-in and day-out. When it gets hard, just keep working hard."
And the kids weren't the only ones who established long-term goals on Tuesday. Most of the players wrote down possible post-football careers and what they needed to do to get there.
Several of the players, including Davis and Briggs, would like to be coaches, Mitchell wants to become a pianist, McKillop would like to teach and for laughs, Boone wrote down "Scott McKillop's personal assistant."
"That makes me feel pretty special that that's a big dream of his," McKillop joked. "But that scares me to be honest with you.'
But all kidding aside, the students truly benefitted from interacting with the 49ers and it is an experience they will never forget.
"They opened my eyes and made me think about what I want to be and my long-term goals," said an eighth grader named William. "It is just an amazing experience."
This event is one of many events the 49ers are participating in during the month of October to show Respect for Community, which is the community relations theme of the month.
The rookies weren't the only members of the 49ers family helping the community on Tuesday.
Several players' and coaches' wives including Erika Snyder, Rachel Lee, and Marianne Hoener volunteered at Career Closet to help domestic violence survivors restart their lives by donating clothing and assisting the women pick out new outfits to feel confident and gain employment.
Career Closet is an organization designed to empower women to re-enter the workplace equipped with everything they need to make a great first impression and land the job they want.
The volunteers helped outfit the women at the center, sorting through donated clothes and providing career development tips including interview advice and résumé review.