Weight lifters don't always make the best NFL players, but one Oregon State defensive lineman believes it can be done.
If any draft prospect can use strength to negate double-team blocks, it's Oregon State's run-stuffing defensive tackle Stephen Paea.
The three-year starter proved his power at the NFL Scouting Combine, lifting the 225-pound bench press a record 49 times.
Normally the exercise doesn't make for the most compelling television, but Paea's near 50 reps made for a classic combine moment.
The record was a nice achievement for the 2010 consensus All-American and Pat Tillman Award recipient, an honor given to the best defensive player in the Pac-10. But it's not the only recognition the 6-foot-1, 303 pound lineman received during his time in Corvallis.
For the past two seasons, Paea was a two-time, first-team All Pac-10 performer and the recipient of the Morris Trophy as the conference's best lineman. Paea started 37 games and finished his career with 129 tackles, 14 sacks and a school-record nine forced fumbles.
But for all his recent recognition, it's hard to overlook what happened to Paea at the Senior Bowl.
He tore the lateral meniscus on his right knee in the early stages of practice.
"It happened on the third play of practice," Paea recalled. "I just planted on it wrong, through contact, and I played through practice."
The following day, Paea had an MRI where the tear was discovered. He quickly had it fixed, calling the procedure, "a little clean up."
In addition to strength, toughness is one of Paea's finest qualities. It's been instilled in him since a young age.
As a teenager, who moved to the United States from Tonga at the age of 16, Paea had to get accustomed to a new culture and lifestyle. His mother already worked in the States and his brother was with her too. At the time, Paea felt like it was a big decision for him and his remaining brothers to move to a new country.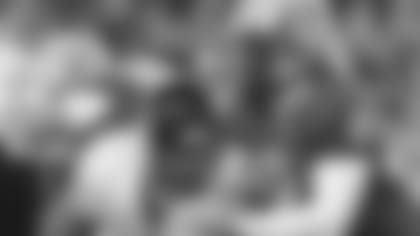 Looking back on it, Paea's glad he did it.
Paea fit into his new surroundings by playing football as a senior in high school. He quickly realized how much he enjoyed it and gave up playing rugby, the first sport he was passionate about.
Putting on football pads for the first time felt strange to Paea, especially coming from pad-less rugby matches.
"It was cool to have the pads, look buff in it," he joked. "I felt like the first time I put on the helmet, it kind of minimized my vision to be able to play. I kind of got used to it as the years go on."
Ultimately, Paea grew comfortable with the new sport and appreciated its similarities to his background in ruby.
"I feel like football is a safer way to play rugby," he said.
Paea hadn't completely transitioned to American lifestyle however. He went to a junior college to learn English before joining the Oregon State football team for his sophomore year of college.
But once he arrived on campus, old habits began to resurface.
Paea's rugby background helped him achieve his school-record nine forced fumbles. Because rugby involves constant attention of the ball's location, Paea was able to carry that awareness in his defensive line play. He said any defensive lineman could put up similar statistics if they know who has the ball.
And while Paea wanted to be a professional rugby player, he's more than happy to become a professional football player instead.
Soon, the lineman who can squat 600 pounds and bench press 500 pounds will be able to lift up a team's defensive line the same way he killed it on the bench press in Indianapolis.