The University of Colorado has a few potential first-round picks in the upcoming draft. First off the board could be a converted tight end.
Nate Solder's first NFL goal is a good one. As a matter of fact, it's a great one. Though simple and somewhat obvious, it sheds light on what he's all about.
Solder wants to win the Super Bowl, and then let everything else in his professional career fall into place.
"I'm just such a competitive guy in everything that I do," he said at the 2011 NFL Scouting Combine. "There's not one guy I don't want to do everything better than him, at every single level."
Winning is what Solder is all about, that, and playing with an aggressive mindset. The attitude began in high school, where he was a three-star tight end who weighed 245 pounds.
Solder redshirted his freshman year in Boulder and played as a backup tight end the following season. But he ultimately found himself a starting position by switching to tackle as a redshirt sophomore.
Solder put on considerable weight to become Colorado's starting left tackle (he now stands 6-foot-8, 319-pounds). With improved size, Solder went on to start every game for the past three seasons in the Big-12. He only missed two snaps during that stretch and allowed five sacks over the course of his college career.
Considering he's only played the position for three years, those are some remarkable accomplishments.
In 2010, Solder was an integral part of a Colorado offensive line that allowed 20 sacks in 12 games. For his efforts, he was rewarded with a first-team All-American selection. Solder was the first tackle to be named a consensus All-American in Colorado's school history.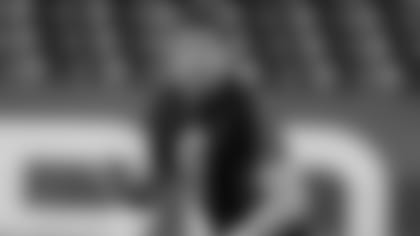 The experiences at tight end were a big reason for that success.
"It takes a lot of athleticism to become a left tackle, same as a tight end," he explained. "But some things didn't come natural - knee bend, using your hands, those sort of things."
Solder worked at his craft and became one of the best linemen in his school's history. He was a team captain as a senior and Colorado's team MVP.
And while durability is not a problem with Solder, strength might be considered as a concern. He put up 21 reps of the 225-pound bench press in Indianapolis, but many believe Solder can add weight to his lengthy frame.
That upside puts him in consideration to be the first offensive lineman selected. But does he think he's the best one available?
"That's hard for me to say, that's up to the teams that pick us," he said. "Each one of us does things a little differently and it's going to come down to the team that wants us."
Solder mentioned his athleticism as his main advantage over the tackle class, especially in open space. It's also tough to get around a player, who is tall enough to play power forward in the NBA. 
At the Senior Bowl, the nation's top pass rushers got a pretty good understanding of that aspect of Solder's game. Facing the likes of Von Miller (Texas A&M), Ryan Kerrigan (Purdue), Sam Acho (Texas), Solder performed well in one-on-one blocking drills throughout the week.
"The competition that was there was good healthy competition," he said before singling out Kerrigan as his toughest opposition.
Because Solder is fairly new to his position, utilizing proper technique is one of the biggest challenges he faces upon entering the NFL.
"I think I need to work on staying low and get in good position for every player."
If that happens, Solder will be on his way to hoisting a Lombardi Trophy.