It's not every day that a free safety recruit becomes the leading pass receiver in his school's history. But that's what happened to an Oregon wideout sure to catch on to an NFL roster.
With so many impressive receptions in Jeff Maehl's highlight reel, you'd think picking a favorite would be tougher than selecting Oregon's best uniform combination.
Apparently, it's not as hard as it may seem.
Out of his school record 178 receptions, the Oregon senior said his two-point conversion catch in last year's BCS Championship game remains most vivid.
Trailing by two points in the biggest game of his life, Maehl temporarily kept his team's undefeated season alive with an impressive grab with less than three minutes remaining in the game.
Lined on the far right of a three receiver bunch by the right hash marks, Maehl ran a skinny post between his teammates and soon began running uncovered in the heart of the end zone. All he had to do was catch the ball at its highest point.
The Ducks eventually lost the game, but the defeat couldn't sour the moment in Maehl's memory. He fondly recalls the electricity of the championship game.
"To make a play like that for our team at the end of the game that gave us a chance to win was something I'll probably never forget," Maehl said at the 2011 NFL Scouting Combine.
The 6-foot-1, 190-pound native of Chico, has plenty to remember from his college days.
He was recruited to Eugene as a free safety and left campus as a first-team All Pac-10 wide receiver. Maehl now holds a share of many school records, including receptions in a season (77), receptions in a career (178) and career touchdown catches (24).
"I give a lot of credit to my coaches and my teammates," Maehl said. "Without them, I wouldn't be in the position that I'm in today. I wouldn't have any of those records. It's been an unbelievable journey for me and it's been really fun."
Maehl holds another notable record, but this one's all to himself.
At the combine, Maehl posted the fastest time ever in the 3-cone drill, finishing the drill with a time of 6.42. He also ran the best 60-yard shuttle ever with a time of 10.87. Though some look at Maehl's 4.62, 40-yard dash as an indication of his long speed, it's hard not to recognize his astonishing change of direction statistics.
The quickness enabled Maehl to make a position change towards the end of his freshman year. With the Ducks low on receivers due to a rash of injuries, then Oregon coach Mike Bellotti asked Maehl, a former high school wideout, to help out on offense.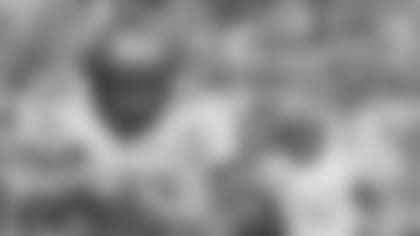 It didn't take long for Maehl to agree.
"I have always been about, 'whatever the team needs – that's what I'm trying to do,'" he said. "I'm trying to win."
Looking back on it, the decision paid off.
"It's been an unbelievable journey to go up there as a free safety and move the third-to-last game of my freshman year," Maehl said. "Playing receiver was something I had to really adjust to and get comfortable with. To have the success I've had, it's unbelievable."
Maehl's receiving stats grew each season for the rest of his career. He went from nine receptions as a freshman, to 39, 53 and 77 catches in his remaining years.
Maehl was most dominant in 2010. He caught 77 passes for 1,076 yards and a school record 12 touchdowns on the season. Maehl also went nine consecutive games with a receiving touchdown, something no player has ever in done in Oregon's history.
However, at this time of the year, production can be valued far less than upside. Bigger and faster receivers might receive more of the pre-draft hype and hoopla, but Maehl is fine with that as long as he's given the same opportunity to contribute in the NFL.
It's almost like his experience of being a less-heralded recruit coming out of high school.
"It's just how it goes," Maehl said. "You're going to get rated but it all comes down to one team liking you and one team taking you. Whatever team takes me is going to get someone that's going to come to work every day, trying to get better and is always on top of his game."
Another thing he prides himself on is catching the football.
"I really like to go up and attack the ball," Maehl said.
And he prefers to do it all over the field.
"I believe I'll be able to play on the inside, outside, wherever on the next level," Maehl said. "Wherever a team needs me to play, I'll adjust to it."
He expects his role in the NFL to also include special teams. Considering his four-year stint on Oregon's kickoff team, Maehl is eager to contribute in the kicking game too.
Once drafted, the first thing Maehl intends on meeting with his new special teams coordinator.
"I understand how important that is on the next level," he said. "Special teams is something I'm used to… it's going to be the first thing I do when I get with a team."