Washington's athletic signal caller is a hot commodity for professional teams these days, the demand for his services extends to two different sports.
As far as pro days are concerned, Jake Locker did about as well as you possibly could.
He threw 42 passes. Two of them were incomplete.
Sure, it was a scripted workout. But it took place in front of the masses of NFL coaches and scouts. Of all the days to be at your best, that was as good of a day as any.
At Washington's recent pro day, the 6-foot-2, 234-pounder performed successfully under pressure. Because of the throwing display, he continues to remain a viable option for quarterback-needy teams.
Accuracy concerns are the biggest questions Locker faces prior to the draft. He completed under 54-percent of his passes in 40 starts at the University of Washington. In order to improve that statistic in the NFL, he's been working diligently with former pro quarterback Ken O'Brien.
But if Locker's pro day performance was any indication of his pocket-passing progress, he appears to be on his way to improving as a pro-style quarterback.
Locker entered the college scene coming from an option offense in high school and continued the run-first mentality in his early years of college.
But with the hiring of head coach Steve Sarkisian in 2008, Locker began to run more of a traditional offense, one that would suit him well in his football future. He threw for 2,800 yards in his first year under Sarkisian and 2,265 yards most recently in 2010.
"It wasn't the easiest career for me at Washington," Locker explained at the 2011 NFL Scouting Combine. "We had to go through a lot of adversity."
From a winless, 0-12 season in 2008 to a Holiday Bowl victory in 2010, Locker helped transform the Huskies into a future Pac-10 contender.
Building off the strong end to his senior year, Locker has done well in pre-draft workouts. He's allowed many to realize why he was considered to be the top pick in the 2010 NFL Draft. Locker elected to return for his senior season instead of declaring early when experts assumed he'd be the first quarterback taken.
Though his decision got mixed reviews, Locker remains at peace with the choice.
"As a player and as a person, I'm a lot more prepared for this process," he explained. "I don't think I would have been as prepared for it last year."
He didn't enter the NFL Draft following his 2009 season, but that didn't stop him from being selected. Locker was chosen in the 10th round of Major League Baseball's Amateur Draft to play outfield for the Los Angeles Angels of Anaheim.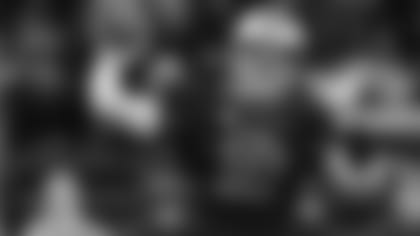 Although Locker remains under the Angels' control until 2015, he's intent to only play professionally in the NFL.
"I'm a football player and that's what my focus has been," he said. "I've been honest, up front with (teams) about that. Football is where my heart is. I love the game."
Locker has been impressive whenever he's given a chance to display his passion and athleticism. At the Scouting Combine, he ran a wide receiver-like 4.50, 40-yard dash.
The speed allows Locker to extend plays and rush downfield as well. He holds school records with the most rushing yards in a season (986 in 2007) and career (1,939) by a quarterback. Locker's 29 career rushing touchdowns also rank third all-time in school history.
Beyond rushing ability, Locker brings maturity and leadership to the table.
"I think I can bring good character into a locker room, somebody that guys can trust and believe in," he said.
Locker's affinity for football is genuine. He's wanted to be part of the NFL for as long as he remembers.
"To be a part of this process that I enjoyed watching so much as a kid, it's a cool opportunity," he said. "It's one that I'm not trying to let slip through my hands. It's something I'm trying to enjoy and have fun with because there's a lot of people that I think would like to be in this position, so I don't want to dread it or make it seem like it's something I have to do because it's I get to do. It's a privilege and I'm really excited about it."
In being such a fan of the sport, Locker recognizes that his position is in high demand.
"I believe it's a really good year to be a quarterback," he said. "You look at the draft, I think there are a good number of teams that will be looking at quarterbacks to draft or pick up in some way. It's a good year to be able to come out and showcase what you can do and what you can bring to an organization."