In his off time, this Clemson pass rusher lends his talents to a budding music career. And come late April, he'll be looking to make more hits for a NFL team.**
Every year, a well-known prospect has to silence an injury-related question just before the draft. This time around, that man is Clemson defensive end Da'Quan Bowers.
Now tell him what he has won…
Well, nothing lucrative just yet. But the 6-foot-3, 280-pound defensive end could very soon hear his name called at the top of the 2011 NFL Draft.
That's pending of course on the prognosis from a meniscus surgery he underwent at the end of his NCAA-sack leading junior campaign. Without the setback, Bowers would have easily been one of the first names taken off the board. Now, he serves as an excellent reminder of just how important medical evaluations are prior to the draft.
If team doctors sign off on his knee, Bowers could be the first defensive lineman taken at what's being considered as the draft's deepest position. Many consider him to be the best defensive end for a 4-3 defensive scheme.
Bowers did his best injury damage control at the combine though. He reiterated that his injury was only a small tear and that it hampered him during his early draft training. He only bench pressed at the combine (22 reps of 225-pounds), but said he'd do all the testing drills at his April 1st pro day.
"I feel that I want the same amount of time that everybody else had to train and fully prepare for the combine," he explained in Indianapolis.
Before the injury, Bowers dominated in the ACC. His 15.5 sacks in 2010 also broke Clemson's single-season school record by a defensive lineman.
Many compare his talents to late Clemson defensive end Gaines Adams, who was picked No. 4 overall in 2007. Bowers broke Adams' school sack record for d-linemen, but that's because he always sought out the advice of the lineman who played with Tampa Bay and Chicago.
Bowers even wore Adams' No. 93 jersey number to pay homage to his friend, who played at Clemson from 2003-2006, but died unexpectedly in February of 2010.
"Gaines was like a big brother to me," Bowers said. "We were very close. He's one of the reasons I chose Clemson.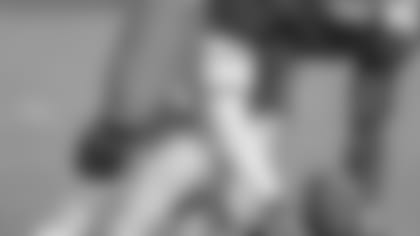 "I was hit real hard by his death, but I had to go on."
It wasn't the only difficult loss of Bowers' time in college. His father passed away last August at the age of 51.
"The adversities in my life have helped me probably more than anything," Bowers said. "Realizing I had to step up and be a man, realizing that I couldn't depend on my father anymore, couldn't depend on Gaines – it has molded me to be a better person and a better player."
Music has equally helped Bowers get over the tragedies. He plays guitar in his father's gospel band, The Legendary Singing Stars, and has continued to play instruments with the same passion as his father. He also plays the drums and does backup vocals in the group too.
"Music is important to me and I love it to death, but football comes first, music comes second," he said. "Music is very important to me. It's been in my family a long while, it's the cause of me having most of the things I have in my life right now."
Much of Bowers' football reputation was carved out in 2010. Some wonder if his impressive season should put him ahead of more consistent performers. Bowers explained his statistical outburst was a condition of his increased playing time and comfort with Clemson's defensive playbook.
"This year, I turned it up... I had been in the system two years."
Bowers' preparation techniques also improved throughout his time in college. He began to closely study the tendencies of opposing offensive tackles. He'd study everything, beginning with the linemen's feet to see if they were tipping run or pass plays. Bowers explained it as taking pride in being a student of the game.
In addition, Bowers credited his successes to the other members of Clemson's band of defensive brothers.
"Very good defensive tackles did all the dirty work and I got all the fun," he joked.
And now that Bowers is in discussion to be the first pick at the end of April – he could have a lot more fun headed his way.
"It's definitely a goal," he admitted. "I don't think anybody here doesn't have the goal to be the No. 1 pick."
If it happens, it would be music to Bowers' ears.