Two potential first-round picks on the same defensive line? Chances are that team had one of the best rush defenses in all of college football.**
Running against Iowa was a tough task in 2010, largely because of two prized defensive linemen, Adrian Clayborn and Christian Ballard.
The Hawkeyes ranked sixth in the NCAA's rush defense standings and the success could be attributed directly to the skill and physicality in which Clayborn and Ballard played.
Iowa allowed 101.5 rushing yards per game and did not give up a 100-yard performance to any opposing running back.
But the discussion of the Hawkeyes defense begins with Clayborn. Of the two, he's most talked about because of his 2009 campaign.
If it's March of 2010, Clayborn's name would be on the tip of every draft expert's tongue. It's not though. The Iowa defensive end skyrocketed up draft charts as a junior, but did not match his production as a senior.
Clayborn required frequent double-teams from the opposition. The added attention however, enabled opportunities for teammates.
Enter Ballard, Iowa's hybrid defensive lineman, who started both at tackle and end as a senior. The versatile senior made 39 consecutive starts for the Hawkeyes and benefitted tremendously from Clayborn's presence throughout his college career.
Ballard totaled 50 tackles, (nine-for-loss) and 5.0 sacks as a junior and posted 43 tackles, (five-for-loss) and 3.0 sacks as a senior.
As for Clayborn, he finished 2009 with 70 tackles, (20-for-loss) with 11.5 sacks, four forced fumbles and Orange Bowl MVP honors. His senior year was also respectable. As a consensus All-American, Clayborn totaled 52 tackles, (seven-for-loss) with 3.5 sacks and one forced fumble.
So how does the 6-foot-2, 281-pounder explain the perceived drop in his production?
"Double-teams and triple-teams and tight ends chipping me and running backs chipping me," Clayborn said. "There was a lot of different stuff going on.
"I was still playing hard, still making plays, just not as many as I made my junior year."
Maybe it's because he couldn't face Green Bay Packers tackle Bryan Bulaga every day in practice like he did for the first three years of his college career.
"It was a battle," Clayborn explained. "First year in the NFL, win a Super Bowl. He's a pretty good tackle."
"They were physical matchups," added Ballard on his encounters with the No. 23 overall pick in 2010. "It was a good way to see where you are and how you matched up against competition. It was a great competition."
Both faced tough opposition in the Big Ten, but said Wisconsin's offensive line presented the most challenging matchups.
Clayborn thinks the best lineman he ever faced in college other than Bulaga, was Wisconsin tackle Gabe Carimi, who figures to be selected in the first round of this year's draft as well.
Ballard, a 6-foot-3, 283 pounder, also mentioned Carimi as a competitor who helped sharpen his skills. In addition, the two frequently squared off in one-on-one blocking drills at the Senior Bowl.
"Going against guys like Carimi and other top linemen like (Boston College tackle) Anthony Castonzo and (Colorado tackle) Nate Solder, you want to show you can compete against them," Ballard said. "I think I did a pretty good job of that and I still have a long way to go. There are tougher offensive linemen in the NFL."
Once they get to the league, it's not set in stone what positions both prospects will play. Clayborn is more set in his ways than Ballard, but both give teams options as to where they can line up.
Clayborn prefers playing defensive end in a 4-3 scheme, but could play as a three-technique (defensive tackle) in the 4-3 or as a five-technique (defensive end) in a 3-4 defense.
Ballard prides himself on playing inside and outside on the line.
"Playing for a guy like Coach (Kirk) Ferentz, who has been in an NFL program before, I'm able to adapt to a new program," he said.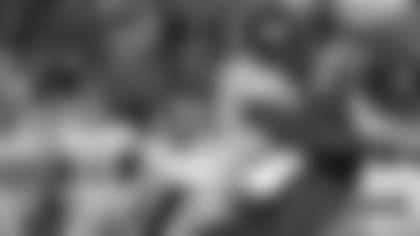 Ballard showed adaptability in Indianapolis, weighing 12 pounds lighter at the combine from his regular season playing weight. He said the weight loss was to appease the majority of teams who envision him as a defensive end in the NFL.
"I want to be about 285," Ballard said. "I can weight more if I have to. Scouts know that."
What talent evaluators are finding out is Ballard's personality off the field in addition to freshening up on his game film. They're getting to know about an aggressive lineman who plays with a sense of style. After all, the art major plans on putting his degree to use.
"I would love to be a graphic designer," he said. "I would love to do something in the sports world or design shoes."
But first, Ballard will have to design a strong rookie campaign. That'll help him build his brand of art.
Clayborn has things he wants to show scouts too, beginning with improved pad level.
"I think I play high sometimes when I'm guessing or don't quite know what I'm doing," he admitted. "Pad level and staying low will make me a great player."
If Clayborn is able to improve his technique, he could become one of the biggest steals of the draft. Not many are talking him up like they were a year ago, but he knows what he's capable of doing on the football field.
"Coming from Iowa, people don't think us country boys can move," he joked.
However, Clayborn's combine-best 4.13 in the 20-yard shuttle for all defensive linemen, should keep him in the defensive end conversation from now until April 28.