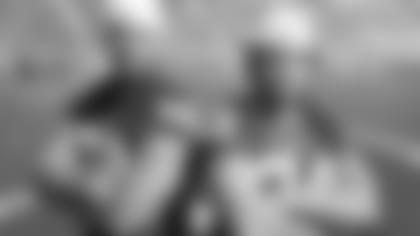 Wisconsin football is known for many things, but the conversation begins and ends with linemen and power running. This year was no different.**
Wisconsin's 2010 Rose Bowl squad featured several prospects worthy of being selected in the upcoming NFL Draft.
The first ones to go could be offensive mainstays, tackle Gabe Carimi and guard John Moffitt.
Together, they helped Wisconsin win 11 games, a share of the Big Ten title and a trip to Pasadena to compete in the "granddaddy" of all college bowl games.
They also were instrumental in the Badgers finishing second in their conference's rushing standings. Wisconsin averaged 5.5 yards per carry, led the Big Ten with 48 rushing touchdowns, and finished second in the nation to Nevada's 52 rushing scores.
While Carimi and Moffitt performed harmoniously over a four-year period, they're pretty different personality-wise.
Carimi is all business, all the time. He's made it known repeatedly that he's the best tackle available.
"I have a better résumé of going against better talent than anyone else," the 6-foot-7, 314-pounder confidently stated. "So that makes me more (pro) ready."
Need more of Carimi's pitch? 
"I'm physically stronger and have more career starts and better knowledge of the game than any other tackle out there – that's why I'm the No. 1 tackle out there."
What gives Carimi such confidence you might wonder? Simple, from day one, he stepped in for Joe Thomas, the former Badger and current Cleveland Browns All-Pro left tackle.
Carimi never missed a start in college, lining up at left tackle for 49 consecutive games. He was a consensus All-American, a consensus first-team All-Big Ten performer, the Big Ten Offensive Linemen of the Year and a member of the Big Ten's All-Academic team. Those credentials also helped Carimi pick up the 2010 Outland Trophy as the nation's best interior lineman.
Moffitt on the other hand, is more of a humorous individual who enjoys providing quality quotes to reporters almost as much as he loves winning battles in the trenches.
"I might be a funny guy, but I don't think I'm that funny," the 6-foot-4, 319-pounder said with a smile. "I think you guys pump me up more than I am."
When it's time to get serious, Moffitt prides himself on being an asset at all interior line positions.
As a redshirt freshman, he appeared in eight games and made six starts at left guard. But the following season, Moffitt switched to center and started in all 13 games. As a junior, he made eight starts at left guard and two at center. And for his final season, Moffitt started 13 games at left guard.
For those keeping score, that's 27 starts at left guard and 15 at center.
However, Moffitt prefers to play center in the NFL. Though he played both guard and center at the Senior Bowl, he made it clear at the combine where he's at his best on the football field.
"Center," Moffitt said. "I enjoy the mental aspect. I like making the calls and identifying defenses."
He's still plenty of talented at the guard position, don't let the jokester fool you.
As a senior, Moffitt was voted on the All-American first-team by the Associated Press. He was also a first-team All-Big Ten selection like Carimi.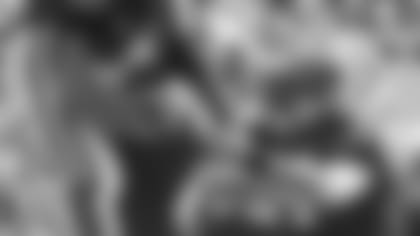 The different personalities still play the game the same way, tough and tenacious.
"I'm a physical, tough player who finishes plays," Carimi said.
"I think I'm physically a strong player," Moffitt said. "I think because we were so heavy on the run, run blocking is my strength."
Carimi is open to being flexible in the NFL. He's not solely a left tackle. Some are saying he's best suited to play right tackle immediately. That's all good with Carimi, he just wants to contribute right away.
"Our coaches required us during individual drills (to work) out of left-handed and right-handed stances," Carimi explained. "Obviously, I think I can play left tackle. It's up to the organization what their needs and wants are."
While it's important for both prospects to carve out their own identities in the NFL, it's equally crucial for them to represent the school they came from.
Wisconsin prides itself on churning out top-tier offensive line prospects.
This year's batch wants to keep the identity intact.
"One of the reasons I came to Wisconsin is because we have a great tradition of O-line and there's a great coach," Carimi said. "I think there's more on the way, too, just looking at the young guys right now."
"I knew Wisconsin had a great line tradition and being a lineman, that's what I wanted to be a part of," Moffitt said.
Now, both linemen are ready to join a new tradition, leaving their status as big men on campus to become small cheese in a NFL city.