In the final days leading up to this weekend's draft, 49ers.com will bring you reflections from last year's draft class. In this entry, enjoy hearing from our two third-round draft picks from 2007.
WR Jason Hill, Washington State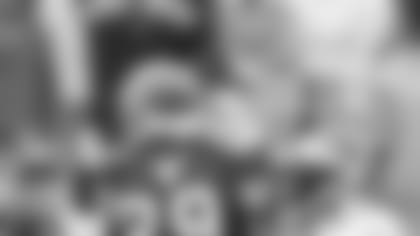 There was tons of information being thrown at me leading up to the Draft and I didn't know what to believe and that's one thing that is hard to deal with. Guys who had been through it told me to expect that, but you never really know what it is like until you go through it.
I thought I had worked out hard enough at the Combine and had a bigger body of work to get drafted higher but unfortunately I didn't. Fortunately however, I got drafted by my hometown team where I get a chance to do something that guys who I looked up as a kid in Jerry Rice and John Taylor got to do.
Being from here, I was actually in San Francisco at the Ramada Hotel downtown for a Draft Day party. It was a fun experience. There were probably about a 100 people there and we had a big projector up with the Draft on. I was expecting to go number one overall being the cocky and confident guy that I am when it comes to this football thing, so we did it up big and fortunately I was able to get drafted here which was a blessing in disguise. There's nothing in the world I would have liked more than being selected by the 49ers, and I told my girlfriend that a couple of hours before the draft started and fortunately they called my name. It was a heck of experience and I was overwhelmed with joy. I lost my dad my freshman year at Washington State and unfortunately he wasn't here in the flesh with me when it happened and that was tough, but I was overwhelmed with joy having my mom and brothers and sisters and my girlfriend. Also, I was able to show my community that you can do it and that was something that was also great about my situation.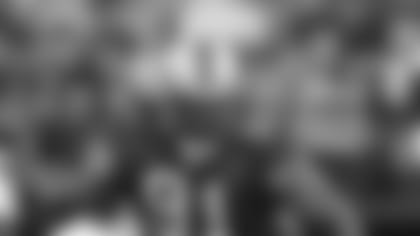 On the Saturday of the Draft I was in my room in my bed stressed out. I kept hearing from my agent and I still thought I would go in the first or second round but then reality started to set in. I realized that I had not done well on my physical at the Combine and that I could end up going pretty late.
It was a very stressful day. I don't even like to think about it. I can remember not getting any phone calls that whole day and it was nerve wracking. I knew my other teammates were getting calls and I wasn't so I thought my injury was going to kill me. I was just thinking how I played all of these years in college and did so much trying to prove to coaches that I can play and then for an injury to set me back that it was going to crush me. Finally the 49ers called me and that was my calling card to play.
All of my family was excited after I got the news. I'd say we were all about the same level of excitement because they always tell me whatever I go through, they go through. So they were happy that I was getting to live out my dream. I appreciated that the 49ers took a chance on me, and now I'm just trying to work hard and get better.