In the final days leading up to this weekend's draft, 49ers.com will bring you reflections from last year's draft class. In this episode, fans will hear from our fifth-round pick in the 2007 NFL Draft, cornerback Tarell Brown.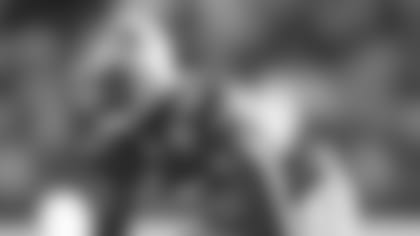 Getting ready for the draft is a long process starting from when you get done in college, to working out and then going to the Combine, and your Pro Day, and just going through all of the steps.
I can remember just being excited about going to the Combine and getting an opportunity to work out for all of the scouts and teams. It was fun, but it's different with everybody pulling on you and grabbing on you. The Combine I think is pretty much about putting you in a tough situation to see how you perform under pressure.
The good thing is that if you don't do as good as you wanted to do you always have your Pro Day to improve on any of your times.
My approach was that you just have to block everything out and do your best and at the end of the day if you gave it your all, that's all you can ask for
I was drafted on Sunday and I was with my daughter and a whole bunch of family members just relaxing, chilling, eating and watching the draft go by. I just tried to enjoy it and keep it in perspective and enjoy every little minute of it.
I saw a 408 number and I knew it was California and the Bay area and I was excited about that. I had always watched the 49ers as a child growing up and getting an opportunity to come here and be drafted by this team has been great.
My daughter was actually sitting in my lap when I got the call. She was only six months so she didn't understand, but one day I'm going to tell her that she was my good luck charm. She brought good luck to me and that's a good thing!
My heart dropped when I got the call because it all hits you - all of your hard work and everything you put into it since a child. I had been playing football since Ii was 7 years old and it had always been a dream of mine to get drafted and play in the NFL so it was overwhelming. Everyone wants to go first round but it doesn't always end up that way. It doesn't matter how you start, it's how you finish.
Since coming here I think I've spent a lot of time seeing what great players do to be great. It's about the little things. You can be a great athlete in middle school, high school or college but when you get here, everybody is a great athlete. So, it's always about doing the little things right and how to make yourself a pro on and off the field.
I think my family was proud of me when I was drafted, but I am never satisfied. I went fifth round and I wasn't satisfied with that but that's where I went and I wasn't going to hang my head about it because again, it's not how you start but how you finish. I never want my family to try to get it in my head to think that I've made it because I haven't. I have so much more to accomplish. I have so much more that I can give to this team and achieve in life. I feel like if I keep working and working every day and getting better and being that pro, I can be one of the best DB's in the country, and I will be one of the best.