Dr. Harry Edwards, a nationally renowned sociologist, civil rights activist, educator, author, and San Francisco 49ers team consultant, visited the entire fifth grade class of Bachrodt Charter Academy in late March. In addition to leading a discussion on social justice, Edwards also presented a mentorship and educational stipend to fifth grade teacher, Veronica Miranda-Pinkney, the inaugural recipient of the Dr. Harry Edwards "Follow Your Bliss" Award, which is awarded in partnership with the 49ers Foundation.
The "Follow Your Bliss" grant was created by the 49ers Foundation for full-time educators across the Bay Area who exemplify a commitment to their students, families and communities to lead the future generation with purpose, passion, dedication and love. Miranda-Pinkney was awarded $5,000 for in-classroom materials and resources for the 2017-18 academic year. In addition, Dr. Edwards visited with her students and provided mentorship for Miranda-Pinkney and her fellow fifth grade teachers.
"It's such a big deal, just what Dr. Edwards stands for and what the award stands for," Miranda-Pinkney said. "As a teacher, it's just an incredible feeling to be recognized for doing something that you love."
Dr. Edwards led a class-wide Q&A session surrounding the social justice unit that has been implemented into the fifth grade curriculum. He followed up with a private session for faculty in order to reinforce the intersection of education and social justice.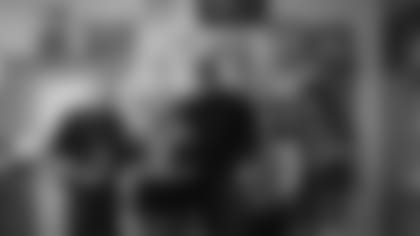 An educator for more than 20 years, Miranda-Pinkney represents over 325,000 California educators as chair of the California Teachers Association's State Language Acquisition Committee and is a national trainer and online curriculum developer for the National Education Association. Her commitment both in and outside of the classroom embodies the quintessential principles sought after by Dr. Edwards and the 49ers Foundation in a "Follow Your Bliss" award winner.
"It's absolutely clear that she gets the reality that until you show these young people that you care about them, you can't get them to care about anything," Dr. Edwards said. "We had other outstanding teachers whose colleagues talked on their behalf. But her students stood up and literally said this is why we believe that Ms. Miranda-Pinkney deserves this award. She convinced us and they convinced us that she was the right person. We were very, very impressed with that."
Dr. Edwards' mission is to help build a blueprint for academic achievement and success across the Bay Area, and he and the 49ers Foundation will continue to support deserving teachers in their efforts to inspire and help students "follow their bliss."
"That's a whole lot of money. That's unheard of as a teacher," Miranda-Pinkney added of the educator grant. "This has been the most incredible experience of my life as a teacher. We all work so hard and teaching is such an underappreciated job. We're in it for the outcome, not the income. But it's so nice when you get that recognition. What you can provide for the students, that's what I'm most excited about."
The 49ers Foundation is committed to expanding the "Follow Your Bliss" program in the coming years. For more information on Dr. Edwards and this award, visit: www.49ers.com/bliss.