Dominique Zeigler has built quite the reputation around the 49ers training facility.
Some people call him Ziggy or Z as a nickname.
Others call him "Sleepy," because of his frequent nap-taking in his locker, where he hides behind his practice jerseys and puts his feet up on his stool.
But seemingly everyone calls the second year undrafted wide receiver from Baylor University one of the most intriguing young talents on the 49ers roster.
The 6-foot-3, 185-pound wideout has excellent hands and has been known for making highlight reel catches during his season and a half stint as a member of the 49ers practice squad. Zeigler was so impressive in practice that he was called up to active duty at the midway point of last season.
"Coming in as an undrafted free agent, you have a big hill to climb," he said. "Getting a chance to step on the field, is a good experience, but I think I've climbed a little bit. I've made plays at practice and I've made plays in the game when I've been able to get in. Hopefully I'll be able to do more things this year."
Zeigler used his reps against the 49ers first team defense and in particular former Pro Bowl cornerbacks in Nate Clements and Walt Harris to improve his route-running and ball catching techniques.
"It was a difficult situation not being to play, but also a fun situation where you can learn more things from our receivers and I got to go up against our number one defense," he said. "I got a lot better going against Nate and Walt. Being on the practice squad isn't a bad deal at all because you're getting a chance to polish your techniques and you get to study the playbook more."
Zeigler also credited the lessons he learned from
wide receiver Isaac Bruce in aiding his development.
"Playing with him is an experience you'll never forget because he's going into the Hall of Fame," Zeigler said. "He's such a humble guy. A lot of guys if they had those stats, they'd think they knew everything. But Isaac, he's just always helping. He'll tell you a technique to do on a certain route and I always take his advice into consideration instead of taking it for granted."
When 49ers veteran wide receiver Arnaz Battle was placed on the injured reserve with an injured foot at the halfway point of last season, Zeigler was called up from the practice squad and given an opportunity to make the plays he made as a member of the scout team on gamedays.
Once he heard he was going to be on the roster for the 49ers Monday Night Football game on the road against the Arizona Cardinals, Zeigler couldn't help but have fun when he announced his promotion to his loved ones.
"It was pretty funny," he recalled. "I called my mom and asked her what the theme song was from 'The Jefferson's' and she said, 'I believe it was moving on up.' And I was like, 'That's what I'm doing!'"
After hearing how "geeked up" his mom was to find out the news, he couldn't help but lay the news to his father the same way.
Once he finished having fun with the announcement of the good news to his parents, Zeigler was all business when he got on the field. In his first action in the NFL on that Monday night, Zeigler caught a 22-yard pass from Shaun Hill on the 49ers final drive of the game.
"Playing on a Monday night was amazing," he said. "Everyone always dreams about playing in a Monday night game, because it's one of those big stages you get to play on. The crowd was loud, lights were all on you and I got a chance to get in late in the game in a crucial situation. It was a fun experience."
Zeigler continued to contribute to the 49ers on offense and as a member of the special teams coverage units. But against the Miami Dolphins five weeks after his NFL debut, Zeigler again was given an opportunity to help the team at an important time.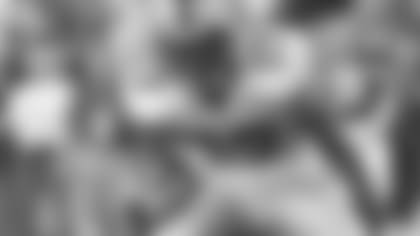 With return specialist Allen Rossum out of action and Clements, the backup punt returner playing with a broken thumb, the sure-handed Zeigler was asked to return punts. It was the first time he had ever been called upon to do so.
"It was a unique situation, I had never done punt return in my life before," Zeigler said. "To go out there and do it in the NFL for the first time, it's not as easy as people think it is, especially in those windy conditions. It was fun, I wouldn't mind doing it again, but I praise Allen Rossum for what he does."
Besides returning punts against the Dolphins, Zeigler made an impact on the 49ers special teams units by using his speed and long frame to bring down opposing returners.
"Making tackles – that's pretty fun. Not too many people think I can tackle because I weigh about 185-pounds, but going out there to help out our special teams by making tackles and putting us in good field position situations was fun," he said.
Zeigler is looking forward to competing during the offseason and building off his solid second half of last season.
"It's always a confidence booster finishing the season 5-3 in the last part of the season like we did," he said. "That helps us going into the next season and gets us prepared. We're looking for bigger and better things for next season. And for me personally, I want to go out there and make some more plays for the team."
If Zeigler has his way, soon NFL fans won't be sleeping on him.