He's tried it before, but the last thing Anthony Dixon needs is a cup of coffee.
Caffeine isn't necessary for the lively rookie out of Mississippi State, especially when his own body is brewing natural energy the moment he wakes up.
The 173rd player selected in the 2010 NFL Draft is passionate, never intimidated and most importantly eager.
But to best understand Dixon's unbridled mindset is to hear him explain it:
"I love to play the game and I'll lay it on the line no matter who we're playing, who we're against. I respect all of them, but I don't fear them. I go out there to get what's mine. I go out there to get my respect. That's just my approach to it."
Dixon's outgoing approach has benefitted the 49ers in recent weeks after offensive focal point Frank Gore was lost for the season to a fractured hip. Dixon has rushed for more than 33 yards in each of the past four games and has been a constant presence in the locker room and on special teams all season long.
"That's A.D. – he brings that college mentality to the NFL," tight end Delanie Walker explained. "He's hyped up, singing, dancing – that's just A.D…. He brings a lot of charisma to the team; people see that and feed off it."
Though the 49ers haven't named a starting quarterback for Sunday's crucial road contest in St. Louis, they have a fairly good idea of who will be carrying the football. Even with a sprained ankle that caused him to miss Tuesday's practice, Dixon expects to split time with Brian Westbrook when the 49ers look for their sixth consecutive win over the Rams this Sunday.
The way Dixon is anticipating Sunday's game, you would think he'd ingested coffee or an energy drink on Monday night. The 6-foot-1, 233-pound runner said he couldn't sleep very much, if at all.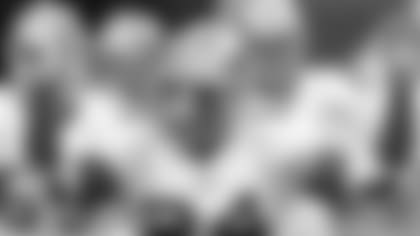 Once again, it was the natural energy taking over.
In actuality, the restlessness began Sunday after a productive round of scoreboard watching. Dixon saw Seattle and St. Louis both lose their eighth games of 2010, giving the 49ers hope for a playoff appearance.
"It's all on the line. I don't think I'll be too hyped this week," Dixon said of the importance of Sunday's game. "I'll control it because it means a lot to me and I definitely want to be at my best come game time."
Dixon's energy can be traced back to his childhood in Mississippi.
The oldest of four sons to a single mother, Dixon did his best to look after his younger brothers while his mom held down three jobs just to put food on the table.
"With how I was raised growing up with my four brothers, single parent, we were just wild," Dixon said with a smirk. "Every day we were crunk. It's just in me."
In college, Dixon was a sparkplug for the Mississippi State Bulldogs. He set school records carrying the ball 910 times for 3,994 yards with 42 touchdowns. Only Herschel Walker (994) carried the football more times than Dixon in SEC history.
That many opportunities kept the rowdy runner tuned in each week because he knew he had the chance to succeed. He never took a game off and always approached them with the same trademark Dixon state of mind.
It was the same way when he got into the pros. Dixon led the NFL in preseason rushing yards, but was relegated to backup running back and special teams coverage duties when it became the regular season.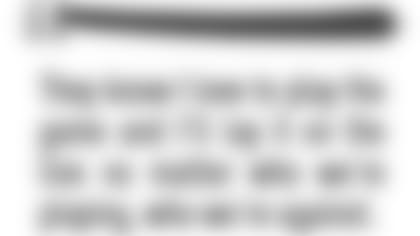 In his first extended playing time covering kicks, Dixon has managed to adapt quite well. He's totaled nine tackles on special teams already this season.
On other hand, the lack of offensive snaps taught Dixon patience, a virtue he's long ignored since his youth.
Watching Gore's and Westbrook's practice and playing habits helped tremendously. It also didn't hurt that Dixon, a lifelong 49ers fan, is learning from one of the franchise's all-time greats in running backs coach Tom Rathman.
The same way Dixon's exuberance has rubbed off on teammates, he's soaked up knowledge from those around him as well.
"I learn something new every week," Dixon explained. "I'm pretty sure this week will be no different, but I look forward to being productive when I'm out here."
In one specific area of improvement, Dixon said he's learned what particular sized football cleats work best for the various playing surfaces encountered in the NFL. After slipping around in recent weeks, the rookie settled on the length of cleat that works best for his low-to-the-ground running style.
But as luck would have it, Dixon will rely on turf shoes when playing at the Edward Jones Dome this Sunday.
It's a surface he favors.
"I think I'll be great this week. With turf, I can stick better… I feel quicker."
But no matter where the game is played, as long as No. 24 is suited up to play in it, you can count on him to supply his brand of football.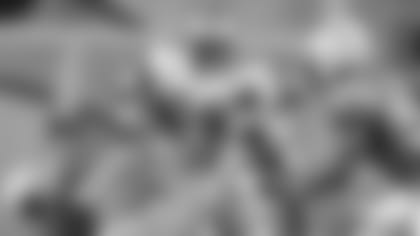 "Hard-nosed, blue collar football," as he describes it.
Now if only that could be bottled up and sold for the rest of the world to try…
Notes and QuotesMike Singletary knows who will start at quarterback for the 49ers on Sunday, but will not announce it to the media (and to the Rams) until later in the week. According to the head coach, both Alex and Troy Smith will get the "appropriate" amount of practice reps this week.
The players sounded confident in both signal callers. And as one lineman said, all they can do is focus on doing their job. Walker joked that he'd be playing quarterback. But quickly said no matter who lines up under center, the key is on executing the plays that are called. "They draw plays - you run 'em," he explained. "It's not on the quarterback who wins the game. You can't just blame one person, there's no 'I' in 'Team.'"
Whoever leads the offense has a chance to do something that hasn't been accomplished by the 49ers since 2006. The 49ers need just three points on their opening possession to tie for the most points scored on the team's first offensive possession since they scored 37 points on opening drives in 2006. A touchdown would tie the franchise's current record for points scored on opening drive with 41; that record was set in 1995, the same season the stat was first tracked.
With the loss of Travis LaBoy to Injured Reserve, Singletary said there's a possibility that linebacker Thaddeus Gibson would be active for the first time in his 49ers career. The rookie pass rusher was claimed after the Pittsburgh Steelers waived him and has been inactive the past six weeks for the 49ers.
At 5-9, some would say the 49ers don't deserve a shot at the playoffs. Count Singletary and his players off that list. Asked about feeling fortunate for remaining in postseason contention with losing record, the coach responded: "Feeling fortunate is really not the word to truly describe what we feel as a team for the opportunity that we're in right now. It is truly a blessing to be in this situation."