In four different ways, Anthony Dixon was four for four this preseason. 
The 49ers rookie running back has scored a touchdown in all four preseason games. He has led the team in rushing yards all four times. He has been the NFL leader in rushing after all four weeks of the preseason. And following the 49ers 17-14 win over the San Diego Chargers on Thursday night, he has helped lead his team to a 4-0 exhibition record.
But Dixon still isn't satisfied.
He knows he's played well so far, but he also knows it's just the preseason. And with the regular season set to begin next weekend, Dixon knows he has room to improve.
"I have to put it all in perspective, it's nice, but it doesn't mean a whole lot in the grand scheme of things," he said. "I'd give myself a B for the preseason as a whole. I still have a long ways to go and I know I can still play better.
"Now I have to get back in the lab and see how I can get better."
Dixon rushed for 80 yards on 12 carries against the Chargers, and his longest run came on a 46-yard touchdown scamper early in the first quarter to give the 49ers an early 7-0 lead.
On Dixon's touchdown, he received a pitch to the left but followed a block from guard Mike Iupati and cut back to the right side and dashed down the sideline for the end zone with defenders in close pursuit.
"That was a team touchdown," Dixon said. "I followed real close behind the linemen and then I had some of the receivers blocking downfield for me.
"He almost caught me at the end, but I had enough gas to get in there."
Dixon finished the preseason with 300 rushing yards and four touchdowns; everyone has taken notice of Dixon's play, including 49ers head coach Mike Singletary.
"I thought Dixon continued to do a nice job," Singletary said. "When you have a guy with talent like that, yes we're going to find a role (for him)."
With the preseason behind him, now Dixon has shifted his focus to the 49ers Week 1 opponent, the Seattle Seahawks.
"That's going to be huge, I can't wait for the real thing," Dixon said. "If you look around this team, we have weapons everywhere. This will give us confidence going into the regular season."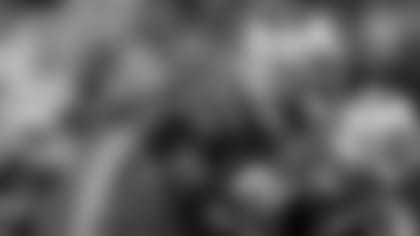 Pierre Garçon had an impressive preseason, starting the first three games at nose tackle and showing that he will be a major factor in the 49ers 2010 defense.
But what he did Thursday against the Chargers may have been even more impressive.
It's not often that outside linebackers weigh close to 300 pounds, but Jean Francois proved he can play anywhere on the field.
"I played a lot of SAM (strong-side linebacker) tonight, from about the middle of the third quarter on," he said. "I knew what to do because I try to know what everyone is doing around me on defense. I was smiling and laughing the whole time I was lined up back there." 
When defensive coordinator Greg Manusky and defensive line coach Jim Tomsula told Jean Francois he was going to play linebacker, he thought they were joking at first.
But when he realized how serious his coaches were, Jean Francois took on the same attitude.
"It was something new and I wanted to perfect it," he said. "So if the coaches ever get to a point where they want to put a big guy back there, I'm their man."
The first player Singletary mentioned in his post-game press conference was linebacker Bruce Davis.
The 6-foot-3, 252 pounder finished the game with five tackles and 1.5 sacks, but Singletary said Davis made plays all over the field that won't show up in the stats as well.
"You look at the Davis kid, I thought he did a nice job," Singletary said. "I thought he did a real nice job and he's been pretty consistent since he's been here. So I thought he helped himself."
Davis appreciated being singled out by his coach, but he knows he still has work to do as he tries to make the final 53-man roster.
"It does mean a lot to me," Davis said of Singletary's compliment. "With everything he has done to praise me and speak highly of me, that's definitely and honor.
"My mindset is to do everything I can to still be here on Monday. When I got here, all I said is I need the opportunity to make the team… I feel I made the most of my opportunity."