While growing up in Southern California, DeShaun Foster was a big fan of the Los Angeles Rams.
But little did he know, after spending six seasons with the Carolina Panthers including a trip to Super Bowl XXXVIII, he would end up playing for his beloved Rams bitter NFC Western Division rivals – the San Francisco 49ers.
Following his release by the Carolina Panthers after the 2007 season, Foster signed a one-year deal with the 49ers so he could come back to the West Coast. After spending six seasons in Carolina away from friends and family, combined with the chance to contribute to an up-and-coming team was all it took for Foster to make the move.
"I just wanted to be close to home," Foster said of his reasoning for signing a one-year deal last offseason with San Francisco. "I felt like this was a good football team that I wanted to be a part of."
For most of his seven-year career, Foster has carried the bulk of his teams running responsibilities with backs like Stephen Davis and DeAngelo Williams. But this year, he was subjected to primarily a backup role behind Frank Gore. But that didn't bother Foster, who waited patiently for his number to be called.
Though he had few carries early in the year, he made several key grabs as a receiver out of the backfield, including a 31-yard pass play that ended just a yard shy of the endzone in the 49ers 35-16 victory over the Rams.
Foster finally made his way into the endzone the following weekend when the team traveled to Dallas to play the Cowboys. Foster caught a short pass from Shaun Hill and then weaved his way past the goal line for a 9-yard touchdown in the fourth quarter.
And when Gore suffered a late-season ankle injury which caused him to miss two games, Foster was ready for full-time action.
"I just wanted to get out there and help the team," he said. "Frank's a good back, so anytime I got the opportunity I just tried to make things happen when I was running between the tackles – I was trying to make plays."
In his only two starts, Foster piled up 112 yards, including a 76-yard performance against the Miami Dolphins. He finished the season with 234 yards, 191 of which came in the final four games of the season.
Foster came up especially big in a short yardage situation in the final game against the Redskins, using his 6-foot, 222-pound frame to bowl-over opposing defenders on a 1-yard touchdown run in the third quarter.
Although it was his only rushing touchdown of the season, Foster let one of his offensive lineman do the celebrating. After his plunge, he flipped the ball to Chilo Rachal allowing him the honor of spiking the ball.
"That's probably the nicest thing I've done for an 'SC guy," Foster, the UCLA alum said. "I thought I'd do Chilo a favor so I threw him the ball."
If that's not further evidence of Mike Singletary bringing team unity together, what more proof do you need?
But Foster, a proud Bruin, couldn't resist taking a swipe at Rachal's spike.
"His spike was pretty good, but mine would have been better," Foster joked.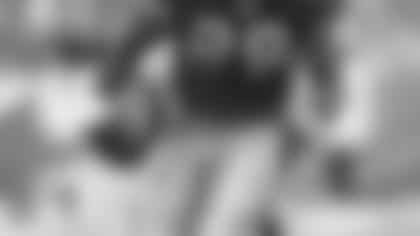 Foster provided the kind of depth at running back that every quality NFL team requires to stay competitive over the long haul, but his one-year contract is set to expire this off-season.
For Foster's part, he seems open to coming back to the 49ers.
"It was a good experience playing here," he said. "I had fun this year. We didn't win as many games as we wanted to, but we still made a lot of progress in the end. If they'd like me to come back, I'd come back," he said. "If they'll have me, I'll definitely come back."
Around the National Football League non-playoff teams are going through rebuilding modes, but Foster believes the pieces are in place to succeed now that Coach Singletary has been given a four-year contract.
"There's an upside here. Guys are playing hard and Coach Singletary is a great coach," he said. "We just have to go from where we left off this year and take it into next year."
Foster, who has played in a number of playoff games including being one Adam Vinatieri field goal away from possibly winning a Super Bowl ring, would like to be a part in helping the 49ers make a playoff run next season. With Singletary returning as the coach in charge, Foster is eager to see how the team carries over their 5-3 record in the second half of the '08 season into '09.
In addition to liking the direction the franchise has taken with its head coach, Foster has been impressed with the 49ers offensive line, which helped Gore become the first back in franchise history to rush for over 1,000 for three consecutive seasons.
"The o-line did a great job this year," he said. "They had a couple of injuries, guys had to rotate, but everybody stepped up and anytime you have a bunch of talented offensive linemen – that's a good thing."
Foster was also surprised by just how truly talented Gore is. Certainly he knew the 2006 NFC's leading rusher had skills, but after watching him up close every day for a full season, Foster was intrigued with what he saw.
"Frank is just a good back period," Foster said. "He's an every down back and he can get in the there and run hard. He can also catch the ball too. He really can do it all. I was really impressed with what I saw from him this year. The little things that I saw him do were really impressive."
Specifically, Foster took notice of Gore's footwork.
"I liked watching the way he used his feet," he said. "Frank has really good footwork. He can get in and out of tackles, in and out of holes and it was fun to see the way he used his feet all season."
With Gore looking to add-on to his franchise record for 1,000 yard seasons, Foster understands that his role would be similar if he's to return, but for the California native, getting the 49ers back to the playoffs is something he really wants to take part in.
"Everyone here sees the big picture and what we're building over here," he said. "It was good to see that Coach Singletary is going to be able to continue to build on what he started in the second half of the season, and I think we're on our way."