Demetric Evans made quite a transition by signing with the 49ers in March of this offseason. 
Evans chose to pack his bags and move out to the West Coast after playing his first seven years of his career in the NFC East division.  The defensive end originally went undrafted out of the University of Georgia, then was picked up by the Dallas Cowboys in 2001.  After a two-year stint there, Evans has spent the past five years playing for the Washington Redskins.  In seven years, he has totaled 147 tackles, 13 sacks, and three forced fumbles.  
Now with the 49ers, Evans will not only be changing coasts, he will be changing defensive schemes too.  In the past, Evans has only played in a 4-3 defensive scheme.  But, in San Francisco he will be transitioning to the 49ers 3-4 defense. 
Credit defensive coordinator Greg Manusky for selling Evans on why he should join the team and learn a different style of play.
"[Manusky] told me that the 3-4 they run is not the typical 3-4, where you are just holding blocks," Evans said in an offseason interview with TV49.  "They allow the d-linemen to get up the field and make plays."
Evans feels that he and his teammates comprise an athletic group of 3-4 linemen, who will benefit from Manusky's scheme.  Evans' own athleticism will be something he calls upon while transitioning to the 49ers defense.  
"I like to get up the field and rush the passer," the 6-4, 275-pound end said.  "I like to make plays at the line of scrimmage.  And whatever the defense calls for, just play within that play and let my ability show."
As he prepares for his eighth training camp starting next week, it is very clear Evans knows what mentality to bring with him. 
"In this game it doesn't matter which team you play on, there is always competition.  If you're not competing you're not trying to get a job," Evans said.  "I'm not sure what my role is right now.  That is going to be determined when we get to training camp.  I'm trying to make the adjustment as far as the 3-4, the terminology, the plays, and how the offense blocks that scheme."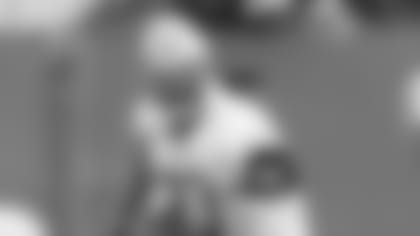 Evans was brought in to add depth and experience to the 49ers defensive line rotation.  By adding him to the mix, the 49ers should see improved pass rush results this season.  Evans points to the balance of an effective pass rush from the front seven and quality coverage from the secondary for either group to obtain success. 
"This year I think we're going to have a good combination of both and we're going to do well.  We're just excited.  We've got a lot of guys who have been working hard on their pass rush." 
However, Evans is quick to remind himself of the most important quality a good defense must have in order to dominate in the trenches.
"At the end of the day, to get a pass rush, you have to stop the run.  That's got to be the key."
The entire 49ers defense will look to their coaching staff as motivators to improve from last season's defensive rankings where they finished ranked 13th in the NFL in yards allowed from scrimmage.  For Evans, that motivation will come from his energetic defensive line coach, Jim Tomsula. 
"He's a great coach," Evans said of his new position coach.  "He's very energetic, very hands-on and detail-oriented.  I think the thing I like the most about him is that he respects the players.  He treats you like a man first because that's what you are, before anything else." 
It is easy to see why Evans would admire those qualities in a position coach as he has a very engaging character himself.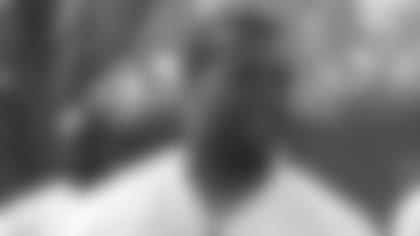 Current fans of "The Meat Zone", Evans' blog featured on 49ers.com, have already come to know this by following his offseason updates.
"I really don't play a lot of games out [West] and the fans are like, 'Demetric Who?'" Evans joked.  "[The blog] will be a good day-to-day insight on how things are going, how we are preparing for the preseason, and the things that we do before the game.  It's something I'm going to have fun with." 
In past editions of "The Meat Zone", Evans commented on how his move across the country has left his wife, Dr. Aungel Latchley Evans, back in Washington D.C. as she finishes her residency. 
"It's been difficult because a lot of the time she's on 24-hour call and sometimes you don't even get to speak with her," he said.  "It's been a transition we've worked though, but hopefully when she finishes up next year, she will come out and enjoy some of this California weather."
Whenever Evans finds the time to speak with Aungel, he is careful not to dive too deep into conversation about his new climate. 
"I don't try to brag about it too much," he said with a grin.  "With her being in D.C., it's not warm enough out there.  I don't try to rub it in her face."
Besides weather, one additional change that has helped Evans acclimate to his new surroundings is the 49ers Faithful, who have already shown him a tremendous amount of backing.   
"The community here has seemed very supportive.  Seeing all the fans wanting you to sign autographs as you're leaving the facility... I'm not used to that," Evans revealed.  "I see a lot of support here and I'm looking forward to seeing what it's like on gameday!"
Candlestick Park is where the 49ers Faithful will have a chance to see the results of Evans' transition.  Their first sneak peek into that transformation will be on Aug. 14 in the 2009 preseason opener when the 49ers host the Denver Broncos.
Before that, Evans will look to make his mark in training camp. 
He, along with the rest of his teammates, had the month of July off heading in to camp.  Despite the break, Evans was careful not to bombard his free time with activities as the veteran knew how vital it was to remain focused as he prepares another NFL season. 
"I'm going to relax, train, and get ready for this long season.  When training camp starts, your life belongs to the 49ers, period."
Jokingly, Evans flirted with the idea of taking a vacation to an exotic location like Costa Rica, but quickly snapped back to reality after considering what sorts of adventures would accompany such a trip. 
"See, I'm almost 300 pounds.  I can't be zip lining out there," Evans teased.  "What's the weight limit?  Because if I get up there thinking that I'm 300 pounds, something will happen!"
But with Evans safe and sound with his feet on the ground in San Francisco, the 49ers Faithful should be excited when their newest defensive linemen imposes his large athletic frame against opposing offensive linemen on Sundays.