The Arizona Cardinals currently maintain the number one scoring offense in the National Football League, a feat they've reached primarily because of quarterback Kurt Warner and his second-ranked passing attack.
"What can I say about Kurt Warner? He makes that offense go," said 49ers starting safety Michael Lewis. "He's finding guys all over the field, they're spreading teams out and he's getting the ball into the hands of his play-makers. They've been able to put up a lot of points this year, and a lot of yards."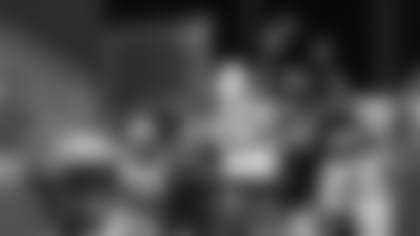 But that's all status quo to the 49ers, who know all about what the former NFL MVP quarterback is capable of, not to mention his top notched receivers in Anquan Boldin and Larry Fitzgerald.
"Kurt Warner is a good quarterback and has played well for many years," said linebacker Joe Staley. "I have a lot of respect for him to take the licks he's taken and still complete the passes. You have to give a lot to him. A lot of times quarterbacks take that many shots, they can get intimidated. But, it also goes to the guys around them. You can throw it all you want, but you have to have the guys to catch it. You've got to have a tandem and they've got it."
Wide receiver Steve Breaston has also emerged as a playmaker and is on pace for a 1,000 yard season after filling in for Boldin during his recovery from a facial injury, and then continuing on as the team's third receiver.
"Breaston is a quick, shifty guy," said cornerback Tarell Brown. "Really, all three of them have been doing a great job and they haven't missed a beat. I'm really impressed by all of them."
The 49ers secondary has had both good and bad days defending against the Cardinals aerial assault. In the first matchup, they held Boldin to without a catch in the first half although he finished with 8 balls for 82 yards. Fitzgerald had a very quiet day in that ball game with only 3 catches for 31 yards.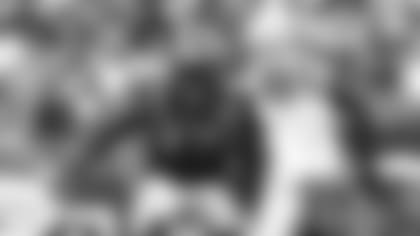 Boldin discussed the 49ers secondary on Thursday when he spoke with local Bay Area media.
"Nate Clements is a guy who we've had to pay attention to ," said Boldin. "I think he's one of the better tackling corners in this league. I just know that they're a disciplined secondary. You have Walt Harris, a guy who's been in the league, been to the Pro Bowl with me, and he's real solid in what he does. He will give you different looks. You have [Mark] Roman who's back there along with Michael Lewis, Lewis being one of the more physical safeties in the league. They have some guys back there who have knowledge of the game. You really don't see them out of place often."
Of course, the success of the secondary this Monday will also be a direct reflection on what occurs in the trenches, and the front seven's efforts in getting after Warner. As head coach Mike Singletary said on Friday after practice, getting after Warner "will be huge."
"He's doing a great job of getting rid of the ball and placing the ball," said Singletary. "They are in rhythm right now, and they are a team that is really hot."
Warner hasn't had many cold days, but the 49ers have taken a close look at the New York Jets game when he threw three picks.
"Like the Jets were doing, they were getting in his face pretty much on almost every passing play," said defensive end Ray McDonald. "You do that to any quarterback in the league and you can force them to make mistakes, throw an interception, cause fumbles and get turnovers for your offense. We have to do that this week against them."
With a solid grasp of how best to defend against Warner and his receiving playmakers, the lesser known commodity in this Monday Night Football rematch centers around Arizona's rushing attack, which ranks near the bottom of the league at 28th.
Establishing a run game was a point of emphasis for Arizona's head coach Ken Whisenhunt in his sessions with the media prior to his team heading to St. Louis to play the Rams last week.
"I think whenever you come out and say that in the press, you definitely want to follow that up on Sundays," said linebacker Takeo Spikes. "We know they have a great passing attack but as we all know, you're not going to go all the way, if you're trying to pass the ball first in this league. We look for them to go out there and establish the run."
The had Cardinals paid big dollars to land Pro Bowler Edgerrin James from the Colts a few years back, but the baton was passed last week in St. Louis as James stood on the sidelines while rookie Tim Hightower started and was backed up by a former second-round pick in J.J. Arrington.
"Hightower is a downhill runner, takes what's given to him," said Lewis. "He hits the hole hard. He runs behind his pads and catches the ball out of the backfield. They're trying to feature him and they're doing a great job of it. Arrington comes in on mostly passing situations, but he will spell Hightower. He's a fast guy if you miss in the open field, and he's really come on these last couple weeks."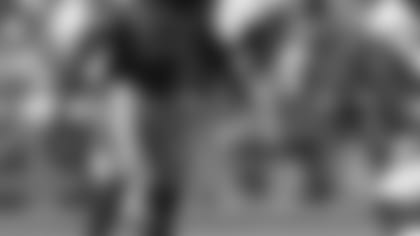 The defense doesn't plan to overlook what James can do should the Cards fall upon the former starter.
"I don't overlook Edge or think we don't have to worry about him," said linebacker Patrick Willis. "Last year before we played them, I heard about him being washed up and different, but I remember the first time I hit him I was like, if this is what you call washed up, gosh dang. Whatever their situation is, or whatever changes are being made, we have to play our kind of football. "
Ultimately, as the NFC West Divisional leaders, the Cardinals are sitting on a perch the 49ers would like to ascend.
"Here's the division leader, these guys are playing lights-out on offense and defense and executing their gameplan," said Lewis. "For us, it's a challenge. And I'm pretty sure everyone in the locker room is looking forward to it."
After two weeks of preparation, the 49ers sound eager to start the second half of the season, ironically against the same opponent they started the first half again. But this time around they plan on getting started off on the right foot.
"I think it is going to be a great test for our team. Arizona obviously right now is playing really good football and they've beaten some really good teams and they beat us at the beginning of the season. We're hungry to have a great week of practice and get ready to go play against them and avenge ourselves."
The SlotHead coach Mike Singletary indicated on Thursday that Bryant Johnson and Jason Hill would handle the responsibilities of slot receiver Arnaz Battle, who has been ruled out with a foot injury.
It sounds like even practice squad receiver Dominique Zeigler could get into that mix with offensive coordinator Mike Martz saying earlier in the day that the 49ers had discussed activating the second-year player.
The 49ers would have to release a player, or move an active player to injured reserve (and none fit this bill currently) in order to get Zeigler active.
"We'll see. We're seeing how he works out in the offense, and we'll see," said Singletary later in the day. "We'll figure it out. We don't know yet. If so, then we'd have to figure out what we want to do roster wise."
Zeigler, an undrafted free agent in 2007, happens to hail from Singletary's alma mater, Baylor University. The practice squad player said he has no idea when he'll hear word, and instead focuses his energy on what he can control, and that's making plays in practice.
"When that time comes, it comes. If you think about it too much, then you might put stress on yourself or you might worry about the wrong things," said Zeigler. "I just go out there and catch the ball like I'm supposed to. From there it goes."
As for Battle, he said his foot injury is week to week.
"I'll make the trip down there and continue my treatments and the things I've been doing to get back out on the field. It's one of those deals, where it's week-to-week, so I'll let the foot speak and I'll know when it's ready."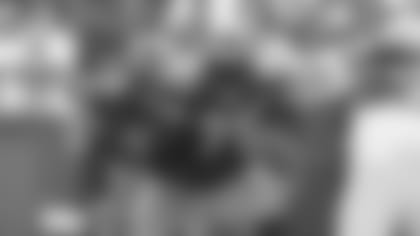 All week long, reporters have continued to ask who will start at right tackle.
Singletary said after Friday's practice that as of "right now, Adam Snyder."
Snyder filled in at the position in the Seattle game when Barry Sims went down with an ankle injury. Sims has been ruled out, while T Jonas Jennings was a bit sore after Thursday's practice. This week marks the first work Jennings has seen since the week two game against Seattle.
If Snyder does start, Jennings will be the backup tackle for both sides.
"If we have to have Jonas, he'll be ready to go," said Singletary.
Jennings is listed as probable on the team's injury report.
A new banner was hung outside of the locker room on Friday, titled 49ers Formula for Success.
"It's not a new flavor of the month," explained Singletary. "It's not, this sounds good. No, this is what we have to do in the second half of the season to be successful and give ourselves a chance to compete at the highest level."
The five steps include:
1. Total Ball Security
2. Execute
3. Dominate in the Trenches
4. Create Great Field Position
5. Finish
"They'll be all over the building, but it doesn't mean anything until it gets into the hearts of the players, and that's what we are driving home," said Singletary. "You've got to know what you are shooting for. You've got to know what it is that you want and what you need to do and then you work from there. But, you've got to know what it is."
**More on the Injury Front
**TE Delanie Walker took a full practice and is probable for Monday's game.  Like Jennings, DE Ray McDonald was also limited in practice, but is probable for the game. Linebacker Roderick Green, who returned to practice on a limited basis after missing Thursday with an illness is questionable.