This Sunday, the Indianapolis Colts are looking for their 16th consecutive regular season win dating back to last season.
The Colts haven't loss in the regular season since a 31-21, Week 8 loss to the Tennessee Titans on a Monday night in late October. Since then, they won their next nine straight games, before losing to the San Diego Chargers in the Wild Card round of the playoffs, and six more games to open the 2009 season.
"They're a good football team and we just have to go in there and be prepared and get a win on the road. Don't let them get to 16," defensive tackle Justin Smith said on Thursday.
The 49ers task of slowing down Indianapolis' offense and their starting quarterback will be a complete team effort according to Smith.
"He's still playing really good football and finds ways to get better," Smith added. "We just have to get pressure on him. We can't just let him sit back there and pick us apart. I think defensive push up front is going to be huge in this game."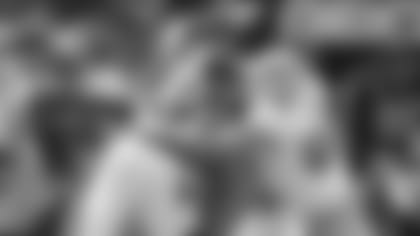 Several players described Manning as a "coach" on the field, but outside linebacker Manny Lawson said it best, "We're basically playing an offensive coordinator."
"Their offense is very explosive and they do a good job of scoring points," linebacker Joe Staley said. "It's up to us to keep the points off the board – it's going to be a good task for us."
Manning enters Sunday's contest leading the NFL's top-ranked passing offense, which averages 310.8 net passing yards per game. Add to that the fact that Manning has only been sacked twice in six games, and the 49ers defensive unit will have to be creative in disrupting the Colts offense.
"He does a good job studying and he knows what defenses will do," Wills said of Manning. "If we show him something early on, he knows how to audible and get out of it. You just have to do a good job of disguising your coverages across the board."
One thing in the 49ers favor is the fact that the Colts offense has been banged up in recent weeks.
Backup rookie running back Donald Brown suffered a left shoulder contusion last week against the St. Louis Rams and is unlikely to play. Also, Manning's favorite target, wide receiver Reggie Wayne has not practiced this week because of a groin injury.
"Reggie Wayne, he's their guy," cornerback Nate Clements said. "He's definitely elevated his game over the years."
Clements expects a blue jersey with a No. 87 to be on the field come Sunday despite Wayne's injury, because Wayne hasn't missed a game since 2002.
"We came in the league together, I know he's a tough guy – he's going to play," Clements said.
Clements said the 49ers defense also has to key in on Manning's over-the-middle target, tight end Dallas Clark. But starting strong safety Michael Lewis will return this week for the 49ers which should help in covering Clark.
"He has deceptive speed and he makes big plays for them," Clements said. "He's an elite player; we definitely have to watch out for him too."
The Colts have utilized some lesser-known names in their passing game as young wideouts, Pierre Garcon and Austin Collie have become reliable weapons for Manning too.
"I think Peyton is putting those guys in the best situations to make plays. He's distributing the ball well and he's not just focusing in on one guy," Clements said. "He's utilizing all his weapons to the max."
The 49ers made one change to the defense this week, Willis will no longer wear the radio helmet known as "the green dot."
Free safety Dashon Goldson will wear the helmet that will allow him to receive play calls from secondary coach Vance Joseph who relays them from defensive coordinator Greg Manusky.
Giving Goldson the radio helmet will allow the secondary players to get the entire defensive call, as in previous cases, it became difficult for Willis to relay the entire play call with input from the coaches to the players on the 49ers back end.
"I think it just helps him out a little bit on the back end from a communication standpoint," Manusky said. "Vance Joseph will be talking to [Goldson] a little bit about certain situations. I think that will help us out, at least on the back end."
Another possible change to the defense could be the addition of rookie linebacker Scott McKillop to the starting lineup. Takeo Spikes is coming off a shoulder injury against the Texans and has not practiced this week either.
"I'm ready no matter what happens," said McKillop, who finished with four tackles against Houston. "If my number is called on Sunday – then, let's do it."
Whether or not Spikes is able to go, the 49ers linebackers will have to limit the production of the Colts running backs, who are a perfect addition to what Manning likes to do in the passing game.
"Everybody in that offense is a compliment to Peyton, especially [Joseph] Addai and [Donald] Brown," McKillop said. "They draft people like that for a reason. It's because they think they can fit into their schemes and they both can play."
Facing one of the best offensive units in the NFL is a welcomed challenge within the 49ers locker room.
Whether or not they're looking for 16-straight regular season games is irrelevant to them.
"We have to get a win," Smith said. "We've lost two in a row and we have to get back on the board. It doesn't matter who we're playing this week."