Head coach Mike Singletary said during his Monday press conference that he is at his best when his back is against the wall and times are tough. Apparently, the 49ers defense can say the same thing.
The same 49ers defense that hadn't tallied an interception since Week 5 against the Atlanta Falcons, had not one, not two, but five interceptions against Jay Cutler and the Chicago Bears.
"We came out there and showed what this defense is made of," said safety Dashon Goldson, who had the third of the 49ers five picks. "In the beginning of the year in training camp, we stressed turnovers and every day we practice turnover drills. Today was a great opportunity for us, coming out at home after four losses in a row. We know what we can do and we showed it out there."
The 49ers needed every one of the five interceptions to pull out the much needed win, including Michael Lewis' game ending pick in the end zone on a Cutler pass intended for tight end Greg Olsen.
"Our defensive backs coach did a good job helping us out with our keys and they told us that Olsen is a big threat in the red zone," Lewis said. "They like to take him vertical a lot and I was playing the vertical route and sure enough, we got it."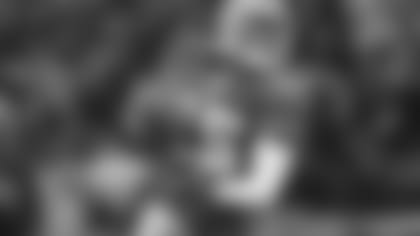 While turnovers helped end the game, they also helped get the 49ers on the scoreboard as well. In the second quarter, Cutler looked for receiver Devin Hester who slipped on his cut. Third-year cornerback Tarell Brown stepped in front of Hester and made his first pick of the season. Shifting into return mode after the pick, Brown directed traffic and followed great blocks by Goldson and Shawntae Spencer down to the Chicago 14-yard line.
"I was just trying to make a play," Brown said. "The guys told me I should have stayed to the left side, but I was trying to bring back my running back skills."
On the first play after Brown's interception, the 49ers gave it to running back Frank Gore who followed a huge hole between Adam Snyder and Chilo Rachal to put the 49ers on top 7-0.
And Brown wasn't the only 49ers player who tried to show off his offensive skills Thursday night.
When the Bears were threatening early in the second quarter, nose tackle Aubrayo Franklin dropped from his position in the middle of the line and grabbed Cutler's pass in front of the Bears' receiver.
"I knew I had those hands," Franklin said. "Nobody thought I'd get out there and cover. It was a blessing to make that play."
Even the 49ers defensive backs were impressed by Franklin's pass-catching ability. After all, it was Franklin's first career interception.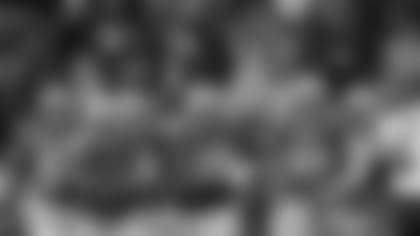 "That came out of nowhere," Goldson said. "I didn't know he had those hands. I saw him dropping back a couple times, but they didn't throw his way. He made the most of his opportunity. I'm juiced for him."
Similar to Brown, Franklin also appeared eager to get up the field as the 317-pound lineman tried to get around the corner.
"After his first two steps, I thought he was going to get some yardage," said Safety Mark Roman who added an interception of his own. "Then by that third and fourth step, I thought, 'Aw, he's about to get on the ground.'"
Even without a 98-yard touchdown return by Franklin, it was a tremendous night for the defense. It was the first time since a 1997 game against the New Orleans Saints that the 49ers picked off at least five passes.
"It's funny because I have been on a team that's [picked off five] before," linebacker Matt Wilhelm said. "When I was in San Diego, I think we got Peyton Manning five times. It's a special night. No one was lighting up the scoreboard on either side of the ball. For me, this is my first win as a 49er so I'm excited."
The rest of the defense was equally excited, looking to keep the momentum going in the second half of the season.
"We've just taken a step," said Lewis. "We're going to continue to fight, continue to believe in the system and believe in coach Singletary. He is going to leads us."