The 49ers were told by head coach Mike Singletary to pick up their intensity level mid-way through the first day of OTAs.
But on the second day of the voluntary workout, there was no need for a reminder, as both sides of the ball raised their level of play in an up-tempo workout that featured several highlight-worthy catches.
Two of the plays came from the 49ers defense, which came up with interceptions from rookie linebacker Scott McKillop and starting free safety Dashon Goldson.
"I thought yesterday we started off slow and picked up towards the end and today we came out and competed on both sides of the ball," Goldson said after practice. "I think we put it all together today and got a couple of turnovers."
After seeing the offense complete a flea flicker pass a few plays prior, Goldson recognized that the same play was being ran by quarterback Alex Smith and rookie running back Glen Coffee.
Goldson wasn't fooled by what was happening in the backfield and was able to make an impressive leaping interception down the right sideline in front of the waiting arms of wide receiver Josh Morgan.
"The running back didn't really sell the fake when he got the ball, he immediately gave it back to the quarterback," Goldson said. "I saw the receiver pushing up the field and normally he's supposed to block me. He released up like he was running up the field and I just had a good read on the play."
Not only was it a good read, the interception took tremendous focus and concentration as Goldson out-jumped Morgan, caught the ball at its highest point and proceeded to get both of his feet inbounds.
"Knowing us, we're always about competition," Goldson said. "We have great guys, great cornerbacks and great wide receivers, so there's always a great competition out here. That's what we have to do on defense – get turnovers – that's what we have to live by."
The second turnover came when McKillop intercepted a Smith pass intended for Frank Gore and returned it 20-yards for a would-be touchdown.
"It was a new coverage we put in today and I dropped off on the route in front of me and I was in the right place at the right time," McKillop said modestly. "It felt pretty good. With the reps that I do have, I'd like to capitalize and make the best of them and I was glad that I did that today."
Middle linebacker Justin Roland also recovered a Thomas Clayton fumble and returned it 10 yards down the left sideline, which was the third and final turnover of the day.
"So far we've been looking good," Goldson explained. "We are a little ahead of the offense, because they have a new coordinator and a lot of us have been playing together and we have the same coordinator on defense. But we're still making progress (on defense), we still have more things to iron out for us to be that great defense that we're trying to be."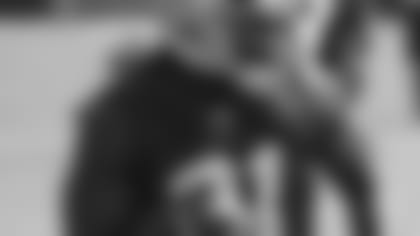 On the other side of the ball, the offense made several impressive plays of their own during the team portion of practice.
Many of them involved Gore, who has looked completely healthy after suffering an ankle injury that hampered him for the final three-and-a-half games of last season.
"Today went much better," Gore said. "Everybody was flying around. We looked like a better team today. We took a step forward, now we just have to keep moving and try to get better."
Gore has been training with his personal trainer in his hometown of Miami and has come into the organized team activities looking much leaner.
"I know the coaches have been telling me that I have to be in tip-top shape and I have to be ready to take the load, and that's what I'm going to do," he said.
Even some of his teammates complimented Gore during practice on how he was looking, "lean and mean."
Gore was specifically asked if he is a fan of the 49ers new offensive coordinator Jimmy Raye and his brand of football.
"I like it so far," he said. "We're running the ball a lot. We're doing a lot of downhill runs, and that's my type of running style. My style is I like to have my shoulders square. A lot of runs and a lot of running plays are going straight downhill, (where you) just pick your hole and go."
Gore said he feels encouraged about the new offense, because of the similarities it has to the one the 49ers ran in 2006 under Norv Turner. That year, Gore set franchise records rushing for 1,695 yards on 312 carries and earned his first Pro Bowl selection.
Gore also complimented his new backup in the backfield in Coffee and said he's willing to share the ball with the rookie.
"I feel like the more I'm in the game, the more I touch the ball, the better player I am," Gore said. "The back (Coffee) they've got here is a pretty good back. He's working very hard and he's learning the offense. I like him. Whenever they feel that they want to put him in, I feel that he'll be alright to get in the game."
During team stretches, Nate Clements and Shaun Hill continued their light-hearted trash talking battle from the previous day. Clements wondered if he was worthy of a big "X" after his interception on Monday.
Hill replied, "Maybe I'll put a little star by your X."
Nate quickly chirped back, "You can put an LD next to it – for lock down."
While participating in tight end drills in the individual portion of practice, tight end Brian Jennings caught a pass and proceeded to put his finger in the air and said, "Touchdown!" while dragging his feet on the grass as if he were Deion Sanders. But Jennings didn't forget his post-touchdown responsibility, the team's long snapper said, "Touchdown on the ball," as if he had to go snap the point after.
As for some of the best sights on Tuesday, the second play of 11-on-11 work saw Hill connect with a wide-open Gore out of the backfield on a seam route for a 25-yard gain.
A few plays later, outside linebacker Manny Lawson flashed some athleticism by quickly getting in the backfield and batting down a pass from Hill intended for running back Thomas Clayton in the right flat.
The best play of the day by the offense went to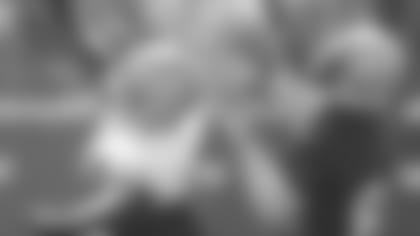 Morgan, who earned the honor by catching a 30-yard pass from Hill over the middle. What made the play impressive was how he came down with the ball despite being tightly covered by undrafted free agent cornerback Carlos Thomas on his post pattern. Morgan snared the ball away from Thomas and afterwards, the two got tangled up and fell to the ground. After the dust had settled on the play, Morgan had the ball in his hands and one shoe on his feet. The other had come off as the two hit the ground.
A close second to Morgan's catch happened on the first flea flicker of practice when Gore flipped the ball back to Hill, who then found an open wideout in Dominique Zeigler. Despite being covered closely by veteran cornerback Walt Harris, Zeigler was able to use his lanky 6-foot-3 body to pull the ball down, before getting both feet in bounds.
While closely guarding Zeigler on the first flea flicker of practice, Harris fell to the ground and sat out the rest of practice with a knee sprain and will be evaluated by team doctors.
Later in the 11-on-11 portion of practice, Zeigler also was injured when he inadvertently collided with Goldson. Zeigler was banged up on the play and will also be evaluated.