Win, and dominate the line of scrimmage.
A declaration not overstated, but well-intentioned. That's the 49ers goal for this Sunday's home finale against the Detroit Lions.
According to defensive tackle Isaac Sopoaga, who has at least 58 tackles in his last three seasons, the 49ers want to accomplish those two goals and ultimately finish as one of the league's top rush defenses. Currently the unit ranks fifth in the NFL and third in the NFC, but ideally they'd like to improve those rankings in the final two weeks of the season.
"We want to be No. 1," Sopoaga said. "We want to finish strong and finish this season as the top defense against the run. That's the goal."
Similar comments were made by nose tackle Aubrayo Franklin, who still believes the 49ers defense can improve.
"I think we've played pretty good this season and there's still some individual goals we can reach, finishing in the top-3 in rush defense, in sacks, and in red zone defense are some of them," said Franklin, who leads all 49ers defensive linemen with 77 tackles, and seven tackles-for-loss. "We signed up for 16 and we're going to finish up these last two games."
Those statistics could receive a boost against a Detroit Lions team which enters Sunday with a 2-12 record and a quarterback in Drew Stanton who is making his first professional start.
Welcoming Stanton to the NFL would seemingly be a welcomed challenge for the 49ers defense considering the unit has faced some of the game's best quarterbacks this season, including Kurt Warner (twice), Brett Favre, Matt Ryan, Matt Schaub, Peyton Manning, Aaron Rodgers, and Donovan McNabb.
But that's not exactly the case.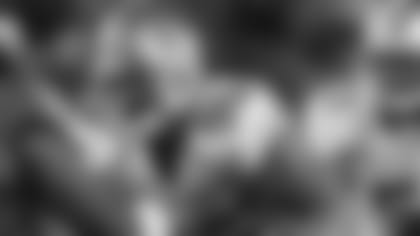 "As a defensive lineman, I'm not really worried about who they choose as their quarterback," Sopoaga said. "My main priority is to beat the guy in front of me. All of us are working together like a family to get to the quarterback. We don't care who is back there, just as long as we get there."
Although Stanton doesn't bring the same credentials as some of the 49ers previous opponents, Detroit's top wideout has to be considered among the league's best.
"Week in and week out, you always come across big-time receivers and Calvin Johnson is another one we have to account for," free safety Dashon Goldson said. "We have to do a good job of stopping him. We get good, tight coverage on him and we'll get things done on Sunday."
Johnson averages 14.9 yards per catch and has caught 54 passes for 802 yards and four touchdowns. Standing at 6-foot-5, 236-pounds, Johnson has a lot of similarities to another big-body receiver the 49ers are familiar with, Arizona Cardinals wideout Larry Fitzgerald.
"Johnson definitely has that type of game. He can be another Fitzgerald," Goldson added. "He can become that type of player for that team."
In addition to Johnson, the Lions will likely get the ball in the hands of running back Maurice Morris as much as possible. Morris rushed for a 64-yard touchdown last week against Arizona and the 49ers defense is well aware of his shifty running style from his years in the division with the Seattle Seahawks.
"He's a fast guy. If you let him hit the edge, he's going to take the edge, so you have to stop him in the backfield," Franklin said. "You have to stop him before he gets his legs going."
Head coach Mike Singletary certainly doesn't want to see Morris get going. He wants a performance his team can build on.
"I don't know about everybody else, I expect to win every game that we play," he said. "The reason you play football, is to win games. If we're thinking, 'Wow, we've got to win.' What the heck is that? We're in the wrong place. We're in the wrong business if that's our thought process."
Players agreed. They see no other way but to give maximum effort.
"What we do in these next two games is very important," Goldson said. "It can carry over some momentum into the offseason and it will let people know that we are a good football team and we haven't lost a step.
"In this last home game, we have to put our stamp on the football field and let them know this is our home field."