The defensive backs on the 49ers roster all love the line of work they've chosen.
Watching Thursday's organized team activity from 49ers headquarters more than reiterated that fact.
After seeing safeties Michael Lewis, Curtis Taylor and Taylor Mays combine to break up multiple passes from the 49ers offense, it was abundantly clear how much the group was enjoying themselves.
Seeing who can create the most havoc in the secondary is usually what fuels their satisfaction.
Every cornerback and safety on the roster wants to have the most interceptions and pass breakups in any practice or game, and they're not shy about wanting to stand out.
"It's always competitive," said Taylor, who led all defensive backs with three pass breakups on Thursday. "It's a challenge for us, but we have fun doing it. It's a job, so you might as well have fun doing your job right?"
Taylor, a second-year safety drafted in the seventh-round, credited his play to his enhanced understanding of Greg Manusky's defense. Presently, Taylor feels much more comfortable with everything he's experiencing on the field. Now that his questions have been resolved, Taylor has played much more instinctively as he lines up behind Lewis with the second-team defense. Thursday's three pass breakups only validated the commitment Taylor has displayed this offseason.
Only active for seven games before being put on injured reserve with a hip injury, Taylor rehabbed diligently at team headquarters with the training staff to get ready for offseason workouts. With a clean bill of health, Taylor is in good standing to compete with the rest of the safeties on the roster.
"I'm feeling a whole lot more comfortable coming off my rookie year. I didn't know what was going on, but as you go through meetings and start getting repetitions, you get into it and you get a whole more comfortable," Taylor said.
Taylor and the other defensive backs looked more at ease on Thursday, even while making a good impression on former 49ers safety, and Pro Football Class of 2009 inductee Rod Woodson, who attended practice to film an upcoming segment for NFL Network.
The 11-time Pro Bowler was also on hand to share wisdom with the 49ers defensive backs, and spoke with the group at the end of the OTA session.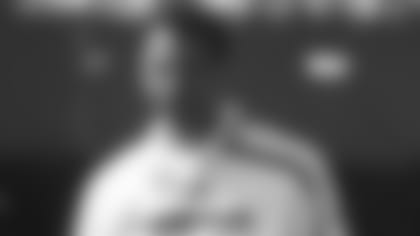 "I think the biggest thing I wanted to impart on them is the work they put in on the field, the work they put in the meeting rooms, they go hand-in-hand," Woodson explained. "I think once they figure out for them what the self-sacrifice is going to be, I think it will put them over the top as players."
During practice, Woodson spent time alongside Pro Bowl linebacker Joe Staley where the two discussed leadership.
"It was some good insight," Willis said of the conversation.
Woodson encouraged Willis to be even more vocal in 2010 now that he's established himself as one of the league's preeminent players.
Willis understood the advice, and conceded it's time to be even more vocal.
"I don't want to feel old, but I guess when you look at it, I guess I'm getting there a little bit," Willis joked.
Notes and QuotesUndrafted linebacker Keaton Kristick returned to the 49ers on Thursday. The Oregon State product was allowed to join OTAs now that the Beavers have wrapped up their academic year.
Manusky addressed the media at the conclusion of the workout. Asked about the status of his defensive line, Manusky said he was pleased with the progress, despite not recently adding any players through the draft or free agency. The lack of youth at the position is a plus, Manusky intimated. "They had a pretty good year last year and we keep on building on it with the guys that we have. Across the board, technique-wise, it's actually good. The coaches, when they get into those meetings with the younger players or the first year players or rookie players, what happens is they have to tone back and they have to make sure those younger players catch up. At least from the defensive line, you can move onward and upward and start looking at our opponents for next year. So, it's actually a plus for him, (defensive line coach) Jim Tomsula."
Frank Gore is always optimistic in the offseason. But this year, Gore said it's a completely unique feeling. "It's different this year," Gore said, smiling with foot on the stool in front of his locker. "I've never seen us click like this at this time. It's always, we have to learn. But this year, we didn't have to start over." Gore has been training in Miami the past month with a handful of his college teammates at the University of Miami.
The 49ers offense were not without highlights on the day. While working primarily again from the 30-yard line and in, quarterbacks Alex Smith and David Carr tossed a couple of touchdowns on the day. Smith found wide receiver Dominique Zeigler on a skinny post, and later completed a deep in to tight end Joe Jon Finley. Carr completed several passes, including a 20-yard touchdown strike to wide receiver Brandon Jones.